Galleries
Timeline: Ukraine's pro-Russian unrest - Interactive. Paris en 32 chiffres. Britain's 100 years of conflict | UK news. Improving data visualisation for the public sector. HERE IS TODAY. Infographics. The Gold Series: Unearthing The World's Gold Supply This infographic, part two in our 2014 Gold Series, covers the full supply picture behind the yellow metal.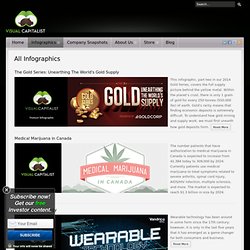 Within the planet's crust, there is only 1 gram of gold for every 250 tonnes (550,000 lbs) of earth. Gold's rarity means that finding economic deposits is extremely difficult. The Infographics Gallery. The Infographics Showcase. Journalisme graphique. Infographic metacompilation. Infographics and Data Visualization | Abduzeedo. 50 great examples of infographics. The 22 Best Infographics We Found In 2011 | Co.Design. 2011 was a huge year for infographic design.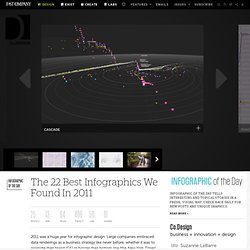 Large companies embraced data renderings as a business strategy like never before, whether it was to promote their brand (GE) or bolster their bottom line (the New York Times). Nowhere was that more evident than at Facebook. Timeline, the site's most ambitious redesign to date, brought the central tenet of data viz--organizing unwieldy bits and bobs into a compelling, visual narrative--to millions of people around the world. As infographics go mainstream, infographic designers grow bolder. 50 Informative and Well-Designed Infographics.
It's impossible to comprehend complex data or analyze large amounts of information, if we only use words or texts.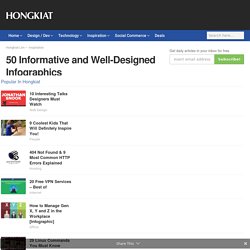 Information graphics or better known as infographics are visual explanation of data, information or knowledge. These graphics are excellent visual tools for explaining huge amounts of information where complex data needs to be explained immediately and clearly. Column Five Media • Infographics. S Best Videos, Infographics, Podcasts, and Slideshows of 2011 - Sarah Green - Our Editors. By Sarah Green | 11:13 AM December 29, 2011 As you take some time to reflect, relax, and renew before the year to come, we offer you our most popular multimedia content from the year that was: podcasts, videos, slideshows, and infographics that we hope help you chart a successful course in 2012.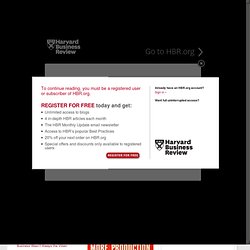 First off, our most popular podcast this year was Justin Fox's interview with Bob Pozen, "Productivity Secrets of a Very Busy Man." Infographics Inspiration | Creative Infographic Design & Information Graphics. The Last 10 Years...Visually. Power of Data Visualization - An infographic inspiration site. Infographic Designs for Inspiration. Infographics play an important role when conveying information, they need to have eye catching designs which grab the viewers attention and show the info in a clear & simple fashion and must not be complicated.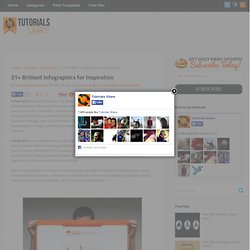 Sometimes analyzing data using only text and words can be boring and difficult to understand. Information Graphics are the best tool when you want to explain knowledge, data and information.These types of graphics are fantastic tools for visually explaining information, allowing the viewer to understand the data in a matter of seconds or minutes. Infographic is one of the most complicated types of graphics because the development process alone is pretty intense. Cool Infographics - Blog. Infographics Archive | An infographic is a visual representation of information. London Transport Infographics, 1912-1969.
The Cool Infographics 2011 Gallery...A Pinterest Experiment. Check out the Cool Infographics 2011 Gallery!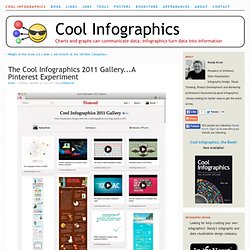 I'm trying an experiment using Pinterest to create a one-page, visual gallery of the infographics I post. On this board I have pinned every post from the Cool Infographics blog from last year, and it makes a really nice, visual way to browse through the infographics I have shared. One of the reasons I wanted to play around with Pinterest is that it displays the entire (sometimes very long) infographic, not just a square thumbnail like many galleries. Best of the visualisation web… January 2012 (part 2) At the end of each month I pull together a collection of links to some of the most relevant, interesting or thought-provoking web content I've come across during the previous month.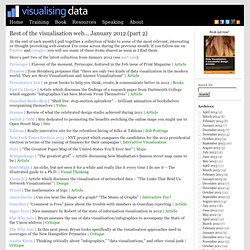 If you follow me on Twitter and Google+ you will see many of these items shared as soon as I find them. Here's part two of the latest collection from January 2012 (see part one): Periscopic | Flavour of the moment, Periscopic, featured in the Feb issue of Print Magazine | Article Premise | Tom Steinberg proposes that "there are only two kinds of data visualization in the modern world. WeLoveDatavis. Browsing visualizations. Chart Porn. 15 examples. Data Visualization is a method of presenting information in a graphical form.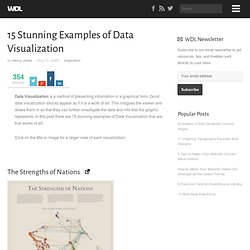 Good data visualization should appear as if it is a work of art. This intrigues the viewer and draws them in so that they can further investigate the data and info that the graphic represents. In this post there are 15 stunning examples of Data Visualization that are true works of art. Click on the title or image for a larger view of each visualization.
The Strengths of Nations. 6 Excellent Visualization Websites. Designers, artists, visualization junkies listen up!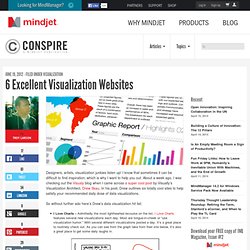 I know that sometimes it can be difficult to find inspiration, which is why I want to help you out. About a week ago, I was checking out the Visualy blog when I came across a super cool post by Visually's Visualization Architect, Drew Skau. In his post, Drew outlines six totally cool sites to help satisfy your recommended daily dose of data visualizations. So without further ado here's Drew's data visualization hit list:
Matt Stiles // The Daily Viz. A Periodic Table of Visualization Methods. 20 Great Visualizations of 2011. What Are The Odds? Curiosity counts: Archive. Information Is Beautiful. Healthy magination | GE Data Vis. Infographic Of The Day: Could A Tool Like This Turn Every M.D. Into Dr. House? | Co. Design. Celebrating Excellence in Data Visualization and Information Design.
Visualizing Data at the Oxford Internet Institute. OWNI Data en forme. Les data en forme. Information aesthetics. Demonstrative. Business Graphics Library - Billion Dollar Graphics. FlowingData. Projects and Experiments by FlowingData | FlowingData. The Best Data Visualization Projects of 2011. Visualizing.org. Visual.ly infographics. Factual Appearance Infographics - The Beauty Myths Chart Lays Out the Truth.
---