Curiosity & Rigor
Kids Speak Out on Student Engagement. Image credit: iStockphoto A while back, I was asked, "What engages students?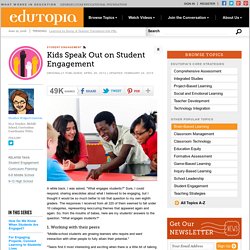 " Sure, I could respond, sharing anecdotes about what I believed to be engaging, but I thought it would be so much better to lob that question to my own eighth graders. The responses I received from all 220 of them seemed to fall under 10 categories, representing reoccurring themes that appeared again and again. So, from the mouths of babes, here are my students' answers to the question: "What engages students?
" 1. 7 Myths About Rigor In The Classroom. 7 Myths About Rigor In The Classroom by Barbara Blackburn, author of Rigor is not a 4-Letter Word Despite all the research, there are seven myths about rigor that are often heard.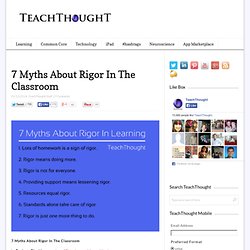 Striving for Higher-Order Thinking and Depth of Knowledge. A little over a year ago, I read Higher-order thinking is the exception rather than the norm for most classrooms on Scott McLeod's blog, Dangerously Irrelevant, and have been mulling it over, wondering if our school district is any different.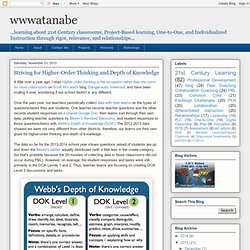 Over the past year, our teachers periodically collect data with their teams on the types of questions/tasks they ask students. One teacher records teacher questions and the other records student responses on a shared Google Doc; then teams sort through their own data, plotting teacher questions by Bloom's Revised Taxonomy, and student responses to those questions/tasks with Webb's Depth of Knowledge (DOK). How Creativity Works. The video below is dead on!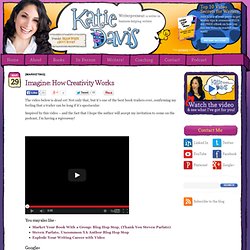 Not only that, but it's one of the best book trailers ever, confirming my feeling that a trailer can be long if it's spectacular. Inspired by this video – and the fact that I hope the author will accept my invitation to come on the podcast, I'm having a #giveaway! What Does Earth Look Like? Big Thinkers: Judy Willis on the Science of Learning. 4 Phases of Inquiry-Based Learning: A Guide For Teachers. According to Indiana University Bloomington, Inquiry-based learning is an "instructional model that centers learning on a solving a particular problem or answering a central question.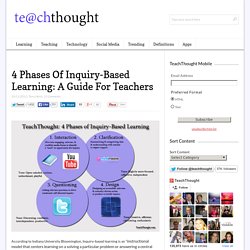 There are several different inquiry-based learning models, but most have several general elements in common: Learning focuses around a meaningful, ill-structured problem that demands consideration of diverse perspectivesAcademic content-learning occurs as a natural part of the process as students work towards finding solutionsLearners, working collaboratively, assume an active role in the learning processTeachers provide learners with learning supports and rich multiple media sources of information to assist students in successfully finding solutionsLearners share and defend solutions publicly in some manner" The 4th Grade Arcade of Imagination and Creativity. Wring Out a Washcloth in Space. Two 10th-grade students wanted to know what happens when you wring out a water-soaked washcloth in zero gravity.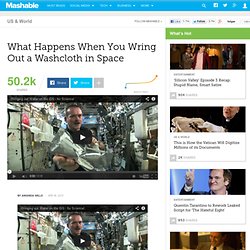 Canadian astronaut Chris Hadfield, who currently lives on the International Space Station, was happy to oblige. Hadfield used a tightly packed washcloth (which he remarks looks like a hockey puck) that was available on the ISS. Rather than dipping the cloth into a vessel — which wouldn't hold water in space — Hadfield squirted water on the material. Once the cloth was soaking wet, Hadfield twisted the rag, and the water began to form a gel-like tube. "Because of the surface tension of the water, it actually runs along the surface of the cloth and then up into my hand, almost like you had Jello on your hands," explained Hadfield.
Wonders. Video Library on Questioning. Beyond Cut-and-Paste. Eliminate Topical Research Rituals The first step in fighting against simple cut-and-paste thinking is to gather all teachers together to discuss and adopt a school-wide policy outlawing the assignment of topical research projects.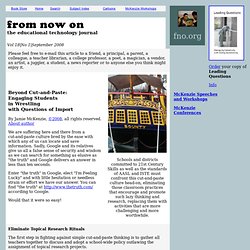 "Students in this school will conduct research on questions of import that require they make answers rather than find them. We will no longer assign topical research or accept papers that are little more than a rehash of other people's ideas and thinking. " Replacing Topical Research with Questions of Import Questions of import usually require that students wrestle with difficult challenges and build their own answers rather than relying upon the thinking of others. How to Mind Map. Poptropica. Why Ask Why in the Classroom. "Somewhere, something incredible is waiting to be known."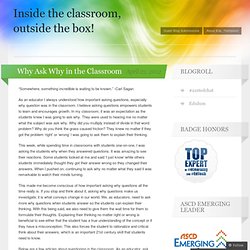 -Carl Sagan As an educator I always understood how important asking questions, especially why question was in the classroom. I believe asking questions empowers students to learn and encourages growth. In my classroom, it was an expectation as the students knew I was going to ask why. They were used to hearing me no matter what the subject was ask why. Unleashing Creativity. Originally posted on "all that inspires me" A few weeks ago, I ran across this graphic on All that Inspires Me, a Posterous site by Keith Stoekler (@keithstoekler).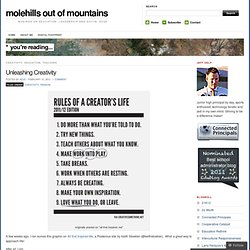 What a great way to approach life! After all, I am… an artist who can not draw.an author who struggles to write.a photographer with limited vision.a blogger of average talent. But, I am a creator. 4 Strategies to Spark Curiosity. British archaeologist Mary Leakey described her own learning as being "compelled by curiosity.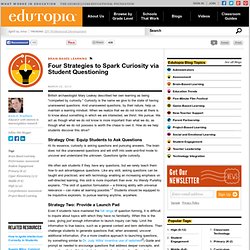 " Curiosity is the name we give to the state of having unanswered questions. And unanswered questions, by their nature, help us maintain a learning mindset. When we realize that we do not know all there is to know about something in which we are interested, we thirst. We pursue. 101questions. ThinkQuest. When are Students Engaged? (Updated 11/2013) Educational author and former teacher, Dr.
Michael Schmoker shares in his book, Results Now, a study that found of 1,500 classrooms visited, 85 percent of them had engaged less than 50 percent of the students. In other words, only 15 percent of the classrooms had more than half of the class at least paying attention to the lesson. So, how do they know if a student is engaged? Everyday Mysteries: Fun Science Facts from the Library of Congress.
Did you ever wonder why a camel has a hump? If you can really tell the weather by listening to the chirp of a cricket? Or why our joints make popping sounds? Questioning Toolkit. Essential Questions These are questions which touch our hearts and souls. They are central to our lives.
---