Advertisement
A-blog. What's the Biggest Myth About Online Advertising? Earlier this week, Digiday highlighted a post from ComScore's Kirby Winfield listing his top myths of online advertising.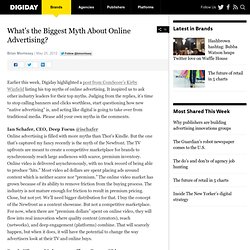 It inspired us to ask other industry leaders for their top myths. Judging from the replies, it's time to stop calling banners and clicks worthless, start questioning how new "native advertising" is, and acting like digital is going to take over from traditional media. Agencies Must Embrace Performance Pricing. Old-school agencies, be warned: Your clients want you to put your money where your mouth is.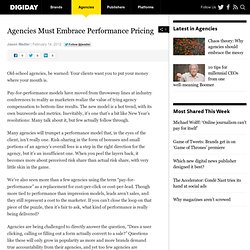 Pay-for-performance models have moved from throwaway lines at industry conferences to reality as marketers realize the value of tying agency compensation to bottom-line results. The new model is a hot trend, with its own buzzwords and metrics. Inevitably, it's one that's a bit like New Year's resolutions: Many talk about it, but few actually follow through. Many agencies will trumpet a performance model that, in the eyes of the client, isn't really one. Mobile Advertising Is The Baby Huey Of The Media World (And Apple Is Taking The Low Road) Editor's Note: This guest post was written by Frank Barbieri, a serial entrepreneur and sometime blogger.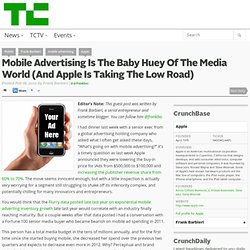 You can follow him @frankba. I had dinner last week with a senior exec from a global advertising holding company who asked what I often get asked these days, "What's going on with mobile advertising?" It's a timely question as last week Apple announced they were lowering the buy-in price for iAds from $500,000 to $100,000 and increasing the publisher revenue share from 60% to 70%. Publicidad: estamos viviendo un cambio de época. Un informe realizado por una empresa israelí, ClarityRay, titulado "Ad-blocking, measured" y que ha realizado seguimiento de más de cien millones de impresiones en publicaciones de todo tipo en Europa y los Estados Unidos, logra aproximar la magnitud del uso de bloqueadores de publicidad en el navegador: en media, un uso del 9.26%, que llega a ser del 17.79% en sitios de contenido tecnológico con una audiencia más sofisticada en este ámbito, del 15.58% en sitios de noticias generales, y que llega a ser de un 50% en algunos sitios específicos.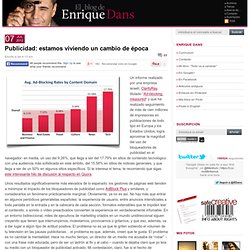 Si te interesa el tema, te recomiendo que sigas este interesante hilo de discusión al respecto en Quora. Unos resultados significativamente más elevados de lo esperado: los gestores de páginas web tienden a minimizar el impacto de los bloqueadores de publicidad como AdBlock Plus y similares, y considerarlos un fenómeno prácticamente marginal. Advertisment. Puta Sacada - Redação Publicitária. Ads of the World™ | Creative Advertising Archive & Community. Advertising. Ads. Los premios de publicidad en España: plagios, truchos y galas que se convierten en pruebas de resistencia. Con los dos certámenes de premios de publicidad más importantes ya superados, les hablamos del Festival El Sol y de Cannes Lions 2012, queremos hacer balance de todo lo que ha sucedido durante estos meses en el sector publicitario español: una caída considerable de leones en Cannes con respecto al año pasado, una gala de El Sol eterna, una polémica abrumadora sobre los plagios de algunos premios que nunca fueron devueltos… Desde MarketingDirecto.com hemos querido recoger la opinión de los profesionales del sector para tratar de averiguar qué es lo que le está pasando a la publicidad en general en España y a los certámenes de premios en particular.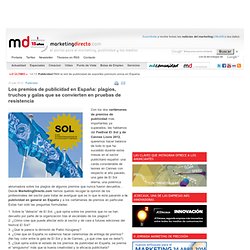 Éstas han sido las preguntas formuladas: 1. Culture Pub : Le site de toutes les publicités du monde. Pub alzheimer censuré. The Artvertiser. Union Européenne : La campagne pub façon Tarantino. Par Erwan (Juanou) Pour promouvoir l'augmentation du nombre de ses membres, l'Union Européenne diffuse ce spot qui ressemble à s'y méprendre à Kill Bill.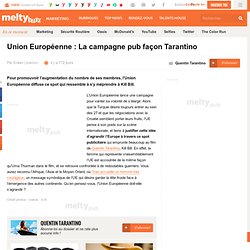 L'Union Européenne lance une campagne pour vanter sa volonté de s'élargir. Alors que la Turquie désire toujours entrer au sein des 27 et que les négociations avec la Croatie semblent porter leurs fruits, l'UE pense à son poids sur la scène internationale, et tiens à justifier cette idée d'agrandir l'Europe à travers ce spot publicitaire qui emprunte beaucoup au film de Quentin Tarantino, Kill Bill. Publiz – Inspiration graphique et publicité créative. ActuPub | Le portail de la pub. Why Agencies Are Going Anti-Social. Just a few years ago, legions of businesses practically tattooed themselves with the label "social media agency" so they could ink deals with brand clients looking to get on Facebook.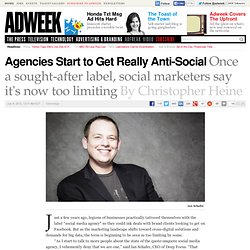 But as the marketing landscape shifts toward cross-digital solutions and demands for big data, the term is beginning to be seen as too limiting by some. "As I start to talk to more people about the state of the quote-unquote social media agency, I vehemently deny that we are one," said Ian Schafer, CEO of Deep Focus. "That stance is probably not good for business in the short run." It wasn't terribly long ago when Schafer was growing his now 10-year-old interactive firm by successfully pitching brands like HBO on the company's prowess in creating MySpace and YouTube ads.
But when it comes to social channels like Facebook and Twitter, he argues that modern agencies should know how to fit those pieces into cross-channel advertising mosaics. Comunicadores.info - Publicidade | Propaganda | Marketing | Tecnologia e Curiosidades | Web | Tendências | Cool | Design. 50 brilliant &038; creative advertisements for your inspiration. Companies send a lot of money on trying to catch your attention, in this collection you'll find creative advertising that probably reached their goal. 1.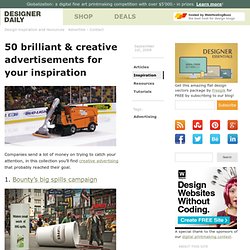 Bounty's big spills campaign 2. Tyskie beer 3. Epubs. Top 10 Apple Commercials of All Time (Updated) - The Cody Word. Be sure to check out my brand new report, "Ten Tech Stocks for the Next Ten Years", at 10Stocksfor10Years.com for $10.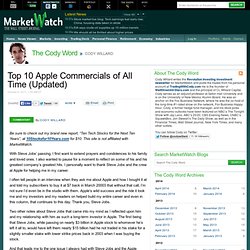 This site is not affiliated with MarketWatch. With Steve Jobs' passing, I first want to extend prayers and condolences to his family and loved ones. I also wanted to pause for a moment to reflect on some of his and his greatest company's greatest hits. I personally want to thank Steve Jobs and the crew at Apple for helping me in my career. 10 Best Ad Campaigns "Life's too short for the wrong job" Ads. 50 brilliant &038; creative advertisements for your inspiration.
Apple TV Ads. 25 Really Creative Floor Sticker Ads. Jun 18, 2012 Below you will find a collection of creative, provocative and sometimes funny floor sticker ads that caught our eye.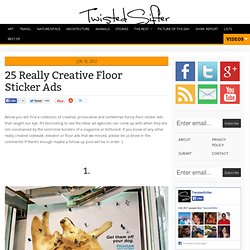 It's fascinating to see the ideas ad agencies can come up with when they are not constrained by the restrictive borders of a magazine or billboard. 10 embarrassing "Before They Were Famous" commercials. El Sol 2012. Ampliar foto 1882 ansiosos y un capuchón (Destilados Argentinos - MADRE - Argentina) SOL DE OROtve Ampliar foto Padres en slip (BGH Aire acondicionado - Del campo nazca Saatchi and Saatchi - Argentina) SOL DE OROtve Ampliar foto Trencitas (H2OH PepsiCo - Argentina) SOL DE OROtve. The End of the Facebook 'Fan' As We Know It. Publicidad y Marketing. 13 Vintage Ads That Would Be Banned Today: Pics, Videos, Links, News. Twitter Dominates Day 2 of Cannes Lions [INFOGRAPHIC] The world's premier brand communications conference, Cannes Lions International Festival of Creativity, is well underway at its dazzling seaside location in the south of France.
Perhaps due to the city's romantic charm, festival attendees have been checking in to the beach on Foursquare and documenting their morning croissants on Pinterest. But most of the Cannes Lions chatter is happening on Twitter. SEE ALSO: Cannes Lions: Ideas, People and Companies With Big Buzz Based on this infographic created by SapientNitro, the event has earned more than 56,000 Twitter mentions in its first three days.
And the official @Cannes_Lions account has nearly equal the number of followers. Vintage Scans. Note & Point. L'actualité de la publicité géolocalisée ! The Global Mobile Advertising Revolution Has Arrived. Resn - Interactive Agency. My World, My Way – New Ads Campaign from Allen Solly. Discover the Most Creative & Sophisticated Advertising Campaigns around the World Creative Ad Awards About / Directory / Articles / Category / Hot / Contact My World, My Way – New Ads Campaign from Allen Solly After the "I Hate Ugly" series, Ogilvy & Mather has released another ads campaign for Allen Solly.
My World, My Way – New Ads Campaign from Allen Solly. Best ads: TV, Print, Outdoor, Interactive, Radio. Advertising. HOCHBURG  |  Advertising Agency Stuttgart  |  The knights of HOCHBURG welcome you. Mullen.com - advertising unbound. The Most Important People In Mobile Advertising. Reklama. Google Parisian Love. Talk about ads that make you emotional! This premiered two years ago during the Superbowl. It's one of my favorite commercials ever. I'm pretty sure that any one who watched this had an 'awwww' moment when they started to realize the intentions for all of searches. 15 Corporate Style Guides for Branding Inspiration | kmsm.
Filed September 1st, 2010 under Resources The pillar stone of branding is the brand manual or style guide. It's the central, unifying component of most brand development today. So it's become the kind of thing that freelance designers might be expected to produce. And this trend isn't limited to graphic design. ADSVARK - Digital Publishing, édition déléguée, Brand Content, custom publishing, études, formations. Pub des nuls. Publicité. Ads. Vintage Ad Browser. Advertising Industry. Advertising/design goodness - advertising and design blog. Steve Jobs: 10 Presentation Tactics for Ad Agency New Business. Digital Agency London and Liverpool > iPhone and Android App Development, Smartphone Apps, Social Media Campaigns. Ads of the World™ | Creative Advertising Archive & Community. AD.
Awwwards. ADVERTISING. Leo Burnett. Creative Money Advertising ~ Funniest commercials. 27 stunning visual ads for creative inspiration. The Most Raunchy Skittles Commercial You Will Ever See (NSFW) Clever Uses of Stickers in Advertising. 15 Absolutely Brilliant Billboard Ads ...Really. Most creative and interesting advertisements for 2011. Campaigns. About - GeekTyrant. Publikda - La Coctelera. Marco Creativo - Blog Agencia de Publicidad Creativa Diseño Gráfico Web Alicante Elche. Adverblog | Digital advertising and marketing: only the best ideas worldwide, since 2003. All | scaryideas.com. Excellent Ads. The 5 Minute Guide To Cheap Startup Advertising. Consumerism & Ethics.
AgencySpy - Inside Your Agency. Deep Inside. The Psychology of Consumerism. Ads of the World™ | Creative Advertising Archive & Community. Why Not Ad Retargeting? AdWords: Ad Preview and Diagnosis. Little Black Book | LBBOnline. Pub. The best anti smoking ads - Wall to Watch - StumbleUpon. Ads. PUBLICITAT. The Ad Contrarian. 50 Ads Starring Oscar Winners. Brain Storm! Portraits from Creative Week 2012. Designing a good advert.
---