Container
Construction. Containerhomes.net. Epic Studio. May 18, 2010 - When our architects first mentioned using cellulose as the primary insulation for the Creative Co-Op, I have to admit it was not even on my radar screen.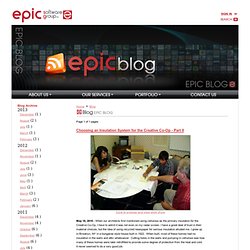 I have a great deal of trust in their material choices, but the idea of using recycled newspaper for serious insulation alluded me. I grew up in Brooklyn, NY in a bungalow style house built in 1922. When built, most of these homes had no insulation in the walls and attic whatsoever. Articles. R One. Title slide - Pecha Kucha 16 @intuitionale On Tuesday, November 8th, I gave a small presentation at Pecha Kucha 16 in Jacksonville on Container homes.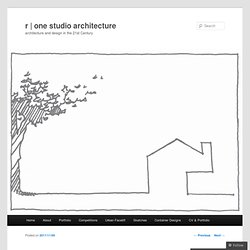 For those of you not familiar with this very fun and exciting presentation style, check out the official Pecha Kucha website and check out the Pecha Kucha Jax Facebook page as well. Essentially it's a 20×20 format – you've got 20 slides and 20 seconds to talk about each slide. This adds up to about a 6 1/2 minute presentation on whatever topic you choose. One Cool Habitat. One Cool Habitat is built out of a 20′ shipping container, using the chasis of the container as a basis for the space.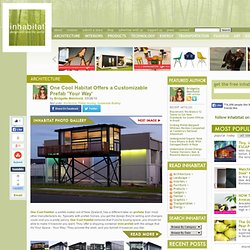 They cut out space for windows and doors, efficiently reusing the cut parts or sending them off to shipping container rebuilders. Windows are bonded to the frame of the structure similar to how a car windshield is attached — this provides extra support for the frame. Groups. Firmitas.org. Copyright © 2012-2014 by Zack Smith.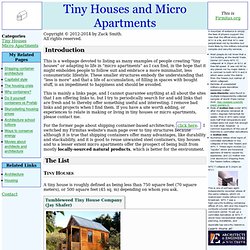 All rights reserved. Introduction. Inhabitat.com. HIVEMODULAR. Containerist. Cubic. FabPrefab. There is growing interest in the use of shipping containers as the basis for habitable structures.
These "icons of globalization" are relatively inexpensive, structurally sound and in abundant supply. Although, in raw form, containers are dark windowless boxes (which might place them at odds with some of the tenets of modernist design...) they can be highly customizable modular elements of a larger structure. The projects below are sorted alphabetically (by company or designer's name). Architects. IMD. LIVING THE SIMPLE LIFE_"Simplicity, simplicity, simplicity!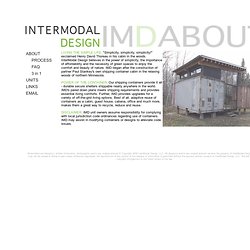 " exclaimed Henry David Thoreau in his cabin in the woods. InterModal Design believes in the power of simplicity, the importance of affordability and the necessity of green spaces to enjoy the comfort and beauty of nature. IMD began after the construction of partner Paul Stankey's own shipping container cabin in the relaxing woods of northern Minnesota. ZeroCabin. ::: LOT-EK ::: HyBrid. Cargotecture. Site-Specific. Hygiene. Conhouse. Builders. Tempohousing. Containers videos.
---