Container
construction
Containerhomes.net
May 18, 2010 - When our architects first mentioned using cellulose as the primary insulation for the Creative Co-Op, I have to admit it was not even on my radar screen. I have a great deal of trust in their material choices, but the idea of using recycled newspaper for serious insulation alluded me. I grew up in Brooklyn, NY in a bungalow style house built in 1922. When built, most of these homes had no insulation in the walls and attic whatsoever.
Epic Studio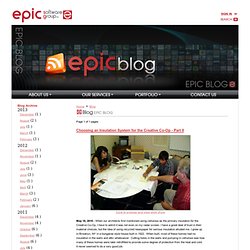 Articles
r One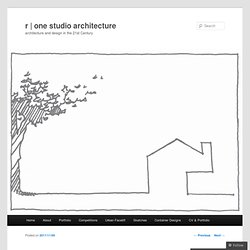 title slide - Pecha Kucha 16 @intuitionale On Tuesday, November 8th, I gave a small presentation at Pecha Kucha 16 in Jacksonville on Container homes. For those of you not familiar with this very fun and exciting presentation style, check out the official Pecha Kucha website and check out the Pecha Kucha Jax Facebook page as well. Essentially it's a 20×20 format – you've got 20 slides and 20 seconds to talk about each slide. This adds up to about a 6 1/2 minute presentation on whatever topic you choose.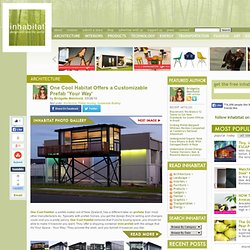 One Cool Habitat is built out of a 20′ shipping container, using the chasis of the container as a basis for the space. They cut out space for windows and doors, efficiently reusing the cut parts or sending them off to shipping container rebuilders. Windows are bonded to the frame of the structure similar to how a car windshield is attached — this provides extra support for the frame.
One Cool Habitat
Groups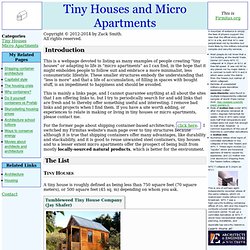 Copyright © 2012-2014 by Zack Smith. All rights reserved. Introduction
Firmitas.org
inhabitat.com
HIVEMODULAR
Soon after the quake in Haiti a contribution of $50 was made from my direction to help those poor souls. That minuscule donation went to the Red Cross and in total the organization received about a half a billion dollars from concerned people and organizations. They have spent over $150 million of it. That's a good thing. Doctors Without Borders has spent about $70 million dollars of the $112 million it received in donations.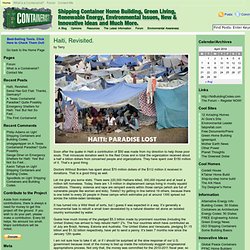 Containerist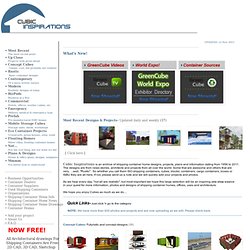 Cubic
• Most Recent The most recent posts • Up Close Projects with great detail • Concept Cubes Unique, cool, but probably not realistic • Rustic Basic container designs• Contemporary Of a more artistic nature• Modern Realistic designs of today• BizPods Business in a Box• Commercial Hotels, offices, worker cabins, etc.• Emergency Military, medical & emergency type• Prefab Pre-manufactured ISBU homes• Mobile Storage Cubes Storage units, sheds, workshops• Eco Container Projects Greenroofs, green houses, solar, wind• Floating Homes Water villas, floating container homes• Not...
There is growing interest in the use of shipping containers as the basis for habitable structures. These "icons of globalization" are relatively inexpensive, structurally sound and in abundant supply. Although, in raw form, containers are dark windowless boxes (which might place them at odds with some of the tenets of modernist design...) they can be highly customizable modular elements of a larger structure. The projects below are sorted alphabetically (by company or designer's name).
FabPrefab
Architects
LIVING THE SIMPLE LIFE_"Simplicity, simplicity, simplicity!" exclaimed Henry David Thoreau in his cabin in the woods. InterModal Design believes in the power of simplicity, the importance of affordability and the necessity of green spaces to enjoy the comfort and beauty of nature. IMD began after the construction of partner Paul Stankey's own shipping container cabin in the relaxing woods of northern Minnesota.
IMD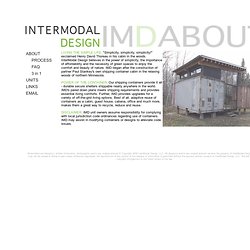 ZeroCabin
::: LOT-EK :::
HyBrid
Cargotecture
Site-Specific
Hygiene
Conhouse
Builders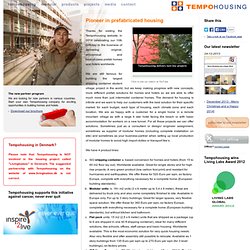 Tempohousing
Click to see our video's at YouTube Thanks for visiting the Tempohousing website, in 2014 celebrating our 10th birthday in the business of delivering original, economical and best-of-class prefab homes and hotels worldwide. We are still famous for building the largest shipping container student village project in the world, but we keep making progress with new concepts, more different prefab solutions for homes and hotels so we are able to offer much more than just intermodel container homes. The demand for housing is infinite and we want to help our customers with the best solution for their specific market: for each budget, each type of housing, each climate zone and each location. We are as happy with a customer for a single home in a remote mountain village as with a large 4 star hotel facing the beach or with basic accommodation for workers on a new tunnel. For all these projects we can offer solutions.
Containers videos