ENG
The Electronic Intifada
(Image: Addiction via Shutterstock)Voters and policy makers are slowly moving toward reforms to reduce the harm of skyrocketing numbers of opiate-related overdoses, but in the meantime, many like Truthout Writer Mike Ludwig and friends will share skills that "help us keep each other alive, healthy and safe." Maria pulls out a thick-gauged intramuscular syringe and a vial of naloxone hydrochloride, a drug known commonly by the brand name Narcan. She shows the people gathered around me how to draw up 1 cubic centimeter of naloxone into the syringe.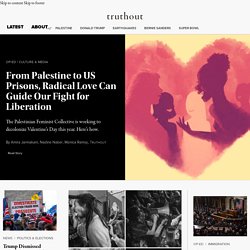 Truthout
The Real News
Beyond Gezi: What Future for the Movement? by ROAR CollectiveJanuary 16, 2014People & Power Gezi lives, but to have a lasting effect it will need to be taken out of the realm of the extraordinary and into the everyday lives of ordinary people. Read more… Superman, Clark Kent, and the Limits of the Gezi Uprising by Mehmet DöşemeciJanuary 13, 2014People & Power
Roar Mag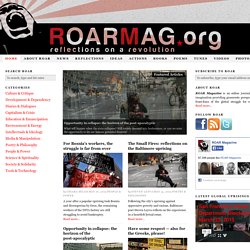 Mondoweiss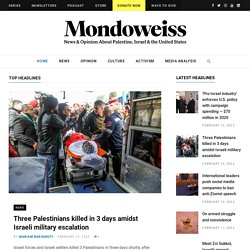 What will remain, said George, sitting in the Ramallah Cafe, is "one apartheid state: one state for two peoples where one has all of the rights, the Israelis, and one has none of the rights, the Palestinians." As negotiations between Israeli and Palestinians leaders reach a crisis, in Ramallah, the urban reprieve and seat of President Mahmoud Abbas's government, the breakdown passes with much apathy. Continue reading
MAG-Net
Mar 17, 2014 On March 14th the Open Technology Initiative and the Leadership Conference on Civil Rights hosted a discussion about the impact of Big Data on communities of color. Panelists presented a set of civil and human rights principles of which Center for Media Justice, representing MAG-Net as part of the Civil Rights Table was involved in crafting. Below you'll find additional information about... Mar 3, 2014 Technological progress should bring greater safety, economic opportunity, and convenience to everyone.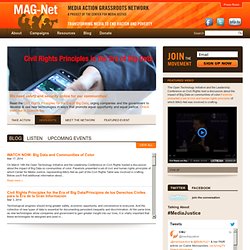 Infowars
MIT Professor Exposes Climate Change Hysteria Mikael Thalen | "The opportunities for taxation, for policies, for control, for crony capitalism are just immense." Obama speech: Miller Lite commercial: less filling, tastes great Jon Rappoport | Obama just made a Miller Lite speech, to calm fears that NSA spying is a bother and a problem. Obama Justifies NSA Spying: Paul Revere Did It First Steve Watson | Argues US has always defended freedom through surveillance.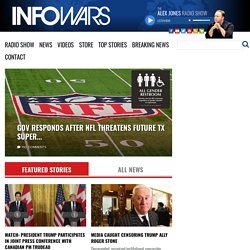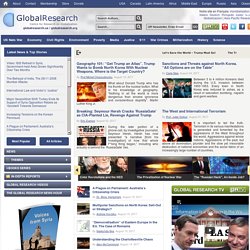 Global Research
Chavez headed the lists of the CIA and the Pentagon as the main target of their attacks, and the US significantly expanded its military presence open and clandestine-around Venezuela during his administration. Western corporate media, its Oil and Gas counterparts (GCC) are once again attempting to bolster and rebrand the public image of the fundamentalist rebels in Syria. If there is anything the House of Saud knows well, it is rounding up Al Qaeda terrorists at the service of Washington. The House of Saud has also played a role in destabilizing the Russian Federation and organizing terrorist attacks inside Russia. The police hope to have drones able to fire "non-lethal weapons" at people they deem to be involved in criminal activity. Non-lethal weapons will soon become lethal weapons and the US will be trying and executing citizens at home as it has done elsewhere without even a hint of due process.
Free Speech TV
How the Big Papers Remember Ariel SharonHow the New York Times and the Washington Post whitewashed some of the bloodiest incidents from Israeli leader Ariel Sharon's record. FAIR TV January 10, 2014Media are looking back at Iraq--but what do they forget about Fallujah? Plus: Crossfire's climate 'balance' and ABC discusses the 'resurgent left'--without the left.
FAIR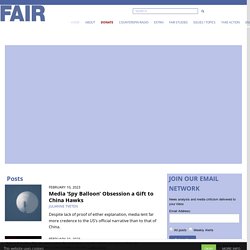 Democracy now
Counterpunch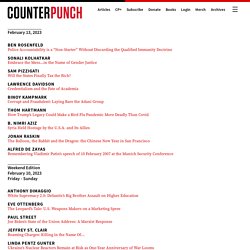 Last month, the ruling Japanese coalition parties quickly rammed through Parliament a state secrets law. We Americans better take notice. Under its provisions the government alone decides what are state secrets and any civil servants who divulge any "secrets" can be jailed for up to 10 years.
Counterfire
Corporate Watch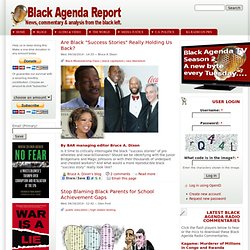 Haitians Need National Sovereignty Most of All Framing Haiti as a charity case is insulting and wrong, said Pierre Labossiere, co-founder of the Haiti Action Committee. "The kind of support we need is to denounce the repression that has been imposed on the people of Haiti" since the U.S.-backed coup of 2004.
Black Agenda Report