Alternate Energy
Self Running 40kW 40,000 Watt Fuelless Generator Full Video. BUY A HUGE FRESNEL LENS GREEN POWER SCIENCE TM WOULD BE NICE ON THE DISCOVERY NETWORK SOLAR STIRLING ENGINES FRESNEL LENS PARABOLIC MIRROR. Air Fuel Synthesis | Renewable energy | Air to Liquid Fuels | carbon neutral | aviation fuel | low carbon | electricity | hydrogen | atmospheric carbon dioxide. $100,000 Vandalism at the First Solar/Exelon Antelope Valley Solar Ranch One. An unidentified vandal attacked the still-embattled, under-construction 230-megawatt Antelope Valley Solar Ranch One (AVSR1) photovoltaic solar power plant during the night of July 9-10.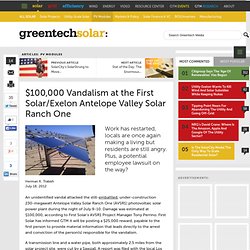 Damage was estimated at $100,000, according to First Solar's AVSR1 Project Manager Tony Perrino. First Solar has informed GTM it will be posting a $25,000 reward, payable to the first person to provide material information that leads directly to the arrest and conviction of the person(s) responsible for the vandalism. A transmission line and a water pipe, both approximately 2.5 miles from the solar project site, were cut by a Sawzall.
A report was filed with the local Los Angeles County Sheriff's Department. Small, portable Goal Zero Switch 8 charger offers multiple functions. The Switch 8's screw-on tips allow for multiple charger styles and accessories Image Gallery (3 images) The Goal Zero Switch 8 is a lightweight, pocket-sized charger that carries enough juice to just about fully charge a cell phone.The charger can also multitask, including serving as a flashlight and UV water purifier.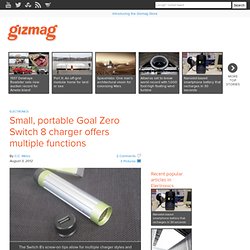 At five inches (12.7 cm) long and 3/4 inch (1.9 cm) thick, the Switch 8 is quite compact and has the feel of a small flashlight handle – Goal Zero says that it's smaller than a roll of quarters. It weighs just over three ounces (85 grams), so it won't add much feel to a backpack, purse or even pocket. The device includes a flip-out USB for charging from a laptop, solar panel or other USB-equipped charging device. Researchers Create Highly Transparent Solar Cells for Windows that Generate Electricity — UCLA Engineering. By Jennifer Marcus | July 20, 2012 Transparent Solar Cells UCLA researchers have developed a new transparent solar cell that is an advance toward giving windows in homes and other buildings the ability to generate electricity while still allowing people to see outside.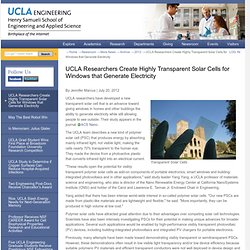 Their study appears in the journal ACS Nano. The UCLA team describes a new kind of polymer solar cell (PSC) that produces energy by absorbing mainly infrared light, not visible light, making the cells nearly 70% transparent to the human eye. Shaw, Exelon join NET Power to develop new tech for gas-fired power generation. Solar Powered Briefcase. I had a solar panel laying around along with a charge regulator and a fairly large 12 Volt battery for a home security system...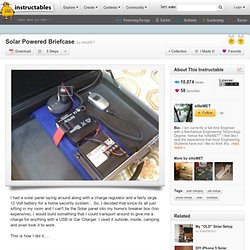 So, I decided that since its all just sitting in my room and I can't tie the Solar panel into my home's breaker box (too expensive), I would build something that I could transport around to give me a charge for anything with a USB or Car Charger. I used it outside, inside, camping and even took it to work. This is how I did it.... Attach the solar panel. 1.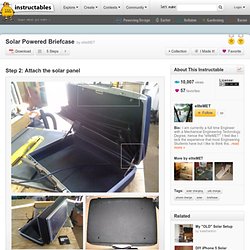 Place your solar panel on the outside of your case and mark 4 spots so that they hold down the panel from underneath it. 2. Drill your holes for the bolts and wait until you lightly tighten it down to mark your hole for the wire to go through. 3. Remove the solar panel, drill your wire hole and then tighten down your solar panel tight. Cut and Install the wood brace. Wire the Components. 1.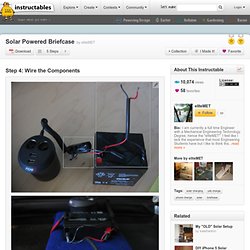 Strip your multiple socket car charger wires and either solder or tape it to your battery also add the wire for the voltage regulator (leave any fuses if possible). 2. Take your briefcase outside! The entire set up gives you a very nice view of how things are working.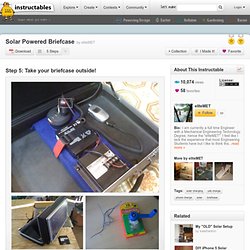 When your solar panel is making power, your voltage regulator's LED will light up telling you that it's working. Then, your car charger's LED will light up telling you that its receiving power. Wind Power Without the Blades: Big Pics. Rio+20 - United Nations Conference on Sustainable Development. Clean, Free Energy.
---