All Grades Ipad
Socrative | Student response system | Engage audiences. Apps in Education. iPad in Education. I had a reasonably extended play with the iPad and I am very impressed.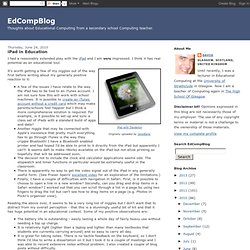 I think it has real potential as an educational tool. It's worth getting a few of my niggles out of the way first before writing about my generally positive reaction to it:A few of the issues I have relate to the way the iPad has to be tied to an iTunes account. I am not sure how this will work with school machines. 47 Interesting Ways* to use an iPad in the Classroom. Top 50 Free Education Apps | iPad, iPhone and iPod Touch App Store App Reviews. Top 200 best iPad apps 2011. If you've got yourself an iPad Air or new iPad mini, you'll want to start downloading the best iPad apps straight away.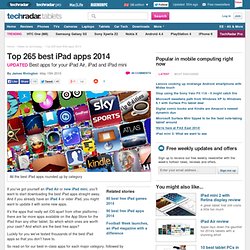 And if you already have an iPad 4 or older iPad, you might want to update it with some new apps. It's the apps that really set iOS apart from other platforms - there are far more apps available on the App Store for the iPad than any other tablet. iPads in Education - Exploring the use of iPads and Tablet computers in education. Science Apps. Science apps are the most abundant in iTunes.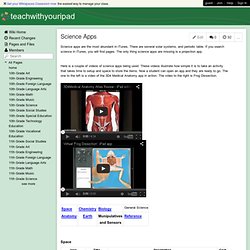 There are several solar systems, and periodic table. If you search science in iTunes, you will find pages. The only thing science apps are missing is a projection app. 40 Most Awesome iPad Apps for Science Students | Best Colleges Online. Posted on Wednesday June 15, 2011 by Staff Writers The iPad has found its way into hospitals, retail stores and homes across the nation, but it's also making a big splash in the classroom, even with some of the best online colleges.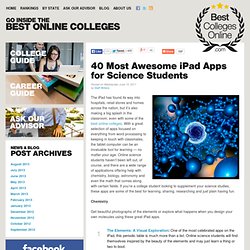 With a great selection of apps focused on everything from word processing to keeping in touch with classmates, the tablet computer can be an invaluable tool for learning — no matter your age. Online science students haven't been left out, of course, and there are a wide range of applications offering help with chemistry, biology, astronomy and even the math that comes along with certain fields. If you're a college student looking to supplement your science studies, these apps are some of the best for learning, sharing, researching and just plain having fun. Back to School: 40 Best Science iPad Apps for Students. Making of science apps: Not the usual suspects. On the screens of millions of iPad and other mobile devices, moons and stars, elements and molecules swirl beneath our fingertips.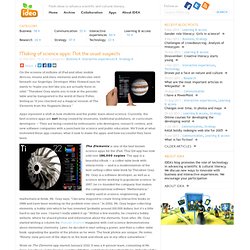 Developer Mike Howard says he wants to "make you feel like you are actually there in orbit." Theodore Gray wants you to look at the periodic table and be transported to the world of Harry Potter, feeling as "if you checked out a magical version of The Elements from the Hogwarts library." Apps represent a shift in how students and the public learn about science. Currently, the best science apps are not being created by museums, traditional publishers, or curriculum developers — They are being created by enthusiastic solo developers, research centers, and new software companies with a penchant for science and public education. Science Apps for iPad, iPhone and iPod Touch. iPads in Schools. iPads in Education. iPod. It's hard to describe to people all of the magic that happens at Anastasis on a daily basis.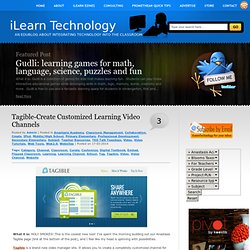 It really does feel like something special, a magical quality of falling down the rabbit hole into another world where school is fun and challenging and wonderful. The learning that happens here is very organic, it lacks a formulaic approach. ISTE iPad in Education - iPad in Education. Thoughts on the iPad2 in Teaching. By Shelly Blake-Plock Picked up my own iPad2 about three weeks ago and, as an experiment, I have set my laptop aside and have used nothing but the Apple in the classroom ever since.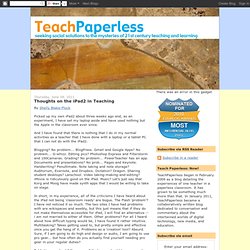 And I have found that there is nothing that I do in my normal activities as a teacher that I have done with a laptop or a tablet PC that I can not do with the iPad2. Blogging? No problem... BlogPress. Best iPad 2 Apps for Education.
---