Fitness Si eres de aquellas personas a las que les resulta difícil levantarse del sillón para hacer un poco de ejercicio porque estás viendo la última temporada de The Walking Dead , una aplicación para correr como Zombies, Run! puede no solo hacerte entrenar sino también disfrutar con lo que más te gusta, los zombies . Aplicaciones para hacer ejercicio
Aplicaciones para correr: Zombies, Run! | El Winux
How to Start Running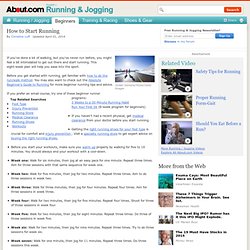 Difficulty: Average Time Required: Eight weeks Here's How:
For people who enjoy running, there's nothing like lacing up the Nikes, heading out the door and hitting that stride. But every runner hits a wall at one point or another and day after day, run after run can soon become monotonous. Sometimes a little jolt to the routine is welcomed. Whether you want to try out new routes, strive to be faster, have better endurance or even lose a little weight, runners (and want-to-be runners) can turn to the following 10 iPhone apps for a little more variety in their training regimens: 1. RunKeeper Pro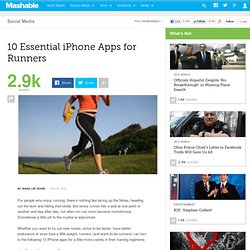 No es muy difícil empezar un programa para correr, aunque nunca lo hayas hecho antes o aunque por el momento no estés activo físicamente. Si empiezas adecuadamente, descubrirás rápidamente los beneficios mentales y físicos de correr. Aquí hay algunas maneras fáciles de empezar lentamente con una rutina. Pasos 1 Programa de 20-30 minutos tres veces cada semana para correr.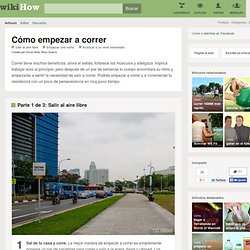 Cómo empezar a correr
Polar H7 HR Sensor El Polar H7 HR Sensor es un sensor de frecuencia cardíaca de cinta que transmite los datos a través de Bluetooth por lo que puede ser utilizado conjuntamente por aplicaciones móviles (por ejemplo en tú iPhone), cintas de correr de "gimnasio" y otros dispositivos Polar. Tiene un precio de 65 € en Amazon Polar H7 HR Sensor Garmin Forerunner 10
Gadgets para Correr » Relojes y Medición