Fitness
Membership
The Reembody blog, up to this point, has been a thoughtful exploration of human movement, a subject about which I am extremely passionate. Today, however, I'm mad and I'm going to tell you why. I have been planning a blog post for a while on fitness misinformation and it was originally going to be the same kind of thoughtful deconstruction found in my other installments.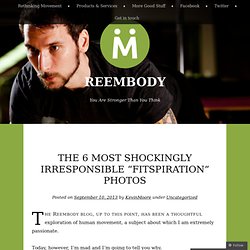 The 6 Most Shockingly Irresponsible "Fitspiration" Photos | Reembody
JJ Does Yoga — health-teaa: Flexibility: Ultimate Stretch Yoga...
15 Exercises For Flat Abs - Likes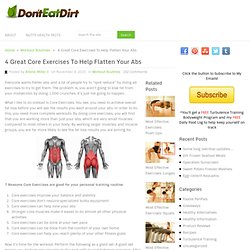 4 Great Core Exercises To Help Flatten Your Abs & Don't Eat Dirt - StumbleUpon
Everyone wants flatter abs, and a lot of people try to "spot reduce" by doing ab exercises to try to get them. The problem is, you aren't going to lose fat from your midsection by doing 1,000 crunches. It's just not going to happen. What I like to do instead is Core Exercises. You see, you need to achieve overall fat loss before you will see the results you want around your abs. In order to do this, you need more complete workouts.
How to: 15 minute ab work out
Simple Science Fitness. Burn Fat & Build Muscle for Healthy Humans.
The Food Pyramid That Works The suggested food pyramid focuses on non-refined whole foods, and encourages the 80/20 rule for essential and moderate foods. The pyramid is similar to the concept of the paleolithic / primal /hunter-gatherer diet. Meats will cover your protein and essential fats requirements along with vitamins and minerals, while vegetables will provide you with abundant vitamins, minerals, and fiber while being very low in calories. Please note that corn is a grain and peas are legumes, not vegetables. Also, peanuts are legumes, not nuts.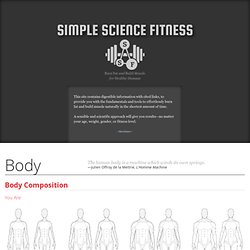 Get a Wow Booty
How to: Bridge burner butt work out
By: Adam Campbell, M.S., C.S.C.S. Want a fat-burning workout that fits your life? Then check out this routine that uses moves from The Women's Health Big Book of Exercises. You can do it almost anywhere, and you can do it fast—yet you'll be amazed at how quickly it gets your heart-pumping.
unnamed pearl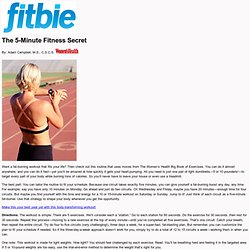 Everyone knows exercise plays an important role in our general health, but whether its a lack of motivation, the need to travel to the gym, the cost of equipment, or simply know-how, these supposed obstacles often stand in our way. In reality, all you need is yourself. Here's how you can get a full-body workout with nothing but your body.
How to: Body work out w/ no gym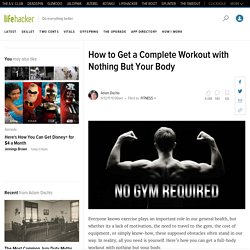 Personal Training Programs - Exercise database, muscles, equipment - bench... - StumbleUpon
Exercise Finder, health - divine.ca - Page 4 - StumbleUpon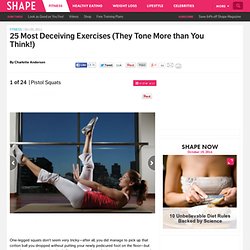 How to: Seemingly Simple excercises
One-legged squats don't seem very tricky—after all, you did manage to pick up that cotton ball you dropped without putting your newly pedicured foot on the floor—but squatting on one leg seriously challenges your balance. It also activates your core and just about every other muscle in your lower body, including your glutes, hamstrings, and calves. Try it: Stand holding your arms straight out in front of your body and raise your right leg off the floor.
Horizon - The Truth About Exercise (BBC, 2012)