Art & Design
BOOK.
Fashion. Fascinating Underground Homes. The Gardens Of Marqueyssac &. Down at the end of the garden ...
The Town With No Roads. 15 Amazing Castles from Around the Globe. Although designed and built for the prominent purpose of defense, today the castles seem like somewhat unrealistic constructions straight from the fairytale world.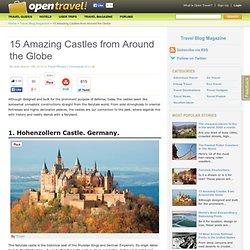 From solid strongholds to oriental fortresses and highly decorative palaces, the castles are our connection to the past, where legends mix with history and reality blends with a fairyland. This fairytale castle is the historical seat of the Prussian Kings and German Emperors. Its origin dates back to the Middle Ages - it was built in the 11th century, then completely destroyed in 1423 and reconstructed in 1461.
The view from the castle that stands on top of Mount Hohenzollern (855 m) is as stunning as the complex itself. The castle is located about 50 kilometers (30 mi) south of Stuttgart, the capital of the Baden-Württemberg state. Mystical, Magical & Magnificent Monasteries in Meteora (20 Pics) The caves in Meteora, Greece, had inhabitants for fifty millennia, but due to raids, "hermit monks" moved to the safety of sandstone rock pinnacles in the 9th century and began building monasteries.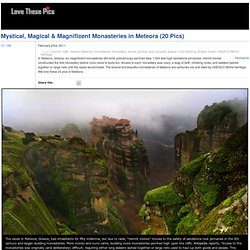 More monks and nuns came, building more monasteries perched high upon the cliffs. Wikipedia reports, "Access to the monasteries was originally (and deliberately) difficult, requiring either long ladders lashed together or large nets used to haul up both goods and people. This required quite a leap of faith — the ropes were replaced, so the story goes, only 'when the Lord let them break.'" UNESCO World Heritage says, "The net in which intrepid pilgrims were hoisted up vertically alongside the 1,224 ft. cliff where the Varlaam monastery dominates the valley symbolizes the fragility of a traditional way of life that is threatened with extinction."
All sizes | Morning glory 1. A former Cement Factory is now the workspace and residence of Ricardo Bofill... Image Courtesy of Ricardo Bofill Architect: Ricardo BofillProgram: Architectural offices /archives /model laboratory /exhibition space /Bofill's-apartment /guest rooms /gardensLocation: Barcelona, SpainTotal floor area: 3,100 square meters and gardensHouse area: 500 square metersDate Completed: 1975 There is nothing as good as an aged bottle of wine; and in this case the aged bottle of wine is a project which was completed in 1975, but is still worth mentioning!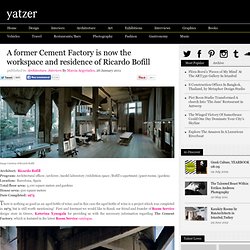 Booze it Up! 13 Rad Recycled Bottle Crafts & Projects. Got a recycling bin full of glass bottles?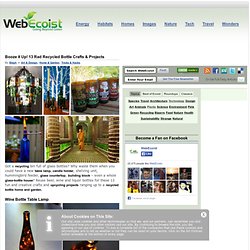 Why waste them when you could have a new table lamp, candle holder, shelving unit, hummingbird feeder, glass countertop, building block – even a whole glass-bottle house? Reuse beer, wine and liquor bottles for these 13 fun and creative crafts and upcycling projects ranging up to a recycled bottle home and garden. Mental_floss Blog » 10 Notable Staircases. Staircases can be so much more than just a means of getting to the next floor.
A staircase can be a work of art, a conversation piece, a place to meditate, or a historical marker. Floating on a Wall This floating staircase above by designer Jordi Vayreda looks dangerous, but the steps are made of steel welded to a thick beam inside the wall. The top of the wall can be used as a handrail for the upper half of the staircase.
Writing sites
BrickHut. 1137921249201417.jpg (600×846) Various quotations | #222 « From up North. More Stupid Cat. So there's this cat food commercial.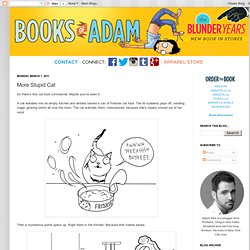 Maybe you've seen it. A cat wanders into an empty kitchen and ambles toward a can of Friskies cat food. The lid suddenly pops off, sending magic glowing swirls all over the room. The cat watches them, mesmerized, because she's clearly stoned out of her mind. Procrastination-flowchart-1.jpg (1490×1188) How To Steal Like An Artist (And 9 Other Things Nobody Told Me) - Austin Kleon. Sketchbook 2010 (vol. 2) on the Behance Network. Beautiful Watercolor Landscapes (12 pieces)
Z.L.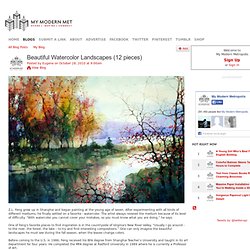 Feng grew up in Shanghai and began painting at the young age of seven. After experimenting with all kinds of different mediums, he finally settled on a favorite - watercolor. The artist always revered the medium because of its level of difficulty. "With watercolor you cannot cover your mistakes, so you must know what you are doing," he says. Hendrix portrait with 5000 guitar picks. Mesmerizing Mixed Media Portraits (12 total) Using a variety of different tools including a bic pen, watercolors and Chinese ink, artist Florian Nicolle creates amazing, mixed media portraits.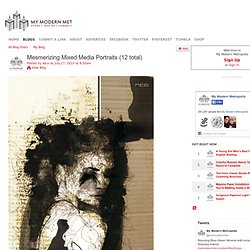 After a rigorous amount of drawing and painting, she then adds texture and detail using Photoshop. As she explains to us, "I try to create an image that retains its freshness of the first paint stroke, the expressions of the line have to be very free and spontaneous..I draw a picture as if I wrote a text, with the same tool, the same freedom, with erasures, lines, scribbles etc... " While she doesn't necessarily have a favorite piece, she admires the work of graphic designers and illustrators such as Russ Mills, Martijn Van Dam, Kxx, Peter Jaworowski, Joshua M. Smith, Barral Fabien, Michael Kutsche, and Adam Haynes. 42.jpg from waheednasir.com. Surviving by ~Marina-B. Blow - On the Cutting Edge Exhibition. Leonid-afremov011.jpg from funguerilla.com. See . Saw on the Behance Network. Ghosts' night by ~m1923. Alphonse Mucha.
The drawings of Leonardo da Vinci. JapanDragon by ~HasaBattle. You stand on my old friend by ~Simplicata.
---