Science
Scientists create first solar cell with over 100 percent quantum efficiency. Researchers over at the National Renewable Energy Lab have reportedly made the first solar cell with an external quantum efficiency over 100 percent.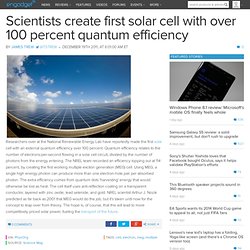 Quantum efficiency relates to the number of electrons-per-second flowing in a solar cell circuit, divided by the number of photons from the energy entering. The NREL team recorded an efficiency topping out at 114 percent, by creating the first working multiple exciton generation (MEG) cell. Using MEG, a single high energy photon can produce more than one electron-hole pair per absorbed photon. How You Can Make Good Use Of Your Old Machines. Almost everyone reading the articles on this site will have spare computers languishing about.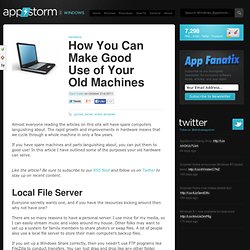 The rapid growth and improvements in hardware means that we cycle through a whole machine in only a few years. If you have spare machines and parts languishing about, you can put them to good use! In this article I have outlined some of the purposes your old hardware can serve. Like the article? Space Shuttle Discovery - 360VR Images. Seismic Monitor. Longitude Latitude New: Earthquake browser with 3D viewer!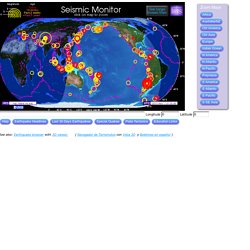 Nuevo: Navegador de Terremotos con Vista 3D! Y Boletines en español IEB is a new, interactive map that not only shows the latest earthquakes but allows you to display thousands of quakes from an archive of 3.4 million spanning from 1970 to minutes ago. It's the IRIS Earthquake Browser, or just IEB, and one of many features is that you can rotate quakes in 3D! Fibonacci's Fractals. DaylightMap. World's largest solar plant powers up - Green Living - Environment. Big almost beyond belief, it is powerful, clean and looks unlike any power station you could ever imagine.
Spread over terrain which covers the equivalent of 210 football pitches, there is nothing to see behind the security fences and drainage ditches but interminable lines of gleaming, eerily silent, parabolic mirrors. They gyrate simultaneously to follow the sun's path through the sky – for all the world like an enormous Star Wars android army awaiting orders from above to destroy the local populace. The bleak, empty flatlands of the Guadix plateau, 30 miles from Granada, were chosen by the backers of Andasol, a joint venture by four German companies, as the location for their €350m (£293bn) investment because, at 1,100 metres above sea level, Guadix's atmosphere is clearer and less turbulent than lower altitudes. Purely because of that, it captures more solar energy than the entire Saudi Arabian peninsula. Best Chrome Extensions. On this page, you will find the best Chrome extensions for all your browsing needs. Using the right Chrome extensions can completely transform your online experience, and make your time on the Internet much more productive and interesting. We've made the effort to categorize the extensions and chose only those we believe to be the best ones and which will most likely be useful to you. A perfect tool for students/researchers and one of the best Chrome extensions for organization. 'Wikipedia of Maps' Challenges Google. OpenStreetMap is exactly what its name implies—a wiki of maps and location data to which anyone can contribute, just like Wikipedia.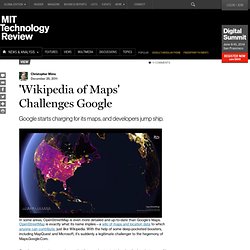 With the help of some deep-pocketed boosters, including MapQuest and Microsoft, it's suddenly a legitimate challenger to the hegemony of Maps.Google.Com. Google announced two months ago that it was going to start charging the heaviest users of its Maps API, which countless sites use to geo-locate their data. The Data-Crunching Powerhouse Behind 'Avatar' A look at some of the high-density server and networking gear inside the Weta Digital data center used to render the animation for the new James Cameron movie "Avatar.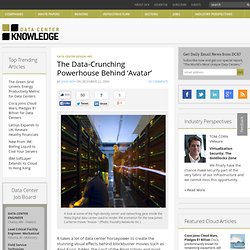 " (Photo: Foundry Networks Inc.) It takes a lot of data center horsepower to create the stunning visual effects behind blockbuster movies such as King Kong, X-Men, the Lord of the Rings trilogy and most recently, James Cameron's $230 million Avatar. Tucked away in Wellington, New Zealand are the facilities where visual effects company Weta Digital renders the imaginary landscapes of Middle Earth and Pandora at a campus of studios, production facilities, soundstages and a purpose-built data center. Projects - mini-itx cluster. The "Mini-Cluster"By Glen Gardner, USA - Posted on 25 February, 2004 Introduction Early supercomputers used parallel processing and distributed computing and to link processors together in a single machine.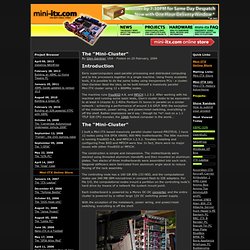 Using freely available tools, it is possible to do the same today using inexpensive PCs - a cluster. Glen Gardner liked the idea, so he built himself a massively parallel Mini-ITX cluster using 12 x 800Mhz nodes.
Enviromental degregation world
Debris Field The Size Of California From Japanese Tsunami Begins To Litter West Coast. National Geographic Magazine - NGM.com. Our Dwindling Food Variety As we've come to depend on a handful of commercial varieties of fruits and vegetables, thousands of heirloom varieties have disappeared.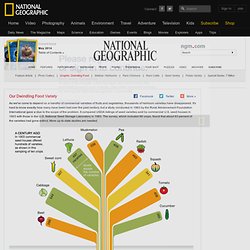 It's hard to know exactly how many have been lost over the past century, but a study conducted in 1983 by the Rural Advancement Foundation International gave a clue to the scope of the problem. It compared USDA listings of seed varieties sold by commercial U.S. seed houses in 1903 with those in the U.S. Radiation Dosage Chart. Astrodigital: Home of Explore Mars, Space Exploration, Astronomical Adventures, Digital Excursions, and the Chicago area chapters of the National Space Society and Mars Society. Finally! A Low Cost Solar Panel that Can See in the Dark. Clean Power Published on January 26th, 2011 | by Tina Casey Well…it can almost see in the dark.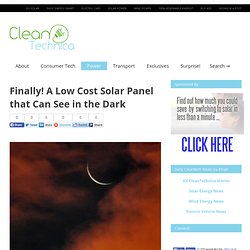 Scientists at the Lawrence Berkeley National Laboratory have just announced that they've been able to confirm a new high-efficiency solar cell design that handles pretty much the entire solar spectrum. To ice the solar cake, the new technology can be manufactured using ordinary low-cost processes that are currently in use. 'Sunbelievable' Solar Paint Could Power Home Appliances, Scientists Say. Green homeowners may soon be able to say goodbye to unwieldy solar panels thanks to a new paint that generates electricity by harnessing energy from "power-producing nanoparticles, researchers have announced.
The paint, dubbed "Sunbelievable" by developers at the University of Notre Dame, looks no different from any other paint used to coat home exteriors and other surfaces. But when hit by light, the semiconducting particles within Sunbelievable produce small amounts of electricity that researchers hope they can magnify in great enough amounts to power home appliances, Science Daily reported. "We want to do something transformative, to move beyond current silicon-based solar technology," research leader and Notre Dame professor Prashant Kamat said. "By incorporating power-producing nanoparticles, called quantum dots, into a spreadable compound, we've made a one-coat solar paint that can be applied to any conductive surface without special equipment.
" Nanotechnology News - Nanoscience, Nanotechnolgy, Nanotech News. Stephen Hawking asks big questions about the universe. Technology Review: The Authority on the Future of Technology. Seven Amazing New Animals Discovered in 2011. 2011 was an exciting year for animal discovery. Unusual frogs, snakes, a bat and even a monkey named after the King of Rock 'n' Roll are just a few of the extraordinary animals who are taking the scientific world by storm. Read on to learn more about these amazing creatures. Nicknamed the "Elvis Monkey", due to their pompadour-like head of fur, Myanmar's Snub Nose Monkey has a nose that's so short, it is believed that rainfall causes the animal to sneeze.
While there are other known snub nose monkeys, the species located in Myanmar has a white beard, ear tufts and an unusually long tail. While primatologists are just learning of these incredible monkeys, it seems that the locals are familiar with the animals. Scientists make solar cycle, stratosphere and ocean connections. BOULDER-Subtle connections between the 11-year solar cycle, the stratosphere, and the tropical Pacific Ocean work in sync to generate periodic weather patterns that affect much of the globe, according to research appearing this week in the journal Science. The study can help scientists get an edge on eventually predicting the intensity of certain climate phenomena, such as the Indian monsoon and tropical Pacific rainfall, years in advance.
An international team of scientists led by the National Center for Atmospheric Research (NCAR) used more than a century of weather observations and three powerful computer models to tackle one of the more difficult questions in meteorology: if the total energy that reaches Earth from the Sun varies by only 0.1 percent across the approximately 11-year solar cycle, how can such a small variation drive major changes in weather patterns on Earth? The answer, according to the new study, has to do with the Sun's impact on two seemingly unrelated regions. Shock as retreat of Arctic sea ice releases deadly greenhouse gas.
Dramatic and unprecedented plumes of methane – a greenhouse gas 20 times more potent than carbon dioxide – have been seen bubbling to the surface of the Arctic Ocean by scientists undertaking an extensive survey of the region. The scale and volume of the methane release has astonished the head of the Russian research team who has been surveying the seabed of the East Siberian Arctic Shelf off northern Russia for nearly 20 years. In an exclusive interview with The Independent, Igor Semiletov, of the Far Eastern branch of the Russian Academy of Sciences, said that he has never before witnessed the scale and force of the methane being released from beneath the Arctic seabed. "Earlier we found torch-like structures like this but they were only tens of metres in diameter.
This is the first time that we've found continuous, powerful and impressive seeping structures, more than 1,000 metres in diameter. It's amazing," Dr Semiletov said. German village generates 321 percent more renewable energy than it needs, earns millions selling it back to national power grid. Somebody's hijacked Project Tiger! Renewable Power Trumps Fossils for First Time as UN Talks Stall. Man arrested at Large Hadron Collider claims he's from the future. Dimensional Bliss » Follow Your Heart, it is Smarter Than You Think. Sustainable Fertilizer: Urine And Wood Ash Produce Large Harvest. Artificial Sweetener Disease; a new breed of sickness. Imprisoned and Poisoned at SNBL: A Whistleblower Case.
FanWing. Worldclock.swf (application/x-shockwave-flash Object) Mammoths May Be Roaming the World In Five Years. The Energy Lie (Suppression of Technological Evolution) - Home. The Brain—Information about the Brain. Becoming Human. Lucid Dreaming Frequently Asked Questions Answered by The Lucidity Institute. Your Likes.
---