Illustrations
HOME. Mitch Breitweiser: Comic Artist/ Illustrator/ Storyteller. Painterly Arts - Freelance UK Illustrator and Artist Simon Dominic. Simon Weaner Concept Artist-Mattepainter. Hello. Christian Jégou. Tim Lane | Paintings & Drawings. TODD SCHORR. SCOTT MUSGROVE. SERGEI APARIN - Fantastic Painting. David stoupakis. Eric Joyner. Natalia Fabia. Illustrations, paintings, and info about KuKula. Kozyndan. John John Jesse. Reccardi.com: Chris Reccardi Official site. Shag. Martin Harris art.com. 500 DESSINS. Kathy Staico Schorr. Glenn Barr - Art / Shop / Prints and More | www.glbarr.com. ERIC WHITE.
Davegraphics.com. Chris Mars Publishing. C A L M A. The Art of Alex Gross. Thomas ehretsmann. Borislav Sajtinac. Dave McKean. Beb-deum : images numériques, illustrations de presse, bandes dessinées. Jeff FOSTER homestead. Welcome. Jean-Claude Götting - Illustration. Loustal - L'actualité. Korin Faught | Painter. Daniel Peacock. Gary Baseman. Jeff Soto Art. Index. Mark Ryden. Ana Bagayan. Tara McPherson | ART. The Art of Travis Louie.
Lori Earley. Kris Kuksi. Ray Caesar - Home Page. The Art of Eric Drooker.
Serge Birault - Aka - Papa ninja - Illustrateur free lance - Toulouse France. NO COLOR. N i j o m u » comics, art, and writing by Nick Mullins. Site Muttpop - Muttpop. Supernature! John Martz Illustration. Art of Mike Mignola | Le Mur de Pan. JEAN-LOUIS MARCO / ARTBOOK. MONSTER BRAINS. Mattias Inks. Jason Little. Terra's sketchbook. Xue Jiye | Chinese Contemporary Artist. James Jean | Home. So Long. Paul Hornschemeier. Femke Hiemstra's Blog. Mike Hawthorne. Herval website 1.0. Art of Vincent Hui. Charles Guthrie. LOS FOKOS | Illustration & Design. Editions Carabas. EO le blog | Bande dessinée, illustration, dessin, affiche, dessin, animation… tout ce qui touche à l'image dessinée nous intéresse.
Duginart - The Officiale Web Site of Andrej Dugin and Olga Dugina - Illustration, Graphics, Paintings. Du9, l'autre bande dessinée. DCARTOONS.FR. Sean Cheetham. Santiago CARUSO - Illustrator. Daniel Clowes. Michael Cho's sketchbook. - CAILLEAUX, illustrateur voyageur - :: CATSUKA :: The art of Florian Bertmer. Ben Catmull. BD en ligne sur WWW.COCONINO-WORLD.COM - TUMBLEWEED KID par DAN CHRISTENSEN. François Avril. City Cyclops | Jon Adams | Hello There. Come Touch Things What are you doing for the next four months?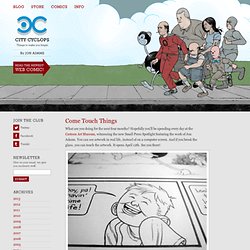 Hopefully you'll be spending every day at the Cartoon Art Museum, witnessing the new Small Press Spotlight featuring the work of Jon Adams. You can see artwork in real life, instead of on a computer screen. Van Arno. Art BD en ligne WWW.OLD-COCONINO.COM Le portail de la bande dessinée et du dessin. Estupefacto. SERGEY TYUKANOV ARTWORKS. Fantasy Art & Illustration by Cynthia Sheppard, Book, RPG Painting Portfolio. Aeron Alfrey.
---