Poetry
My Doom Smiles At Me : I Love Poetry Story. Charles Bukowski - The Great Poet. Poet Seers - Poem of the Day. Poetry Archive | Poems. Lord Byron: Selected Poetry. I can never get people to understand that poetry is the expression of excited passion, and that there is no such thing as a life of passion any more than a continuous earthquake, or an eternal fever.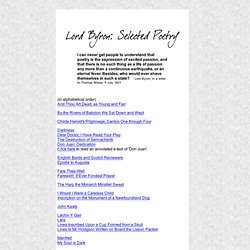 Besides, who would ever shave themselves in such a state? Lord Byron, in a letter to Thomas Moore, 5 July 1821 (in alphabetical order) And Thou Art Dead, as Young and Fair By the Rivers of Babylon We Sat Down and Wept Childe Harold's Pilgrimage, Cantos One through Four. I carry your heart. Brave New Voices: Alysia. Poetry 180 - Do You Have Any Advice For Those of Us Just Starting Out? Give up sitting dutifully at your desk.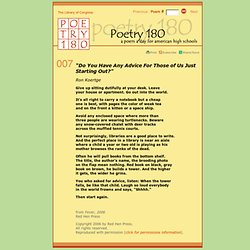 Leave your house or apartment. Go out into the world. It's all right to carry a notebook but a cheap one is best, with pages the color of weak tea and on the front a kitten or a space ship. Do Not Stand At My Grave And Weep. I came across this poem recently in StumbleUpon.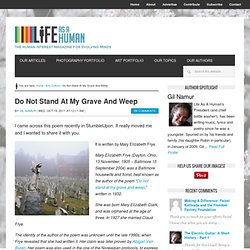 It really moved me and I wanted to share it with you. It is written by Mary Elizabeth Frye. Mary Elizabeth Frye (Dayton, Ohio, 13 November, 1905 – Baltimore 15 September 2004) was a Baltimore housewife and florist, best known as the author of the poem "Do not stand at my grave and weep," written in 1932. She was born Mary Elizabeth Clark, and was orphaned at the age of three.
Solitude - Ella Wheeler Wilcox. Sylvia Plath Poems. .a wind of such violence.the work of plath. English 50. English 50 – Intro to Creative Writing: Exercises for Poets First Lines: The King James Bible has long been recognized for its importance to English literature.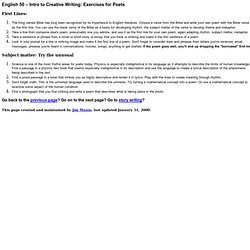 Choose a verse from the Bible and write your own poem with the Bible verse as the first line. Shakespeare's Sonnets. A home for your writing. I know why the caged bird sings by Maya Angelou. A free bird leaps on the backOf the wind and floats downstream Till the current ends and dips his wing In the orange suns raysAnd dares to claim the sky.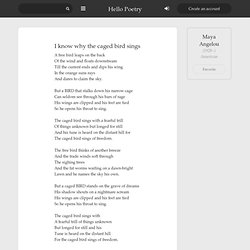 But a BIRD that stalks down his narrow cageCan seldom see through his bars of rageHis wings are clipped and his feet are tiedSo he opens his throat to sing. The caged bird sings with a fearful trillOf things unknown but longed for stillAnd his tune is heard on the distant hill forThe caged bird sings of freedom. The free bird thinks of another breezeAnd the trade winds soft throughThe sighing treesAnd the fat worms waiting on a dawn-brightLawn and he names the sky his own. But a caged BIRD stands on the grave of dreamsHis shadow shouts on a nightmare screamHis wings are clipped and his feet are tiedSo he opens his throat to sing. [i carry your heart with me(i carry it in] by E. E. Cummings. I carry your heart with me(i carry it in my heart)i am never without it(anywhere i go you go,my dear;and whatever is done by only me is your doing,my darling)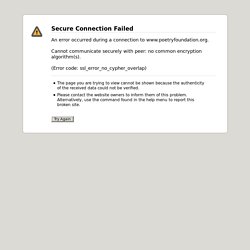 Faults. Langston Hughes: Theme for English B. By Langston Hughes The instructor said, Go home and write a page tonight.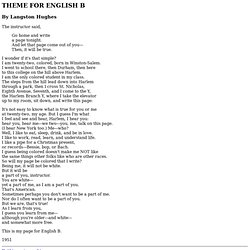 And let that page come out of you--- Then, it will be true. I wonder if it's that simple? FREE Online Rhyming Dictionary. Quotes About Poetry. Great Poems « Greatest Books of All Time » Life-Changing Arts. A selection of great poems from centuries of brillant authors and poets.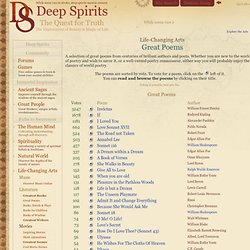 Whether you are new to the world of poetry and wish to savor it, or a well-versed poetry connoisseur, either way you will probably enjoy the classics of world poetry. The poems are sorted by vote. To vote for a poem, click on the.
---