Dtr1210 1
Free Graphic Design Resources
The global structure of an HTML document
7.1 Introduction to the structure of an HTML document An HTML 4 document is composed of three parts: a line containing HTML version information, a declarative header section (delimited by the HEAD element), a body, which contains the document's actual content.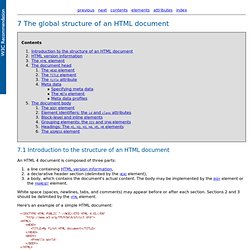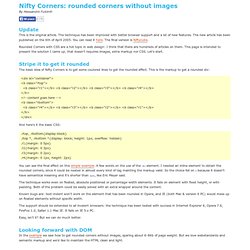 Update This is the original article. The technique has been improved with better browser support and a lot of new features.
XAMPP, Pre-Installed on a USB Memory Stick
Design Matters: Fonts
The PHP coder's top 10 mistakes and problems @ SourceRally.net PHP Community
Color Chooser (Interactive Color Scheme Chooser)
An Inventive Video Journey To Web 2.0 : Somewhat Frank :: Web 2.0 ● Technology ● Life :: Blog by Frank Gruber
Links are fun, but sometimes we don't know where they take us. With this little CSS technique a user can identify a link by its icon. This whole thing was inspired by the "Showing Hyperlink Cues with CSS" article of Ask the CSS Guy.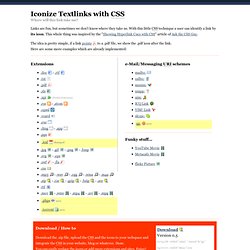 I'm getting pretty sick of being nagged to install your damn apps. XKCD helpfully translates: Yeah, there are smart app banners, which are marginally less annoying, but it's amazing how quickly we went from "Cool!
Stylesheets for Print and Handheld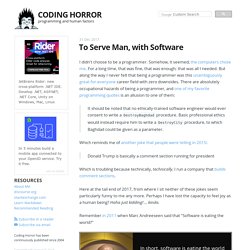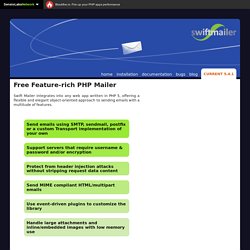 Swift Mailer integrates into any web app written in PHP 5, offering a flexible and elegant object-oriented approach to sending emails with a multitude of features. Send emails using SMTP, sendmail, postfix or a custom Transport implementation of your own Support servers that require username & password and/or encryption Protect from header injection attacks without stripping request data content Send MIME compliant HTML/multipart emails Use event-driven plugins to customize the library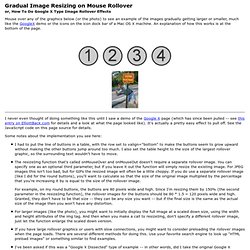 or, How To Do Google X Type Image Rollover Effects Mouse over any of the graphics below (or the photo) to see an example of the images gradually getting larger or smaller, much like the GoogleX demo or the icons on the icon dock bar of a Mac OS X machine. An explanation of how this works is at the bottom of the page. I never even thought of doing something like this until I saw a demo of the Google X page (which has since been pulled -- see this entry on ElliottBack.com for details and a look at what the page looked like). It's actually a pretty easy effect to pull off. See the JavaScript code on this page source for details.
Gradual Image Resizing on Mouse Rollover
Wildly useful free Web development programs | C82 · art, the web, and everything in between
There are probably tens if not hundreds of thousands of programs out there for almost anything you can imagine and a small portion of those are geared solely toward Web development but they're not all top notch. Now, when I refer to Web development, I mean all sides of it including graphics, coding, and everything else. Sure, there are the usual players like the Adobe/Macromedia products but what I enjoy the most are the small free programs that someone made in their free time and decided to release to the world in case anyone else might need them.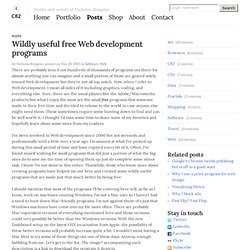 Varför frames är en dålig idé | På Kornet
Innan jag går in på varför frames som regel ger sämre sajter ska vi backa några år. Frames verkade vara en ganska bra idé så där 1995-6, när de gjorde entre (jag minns inte exakt när det var - om du vet, skicka mej ett mejl). De verkade i alla fall lösa eller minska flera dåtida problem. För det första hade man börjat märka att många sidor i en sajt hade flera delar gemensamma: navigationsmeny, logotype, sidfot och liknande. Om man hade mycket stora sajter (med den tidens mått, vill säga - kanske upp till hundra sidor) blev det mycket arbetsamt att ändra något i menyn eller sidfoten. Man måste i stort sett öppna alla sidor och ändra i koden för hand (kom ihåg att detta var innan det fanns några egentliga verktyg för att hantera hela sajter).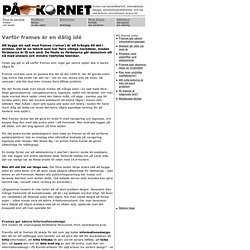 Frame Pages
The earliest form of HTML did not support pages with frames. Figure 4b shows an example of non-frame page. The browser displays one file each time and the whole window will be delicate to that particular file. Each file works independently. However, a typical non-frame page is usually longer than a frame page.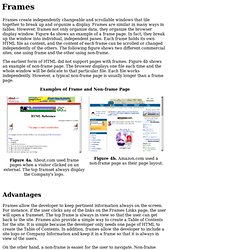 Original Top Ten Mistakes in Web Design (Alertbox)d
Seagull PHP Framework :: Home
Code-Sucks.com - xhtml CSS PHP Javascript XML MySQL Snippets
CSS
Too-biased - Tobias Luetke's thoughts
.htaccess Hacking for Fun and Profit | www.mapelli.info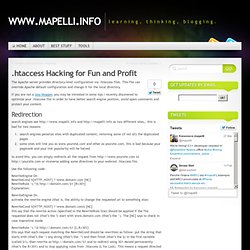 The Apache server provides directory-level configuration via .htaccess files. This file can override Apache default configuration and change it for the local directory. If you are not a lazy blogger, you may be intrested in some tips I recently discovered to optimize your .htaccess file in order to have better search engine position, avoid spam comments and protect your content. Redirection
Head First Labs Design Meditations
The layouts on this website have location #'s for easy reference. As you search through the web layouts for design ideas, simply write down the location #'s of the layouts that appeal to your project the most. If there is an element in a web layout that you like, such as an arrangement of buttons, a side panel, or a header, then simply note the location # for later reference.
Language: English Deutsch French Chinese Important Note: Your code should be well-formed. This is no validator which points out errors in your CSS code. To make sure that your code is valid, use the W3C Validator.
DTR1210 - Webbdesign
Showing Hyperlink Cues with CSS (Ask the CSS Guy)
HTML Playground, html, css reference by example
Worst Web Design Ever
Web Developer's Handbook | CSS, Web Development, Color Tools, SEO, Usability etc.
Rounded Corner and Gradient Generator