Think tank enjeux internationaux
CESifo Group: Ifo Institute, Center for Economic Studies (CES), CESifo GmbH. CEBRI - Centro Brasileiro de Relações Internacionais. KIEP Korea Institute International Economic Policy East Asia InfoNet. Kiel Institute for the World Economy — Portal. Trade Liberalisation: Skills Training helps Globalization Losers In a new Kiel Policy Brief IfW researchers Sebastian Braun, Wolfgang Lechthaler and Mariya Mileva show that global trade liberalization actually increases the level of wage inequality.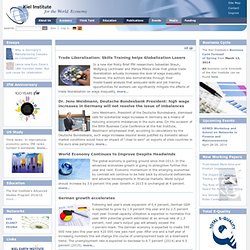 However, the authors also demonstrate through their model-based analysis that adequate skills and job training opportunities for workers can significantly mitigate the effects of trade liberalization on wage inequality. more... Dr. Bruegel - The Brussels-based think tank.
- www.trilateral.org. NewAmerica.net. Europe - Fondation Robert Schuman. European Energy Review. The European Council on Foreign Relations. Homepage. Netherlands Institute of International Relations Clingendael. Diploweb.com, revue geopolitique, articles, cartes, relations internationales.
Chatham House - Home. EVENTS NOT TO BE MISSED IN OCTOBER. Fondation pour la recherche strat?gique. IRIS - Institut de Relations Internationales et Strat?giques. Home-Page - Institut fran?ais des relations internationales. Peter G. Peterson Institute for International Economics.
Hoover Institution. Fundación para las Relaciones Internacionales y el Diálogo Exterior - Homepage. The new geopolitics of peace operationsOn 9 April, FRIDE Research Director Daniel Keohane spoke at a joint SIPRI-Friedrich Ebert Stiftung conference on "The new geopolitics of peace operations".Europe, Japan and Asian securityOn 8 April, FRIDE Research Director Daniel Keohane participated as a panelist at a high-level conference on "Europe, Japan and Asian security", organised by the Institute for European Studies in Brussels and the Japanese Ministry of Foreign Affairs.Maghreb and Cold War: What next?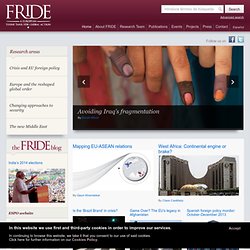 FRIDE Senior Researcher Barah Mikail spoke about 'Maghreb and Cold War: What next?' At the Grenoble's Festival of Geopolitics, held on 4 April 2014. Council on Foreign Relations. EUobserver Blogs. Center for Strategic and International Studies. Brookings - Quality. Independence. Impact. RAND Corporation Provides Objective Research Services and Public Policy Analysis.
---