Museum
How A Museum Can Regenerate An Entire City | Co. Design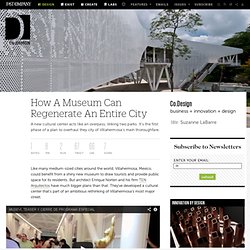 Like many medium-sized cities around the world, Villahermosa, Mexico, could benefit from a shiny new museum to draw tourists and provide public space for its residents. But architect Enrique Norten and his firm TEN Arquitectos have much bigger plans than that. They've developed a cultural center that's part of an ambitious rethinking of Villahermosa's most major street.
PLURAL+ Video Festival | United Nations Alliance of Civilizations
Update: PLURAL+ 2013 received a record-breaking 254 videos from 71 countries. The PLURAL+ international jury and partners have chosen the 26 winning videos! Watch the award winning videos here: PLURAL+ 2013 Winning Videos.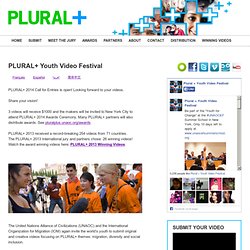 The Tech Virtual | Your Online Museum Design Community
The Museum of the Future » What to do if 'they' are not online? – 7 actions to promote new media in your museum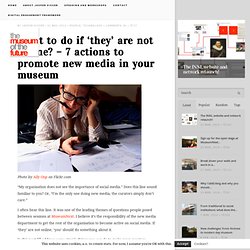 Posted: May 31st, 2011 | Author: Jasper Visser | Filed under: People, Technology | Tags: advice, museumnext, online, organisation, tips, work | 4 Comments »inShare0 Photo by Ally Oop on Flickr.com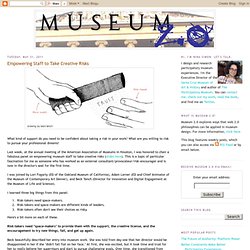 Empowering Staff to Take Creative Risks
What kind of support do you need to be confident about taking a risk in your work? What are you willing to risk to pursue your professional dreams?
2010 Horizon Report: Museum Edition Released | NMC
Tate Papers Issue 13 2010: Tate Online Strategy 2010-12, John Stack
1. Introduction Tate Online aims to help fulfil Tate's mission to increase public understanding and enjoyment of British and modern international art.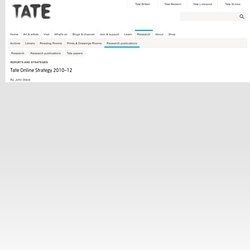 The following research was conducted on behalf of MuseumNext and Sumo in April 2011 by an independent market research company with a sample of 500 UK residents.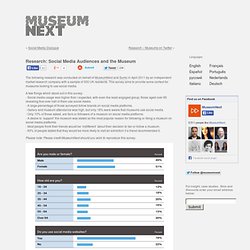 Research: Social Media Audiences and the Museum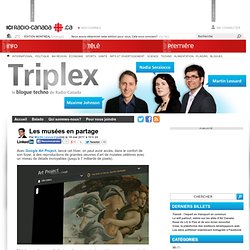 Avec Google Art Project, lancé cet hiver, on peut avoir accès, dans le confort de son foyer, à des reproductions de grandes oeuvres d'art de musées célèbres avec un niveau de détails incroyables (jusqu'à 7 milliards de pixels).
Les musées en partage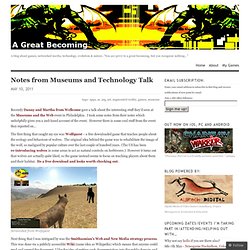 Recently Danny and Martha from Wellcome gave a talk about the interesting stuff they'd seen at the Museums and the Web event in Philadelphia. I took some notes from their notes which unhelpfully gives you a 2nd-hand account of the event. However there is some cool stuff from the event they reported on…
Notes from Museums and Technology Talk « A Great Becoming…