Trends Watch
PSFK - the go-to source for new ideas and inspiration for creative professionals. Web Trends: All About Internet Trends & Social Media Trends. Putting people first. IBM this week announced plans to commit more than $100 million to globally expand its consulting services capability to help clients with experience design and engagement.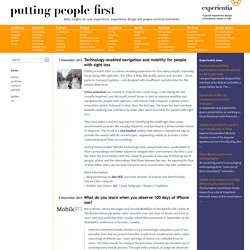 As part of the investment, the company will open 10 new IBM Interactive Experience labs around the world and plans to add 1,000 employees to create new, personalized models of engagement through data and design. Located in Bangalore, Beijing, Groningen, London, Melbourne, Mexico City, New York, Sao Paulo, Shanghai, and Tokyo, the new labs provide clients with the opportunity to work side-by-side with researchers and consultants as well as experts in experience design, mobile and digital marketing. These multi-discipline teams analyze business challenges and jointly create solutions that integrate next-generation mobile, social, analytics and cloud technologies.
IBM plans to open additional labs in the future to support the global demand for data-driven experiences. The Arena for Accountable Predictions - Long Bets. Springwise | New business ideas, trends and innovation. Forecasting, Tracking and Analyzing Global Trends | Trends Research Institute. Future Trends | Globalchange.com. Futurist Keynote Speaker: Posts, Slides, Videos - Future Trends, Economy, Markets, Keynote Speaker Media interview before Prime Minister's Global Forum in Latvia - Patrick Dixon's opening keynote at Riga International Leadership Summit Topics: global economy, social media, sanctions against Russia, future of Baltic companies, Scottish independence, green tech, altering the human race using biotech, intuition in business decisions, dangerous obsessions with shareholder value, and what companies will most succeed in tomorrow's world.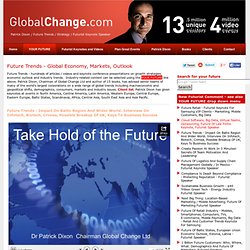 "Our world will be increasingly interconnected and we will see key examples where a single event has triggered a wide range of unexpected results. Expect successful corporations to develop more agile and dynamic leadership, with alternative strategies for innovation and change. " | Wheii.com | trends.
Introduction Robodance Control a WowWee Roboquad robot that is spying on my home, using just my voice from across the Internet, thanks to Skype's free video call service It is human nature to over-estimate what can be achieved within one year and under-estimate what can be achieved within five years.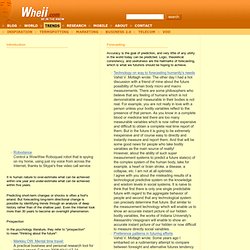 Predicting short-term changes or shocks is often a fool's errand. But forecasting long-term directional change is possible by identifying trends through an analysis of deep history rather than of the shallow past. Even the Internet took more than 30 years to become an overnight phenomenon. YouTube Search Trends. You can now restrict Google Trends results to YouTube.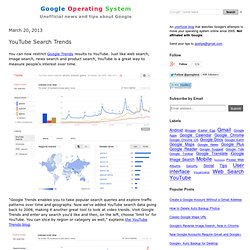 Just like web search, image search, news search and product search, YouTube is a great way to measure people's interest over time. "Google Trends enables you to take popular search queries and explore traffic patterns over time and geography. Thecoolhunter.net. World trend map.png 6740x4768 pixels. Future Exploration Blog | Our trend map for 2009: The vital Trends, Risks, and Red Herrings you must know.
Following our extremely popular Trend Blend 2007 and Trend Blend 2008 trend maps comes….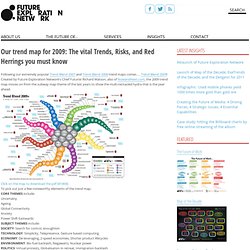 Trend Blend 2009! Created by Future Exploration Network's Chief Futurist Richard Watson, also of NowandNext.com, the 2009 trend map moves on from the subway map theme of the last years to show the multi-tentacled hydra that is the year ahead. What's Next. Blog d'e-Mergences. 20 Tech Trends That Will Define 2013, Selected By Frog. Yes, it's already that transitional time when our current year ends and another begins, and today and tomorrow are quickly changing hands.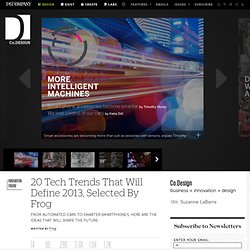 Rather than look back at significant trends of the past 366 days (2012 was a leap year, remember?) , we asked a wide variety of technologists, designers, and strategists across Frog's studios around the world to take a look to the future. Trending StumbleUpon.com. Le marketing a changé...et vous ? CoolBusinessIdeas.com | New Business Ideas, Innovations And Opportunities Around The World. Zeitgeist 2010. TENDANCES GRAPHIQUES. THE LAB. TRENDsFACTORY 2015 : 200 pistes prospectives ? surveiller. Nous vous proposons 200 idées, ovnis, tags, tendances, objets, concepts, signaux à surveiller entre 2011 et 2015…en mode shuffle.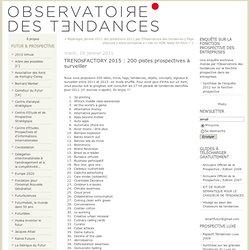 Pour avoir plus d'infos sur un item, vous pouvez soit le googliser, soit consulter les 27 hit parade de tendances identifiés pour 2011 (cf. sources ci-après). So enjoy !!! Market Research and Analysis on Emerging Technologies. SoonSoonSoon - Prenez un temps d'avance. The 12 Trends That Will Rule Products In 2013. Near the end of 2012, a group of us at Ziba got together to review what we'd learned over the course of the year.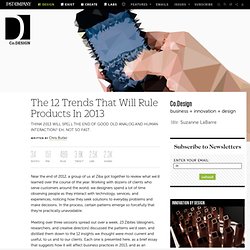 Working with dozens of clients who serve customers around the world, we designers spend a lot of time observing people as they interact with technology, services, and experiences, noticing how they seek solutions to everyday problems and make decisions. In the process, certain patterns emerge so forcefully that they're practically unavoidable. Meeting over three sessions spread out over a week, 23 Zibites (designers, researchers, and creative directors) discussed the patterns we'd seen, and distilled them down to the 12 insights we thought were most current and useful, to us and to our clients. Each one is presented here, as a brief essay that suggests how it will affect business practices in 2013, and as an illustration created by one of Ziba's designers. Real-time local Twitter trends. Twitterfall. Now Trending | WhatTheTrend - popular twitter trends. Welcome to Global Trends. Gerald Celente (geraldcelente) Trends. Tendances des recherches. Tendances des recherches – Recherches du moment.
Ngram Viewer. Tendances des recherches – Meilleurs classements Tout. Trends in the Living Networks. Trend map for 2010 and out to 2050. For the last few years Richard Watson of NowandNext has created annual trend maps based on city subway maps.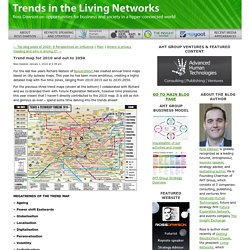 This year he has been more ambitious, creating a highly detailed map with five time zones, ranging from 2010-2015 out to 2035-2050. For the previous three trend maps (shown at the bottom) I collaborated with Richard and we co-branded them with Future Exploration Network, however time pressures this year meant that I haven't directly contributed to the 2010 map. It is still as rich and glorious as ever – spend some time delving into the trends ahead! - Ageing - Power shift Eastwards. Trend map for 2007 and beyond. Given it's festive season now, it's probably time for a bit of fun.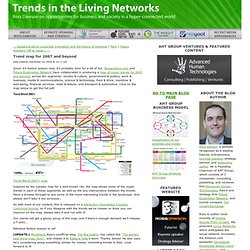 Nowandnext.com and Future Exploration Network have collaborated in producing a map of major trends for 2007 and beyond, across ten segments: society & culture, government & politics, work & business, media & communications, science & technology, food & drink, medicine & well-being, financial services, retail & leisure, and transport & automotive.
Click on the map below to get the full pdf. Trend Blend 2007+ map. The top 10 emerging technologies for 2013. Find out about the top 10 emerging technologies for 2014 here. New challenges need new technologies to tackle them. Here, the World Economic Forum's Global Agenda Council on Emerging Technologies identifies the top 10 most promising technology trends that can help to deliver sustainable growth in decades to come as global population and material demands on the environment continue to grow rapidly.
Web Trends: All About Internet Trends & Social Media Trends. Trendwatching.com trends & insights from around the world. Most Interesting and Creative Ideas. Welcome to TrendSpottr. TrendsNow. TREND HUNTER - #1 in Trends - Fashion Trends, Tech, Style, Design, Pop Culture and Marketing.
---