Trends Watch
PSFK - the go-to source for new ideas and inspiration for creative professionals
Web Trends: All About Internet Trends & Social Media Trends
Putting people first
The Arena for Accountable Predictions - Long Bets
Springwise | New business ideas, trends and innovation
Forecasting, Tracking and Analyzing Global Trends | Trends Research Institute
Futurist Keynote - Articles and Videos - Future Trends, Economy, Markets, Industry
Future Trends | Globalchange.com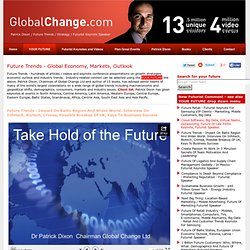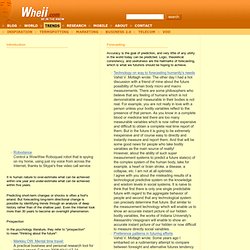 Introduction Robodance Control a WowWee Roboquad robot that is spying on my home, using just my voice from across the Internet, thanks to Skype's free video call service
| Wheii.com | trends
YouTube Search Trends
You can now restrict Google Trends results to YouTube. Just like web search, image search, news search and product search, YouTube is a great way to measure people's interest over time. "Google Trends enables you to take popular search queries and explore traffic patterns over time and geography.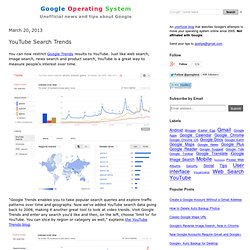 thecoolhunter.net
world trend map.png 6740x4768 pixels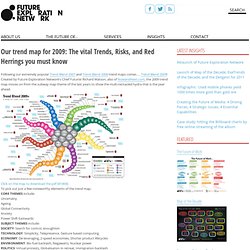 Following our extremely popular Trend Blend 2007 and Trend Blend 2008 trend maps comes…. Trend Blend 2009! Created by Future Exploration Network's Chief Futurist Richard Watson, also of NowandNext.com, the 2009 trend map moves on from the subway map theme of the last years to show the multi-tentacled hydra that is the year ahead.
Future Exploration Blog | Our trend map for 2009: The vital Trends, Risks, and Red Herrings you must know
What's Next
Blog d'e-Mergences
20 Tech Trends That Will Define 2013, Selected By Frog
Yes, it's already that transitional time when our current year ends and another begins, and today and tomorrow are quickly changing hands. Rather than look back at significant trends of the past 366 days (2012 was a leap year, remember?), we asked a wide variety of technologists, designers, and strategists across Frog's studios around the world to take a look to the future.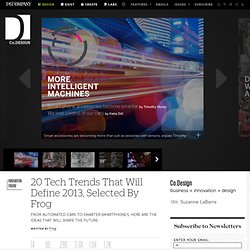 Trendrr
Trending StumbleUpon.com
Le pape du marketing, alias Kotler, vient de sortir sa dernière mise au point sur le marketing "Marketing 3.0". Il s'agit d'une bonne synthèse qui rafraîchira bien les idées sur le sujet. Le marketing 1.0 était centré produit/fonctionnalités, puis le marketing 2.0 a été orienté clients/émotions, aujourd'hui le marketing 3.0 est centré humain/spirituel (une chronologie fortement inspirée de la pyramide de Maslow).
Le marketing a changé...et vous ?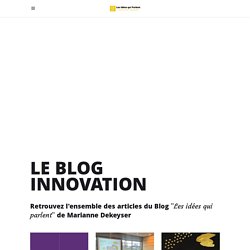 CoolBusinessIdeas.com | New Business Ideas, Innovations And Opportunities Around The World
Zeitgeist 2010
TENDANCES GRAPHIQUES
THE LAB
TRENDsFACTORY 2015 : 200 pistes prospectives ? surveiller
Nous vous proposons 200 idées, ovnis, tags, tendances, objets, concepts, signaux à surveiller entre 2011 et 2015…en mode shuffle. Pour avoir plus d'infos sur un item, vous pouvez soit le googliser, soit consulter les 27 hit parade de tendances identifiés pour 2011 (cf. sources ci-après). So enjoy !!!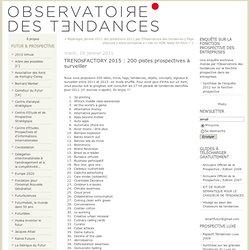 Market Research and Analysis on Emerging Technologies
SoonSoonSoon - Prenez un temps d'avance
Near the end of 2012, a group of us at Ziba got together to review what we'd learned over the course of the year.
The 12 Trends That Will Rule Products In 2013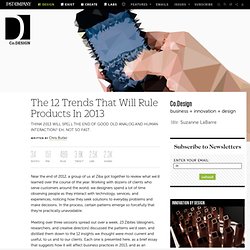 Real-time local Twitter trends
Twitterfall
Now Trending | WhatTheTrend - popular twitter trends
Welcome to Global Trends
Gerald Celente (geraldcelente) on Twitter
Trends
Tendances des recherches
Tendances des recherches – Recherches du moment
Ngram Viewer
Tendances des recherches – Meilleurs classements Tout
Trends in the Living Networks
Trend map for 2010 and out to 2050
For the last few years Richard Watson of NowandNext has created annual trend maps based on city subway maps. This year he has been more ambitious, creating a highly detailed map with five time zones, ranging from 2010-2015 out to 2035-2050.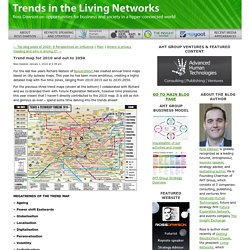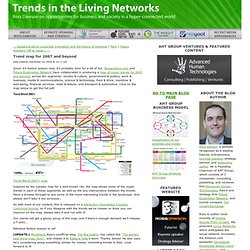 Given it's festive season now, it's probably time for a bit of fun.
Trend map for 2007 and beyond
The top 10 emerging technologies for 2013
New challenges need new technologies to tackle them. Here, the World Economic Forum's Global Agenda Council on Emerging Technologies identifies the top 10 most promising technology trends that can help to deliver sustainable growth in decades to come as global population and material demands on the environment continue to grow rapidly. These are technologies that the Council considers have made development breakthroughs and are nearing large-scale deployment.
Web Trends: All About Internet Trends & Social Media Trends
trendwatching.com trends & insights from around the world
Most Interesting and Creative Ideas
Sign In
Welcome to TrendSpottr
TrendsNow
TREND HUNTER - #1 in Trends - Fashion Trends, Tech, Style, Design, Pop Culture and Marketing