Trends Watch
PSFK - the go-to source for new ideas and inspiration for creative professionals
This summer, Etsy is opening its Wholesale channel publicly to qualified retailers in the U.S. and abroad. That means that you'll be able to find some of the very same handmade, vintage and artisian goods from Etsy sellers in your favorite physical retail stores -- like Nordstrom, West Elm and Indigo. Etsy Wholesale, which launched in private beta last year, will require participants to pay a one-time sign up fee of $100 plus a 3.5-percent transaction fee for whoesale orders. Etsy sellers will be able to take advantage of the fact that nearly 90 percent of retail commerce still occurs offline these days by gaining the the opportunity to find more buyers so they can grow their businesses.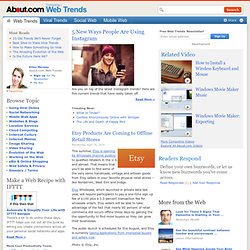 Web Trends: All About Internet Trends & Social Media Trends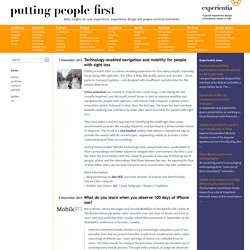 IBM this week announced plans to commit more than $100 million to globally expand its consulting services capability to help clients with experience design and engagement. As part of the investment, the company will open 10 new IBM Interactive Experience labs around the world and plans to add 1,000 employees to create new, personalized models of engagement through data and design. Located in Bangalore, Beijing, Groningen, London, Melbourne, Mexico City, New York, Sao Paulo, Shanghai, and Tokyo, the new labs provide clients with the opportunity to work side-by-side with researchers and consultants as well as experts in experience design, mobile and digital marketing. These multi-discipline teams analyze business challenges and jointly create solutions that integrate next-generation mobile, social, analytics and cloud technologies. IBM plans to open additional labs in the future to support the global demand for data-driven experiences.
Putting people first
The Arena for Accountable Predictions - Long Bets
Springwise | New business ideas, trends and innovation
Forecasting, Tracking and Analyzing Global Trends | Trends Research Institute
Futurist Keynote Speaker: Posts, Slides, Videos - Future Trends, Economy, Markets, Keynote Speaker Media interview before Prime Minister's Global Forum in Latvia - Patrick Dixon's opening keynote at Riga International Leadership Summit Topics: global economy, social media, sanctions against Russia, future of Baltic companies, Scottish independence, green tech, altering the human race using biotech, intuition in business decisions, dangerous obsessions with shareholder value, and what companies will most succeed in tomorrow's world. "Our world will be increasingly interconnected and we will see key examples where a single event has triggered a wide range of unexpected results. Expect successful corporations to develop more agile and dynamic leadership, with alternative strategies for innovation and change."
Future Trends | Globalchange.com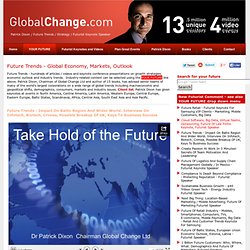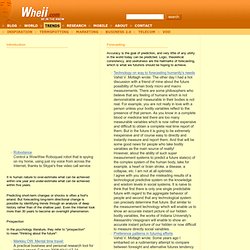 Introduction Robodance Control a WowWee Roboquad robot that is spying on my home, using just my voice from across the Internet, thanks to Skype's free video call service It is human nature to over-estimate what can be achieved within one year and under-estimate what can be achieved within five years. Predicting short-term changes or shocks is often a fool's errand. But forecasting long-term directional change is possible by identifying trends through an analysis of deep history rather than of the shallow past. Even the Internet took more than 30 years to become an overnight phenomenon.
| Wheii.com | trends
YouTube Search Trends
You can now restrict Google Trends results to YouTube. Just like web search, image search, news search and product search, YouTube is a great way to measure people's interest over time. "Google Trends enables you to take popular search queries and explore traffic patterns over time and geography.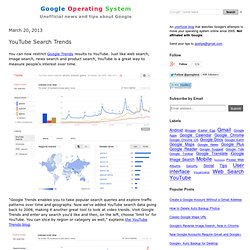 thecoolhunter.net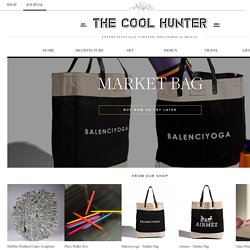 More than 400 invited guests attended the opening event of The Art Hunter in Sydney on Tuesday night. The Art Hunter launch is a collaboration between The Cool Hunter and Jaguar, and the opening night was also the Australian debut of the spectacular Jaguar C-X17 concept car. To present The Art Hunter, we engaged our dream team of collaborators, led by the incomparable Natalie Longeon and Peter Pengly from The Artistry (they designed and executed our Summer Lovers Rotate store as well), to transform a 500 m2 warehouse in Alexandria into a genuinely exciting, temporary three-week art exhibition experience.
world trend map.png 6740x4768 pixels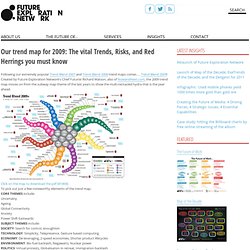 Following our extremely popular Trend Blend 2007 and Trend Blend 2008 trend maps comes…. Trend Blend 2009! Created by Future Exploration Network's Chief Futurist Richard Watson, also of NowandNext.com, the 2009 trend map moves on from the subway map theme of the last years to show the multi-tentacled hydra that is the year ahead.
Future Exploration Blog | Our trend map for 2009: The vital Trends, Risks, and Red Herrings you must know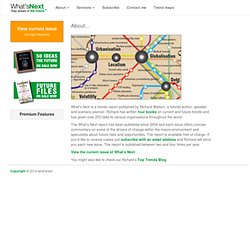 What's Next
What's Next is a trends report published by Richard Watson, a futurist author, speaker and scenario planner. Richard has written four books on current and future trends and has given over 200 talks to various organisations throughout the world. The What's Next report has been published since 2004 and each issue offers concise commentary on some of the drivers of change within the macro-environment and speculates about future risks and opportunities.
Meilleurs voeux 08:03 Publié dans Agenda d'événements | Lien permanent | Commentaires (0) | Envoyer cette note e-Mergences, partenaire d'Innovation Tourisme
Blog d'e-Mergences
20 Tech Trends That Will Define 2013, Selected By Frog
Yes, it's already that transitional time when our current year ends and another begins, and today and tomorrow are quickly changing hands. Rather than look back at significant trends of the past 366 days (2012 was a leap year, remember?), we asked a wide variety of technologists, designers, and strategists across Frog's studios around the world to take a look to the future.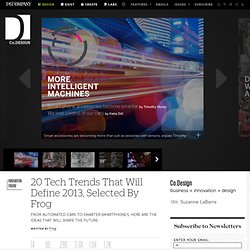 Trending StumbleUpon.com
Le Blog Le blog innovation de Marianne Dekeyser Décryptages et partages (sans langue de bois) autour de : #StratégieInnovation - #CultureInnovation Guides L'innovaCtionnaire 2013 : « Le dernier guide pratique et méthodologique pour innover plus et mieux ! » Evènements et Nouveautés Merci aux 200 participants qui sont venus expérimenter des approches et techniques simples ! Conférence du 14 janvier 2014"Manager, Cultivez l'esprit d'innovation" Accompagnement Innovation « Recette » pour accompagner avec succès l'innovation dans les organisations : Ateliers collaboratifs, Inspiration et Accélération, Résultats tangibles ET qui font la différence Évènements et Nouveautés Ateliers d'expérimentions concrètes autour des thèmes-clés de l'innovation managériale...
Le marketing a changé...et vous ?
CoolBusinessIdeas.com | New Business Ideas, Innovations And Opportunities Around The World
Zeitgeist 2010
TENDANCES GRAPHIQUES
Mardi 15 avril 2014 2 15 /04 /Avr /2014 13:44 JazzBerry Blue cartographie de grandes villes connues pour souligner l'agencement de leurs rues. De New-York à Paris en passant par Jérusalem ou New Delhi, l'artiste autodidacte réussi à capturer […]
1. Intelligence collective – connective – digitale – interconnectée - collaborative – mèmes [12 votes] 2. Co-Working – Co-conception – Co-innovation [10 votes] 3.
THE LAB
TRENDsFACTORY 2015 : 200 pistes prospectives ? surveiller
Nous vous proposons 200 idées, ovnis, tags, tendances, objets, concepts, signaux à surveiller entre 2011 et 2015…en mode shuffle. Pour avoir plus d'infos sur un item, vous pouvez soit le googliser, soit consulter les 27 hit parade de tendances identifiés pour 2011 (cf. sources ci-après). So enjoy !!!
Market Research and Analysis on Emerging Technologies
SoonSoonSoon - Prenez un temps d'avance
The 12 Trends That Will Rule Products In 2013
Real-time local Twitter trends
Twitterfall
Now Trending | WhatTheTrend - popular twitter trends
Welcome to Global Trends
Gerald Celente (geraldcelente) on Twitter
Trends
Tendances des recherches
Tendances des recherches – Recherches du moment
Ngram Viewer
Tendances des recherches – Meilleurs classements Tout
Trends in the Living Networks
Trend map for 2010 and out to 2050
Trend map for 2007 and beyond
The top 10 emerging technologies for 2013
Web Trends: All About Internet Trends & Social Media Trends
trendwatching.com trends & insights from around the world
Most Interesting and Creative Ideas
Welcome to TrendSpottr
TrendsNow
TREND HUNTER - #1 in Trends - Fashion Trends, Tech, Style, Design, Pop Culture and Marketing