Humanrights
COLLECTIVEINTELLIGENCE:Creating a Prosperous World at Peace
The Green Belt Movement | Home
Global Policy Forum
Category:Humanitarian aid organizations
Stop the War Coalition
The Rachel Corrie Foundation for Peace and Justice
Council on Spiritual Practices - Code of Ethics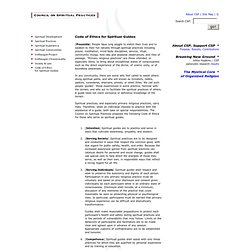 Code of Ethics for Spiritual Guides [ Preamble ] People have long sought to enrich their lives and to awaken to their full natures through spiritual practices including prayer, meditation, mind-body disciplines, service, ritual, community liturgy, holy-day and seasonal observances, and rites of passage. "Primary religious practices" are those intended, or especially likely, to bring about exceptional states of consciousness such as the direct experience of the divine, of cosmic unity, or of boundless awareness.
King Institute Home
Our world. Your move.
Fight Child Trafficking | End Child Hunger - Gandhi For Children — End Forced Child Labor
Combining microfinance, education, and health protection to end world hunger. :: Freedom from Hunger
Kennedy intended to stop the Vietnam War and all future wars waged for profit by America. He intended to regain control of the American people's government and their country by cutting off the military industrial complex and Federal Reserve banking system's money supply. Kennedy launched his brilliant attack using the Constitution, which states "Congress shall have the Power to Coin Money and Regulate the Value." Kennedy stopped the Federal Reserve banking system from printing money and lending it to the government at interest by signing Executive Order 11,110 on June 4, 1963. The order called for the issuance of $4,292,893,815,000 (4.3 trillion) in United States Notes through the U.S. treasury rather than the Federal Reserve banking system.
The Peoples Voice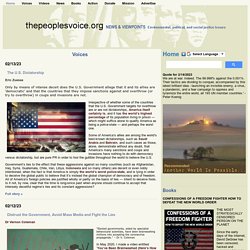 Global Voices Advocacy
Category:Concepts in ethics
Category:Core issues in ethics
Category:Ethics organizations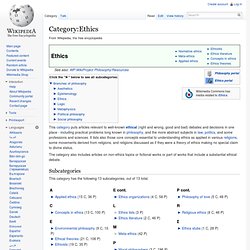 This category puts articles relevant to well-known ethical (right and wrong, good and bad) debates and decisions in one place - including practical problems long known in philosophy , and the more abstract subjects in law , politics , and some professions and sciences. It lists also those core concepts essential to understanding ethics as applied in various religions , some movements derived from religions, and religions discussed as if they were a theory of ethics making no special claim to divine status. The category also includes articles on non-ethics topics or fictional works or part of works that include a substantial ethical debate. Subcategories This category has the following 14 subcategories, out of 14 total.
Category:Ethics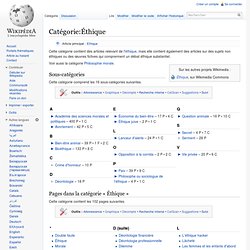 Catégorie:Éthique
Une page de Wikipédia, l'encyclopédie libre. Cette catégorie contient des articles relevant de l' éthique , mais elle contient également des articles sur des sujets non éthiques ou des œuvres fictives qui comprennent un débat éthique substantiel. Sur les autres projets Wikimedia : Éthique , sur Wikimedia Commons Voir aussi la catégorie Philosophie morale .
Indigenous rights are those rights that exist in recognition of the specific condition of the indigenous peoples . This includes not only the most basic human rights of physical survival and integrity, but also the preservation of their land , language , religion , and other elements of cultural heritage that are a part of their existence as a people. This can be used as an expression for advocacy of social organizations or form a part of the national law in establishing the relation between a government and the right of self-determination among the indigenous people living within its borders, or in international law as a protection against violation by actions of governments or groups of private interests. [ edit ] Definition and historical background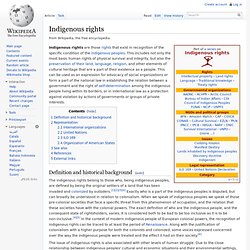 Indigenous rights
Conférence "Regards sur les peuples autochtones" - Les Champs Libres - 24-05-2012
Contents Human Rights Watch believes that a vibrant international human rights movement is necessary to create significant and sustained improvements in human rights. We consider strong partnerships with other nongovernmental organizations (NGOs) an essential tool for achieving impact, and close collaboration with other NGOs has been instrumental in many of our successes.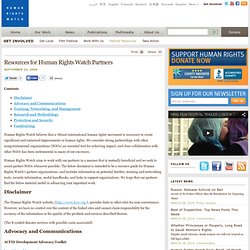 Resources for Human Rights Watch Partners
There was a time in America, 150 years ago -- on September 22, 1862 to be exact -- when it was chic to have a slave serving your dessert, or at hand to service your every need. While slavery is no longer acceptable in the developed world, legally or socially, the sad truth is that it is still rampant -- hidden in the underbelly of society (all around the world) and woven into the supply chain of some of our goods. Human trafficking is a $32 billion industry with 20.9 million people trafficked annually, according to the International Labor Organization . One-quarter of the world's slave labor are children.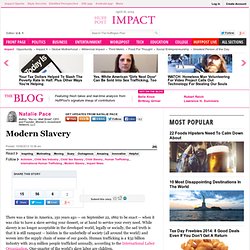 Natalie Pace: Modern Slavery
United Nations Global Initiative to Fight Human Trafficking HUB