Global P.O.V Orgs
Before creating new orgs just look around if you can join an existing one...
co ordinate
co operate
co exist
merge.... Sep 20
Center for Global Ethics
The Pew Charitable Trusts - Non Profit Organization Serving the Public
Institute for Global Ethics: Promoting Ethical Action in a Global Context
International Humanist and Ethical Union | The world union of Humanist organizations
Initiatives Pour un Autre Monde - IPAM - Bienvenue
Coredem
Universal democracy // Suffrage universel
Global MindShift
WorldShift Community | Landing page for associated ELN sitesWorldShift Community | Landing page for associated ELN sites
Love Shift - Changing the Way We Think about the World
Shift Movement | Home
Accelerating the Next Evolution | The Shift Network
Holistic Management International
HoloWorld
World Transformation
Vision 2020 | The Shift Network
The #GlobalPOV Project combines critical social theory, improvised art and digital media to explore innovative ways of thinking about poverty, inequality and undertaking poverty action. The #GlobalPOV Project is an innovation in the field of higher education. A mixed-media approach to curriculum and pedagogy, it combines traditional teaching components, such as in-class instruction and independent reading, with online video micro-lectures and social media discussions to capture and maintain the interest of young people who crave intelligent content — content that challenges them to think flexibly, grapple with issues of practice and theory, and question the assumptions of past development efforts.
The #GlobalPOV Project | Blum Center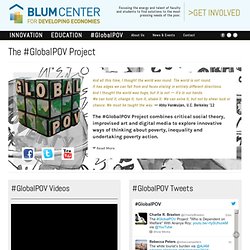 Knowledgebase • A collaborative research programme on Global Civil Society
Union of International Associations |
World Development Movement (wdmuk) sur Pinterest
Global justice campaigners tackling the causes of poverty | World Development Movement
Une nouvelle Humanité! Vers un éveil collectif mondial? Une prise de conscience globale? Une évolution spirituelle écologique?
Planetarisation