Philosophy
Project Reason is a 501(c)(3) nonprofit foundation devoted to spreading scientific knowledge and secular values in society. We seek to encourage critical thinking and wise public policy through a variety of interrelated projects. The foundation can convene conferences, produce films, sponsor scientific studies and opinion polls, hold contests, publish original research, award grants to other charitable organizations, and offer material support to religious dissidents and public intellectuals — all with the purpose of eroding the influence of dogmatism, superstition, and bigotry in our world.
About Project Reason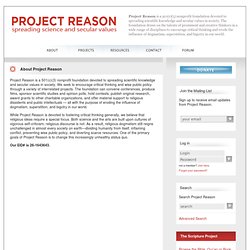 A new exposé of Mother Teresa shows that she—and the Vatican—were even worse than we thought
First Christopher Hitchens took her down, then we learned that her faith wasn't as strong as we thought, and now a new study from the Université de Montréal is poised to completely destroy what shreds are left of Mother Teresa's reputation.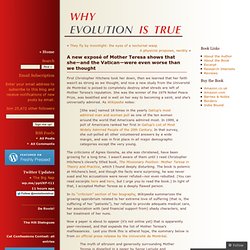 IHEU | International Humanist and Ethical Union
The Deen Institute - Home
The Deen Institute - Home
The Protocols of the Learned Elders of Zion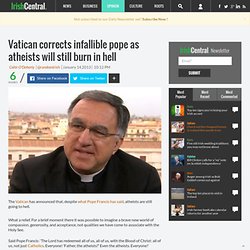 Vatican corrects infallible pope: atheists will still burn in hell | Manhattan Diary
The Vatican has just announced that, despite what Pope Francis said in his homily earlier this week, atheists are still going to hell. What a relief.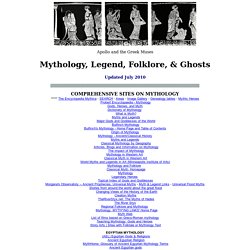 Apollo and the Greek Muses Updated July 2010 COMPREHENSIVE SITES ON MYTHOLOGY ***** The Encyclopedia Mythica - SEARCH - Areas - Image Gallery - Genealogy tables - Mythic Heroes Probert Encyclopaedia - Mythology Gods, Heroes, and MythDictionary of Mythology What is Myth?
Topics Covered | The Partially Examined Life Philosophy Podcast
We've done a lot of episodes now, and even we lose track of where we've been. We aim (among other things) to present the equivalent of an introductory course in all the major areas of philosophy. Here's where I'll periodically comment on our progress.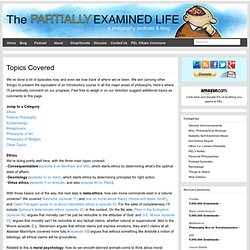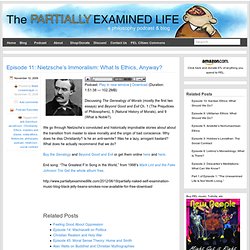 Episode 11: Nietzsche's Immoralism: What Is Ethics, Anyway?
Podcast: Play in new window | Download (Duration: 1:51:38 — 102.2MB) Discussing The Genealogy of Morals (mostly the first two essays) and Beyond Good and Evil Ch. 1 (The Prejudices of Philosophers), 5 (Natural History of Morals), and 9 (What is Noble?). We go through Nietzsche's convoluted and historically improbable stories about about the transition from master to slave morality and the origin of bad conscience. Why does he diss Christianity? Is he an anti-semite? Was he a lazy, arrogant bastard?
Consciousness Evolution
Parmenides was among the first to propose an ontological characterization of the fundamental nature of reality. Overview[edit] Some fundamental questions[edit] Principal questions of ontology include: "What can be said to exist?""Into what categories, if any, can we sort existing things?""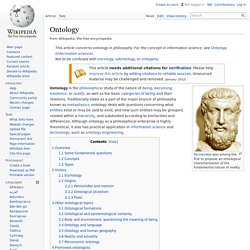 Samadhanga Sutta: The Factors of Concentration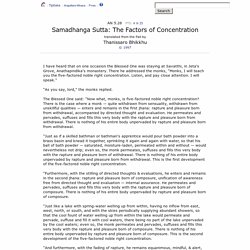 I have heard that on one occasion the Blessed One was staying at Savatthi, in Jeta's Grove, Anathapindika's monastery.
Moral particularism
Moral particularism is the view that there are no moral principles and that moral judgement can be found only as one decides particular cases, either real or imagined.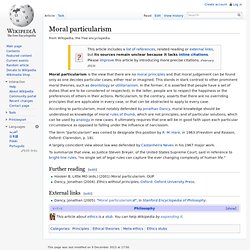 Nathaniel Branden |
Declaration against interest
Declarations against interest are an exception to the rule on hearsay in which a person's statement may be used, where generally the content of the statement is so prejudicial to the person making it that she would not have made the statement unless she believed the statement was true.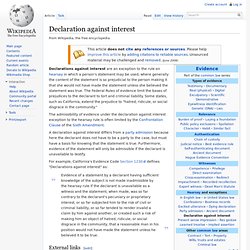 Marriage (also called matrimony or wedlock) is a socially or ritually recognized union or legal contract between spouses that establishes rights and obligations between them, between them and their children, and between them and their in-laws.[1] The definition of marriage varies according to different cultures, but it is principally an institution in which interpersonal relationships, usually intimate and sexual, are acknowledged. In some cultures, marriage is recommended or compulsory before pursuing any sexual activity. When defined broadly, marriage is considered a cultural universal.
Marriage
Imagination, Part 1 & 2 | Ideas with Paul Kennedy | CBC Radio
The poet William Blake claimed that the imagination is our highest faculty and central to our perception and experience of reality.
Born in Poitiers, France to an upper-middle-class family, Foucault was educated at the Lycée Henri-IV and then the École Normale Supérieure, where he developed an interest in philosophy and came under the influence of his tutors Jean Hyppolite and Louis Althusser. After several years as a cultural diplomat abroad, he returned to France and published his first major book, The History of Madness. After obtaining work between 1960 and 1966 at the University of Clermont-Ferrand, he produced two more significant publications, The Birth of the Clinic and The Order of Things, which displayed his increasing involvement with structuralism, a theoretical movement in social anthropology from which he later distanced himself. These first three histories were examples of a historiographical technique Foucault was developing he called archaeology which he would later give a comprehensive account of in The Archaeology of Knowledge.
Hippocratic Oath
A 12th-century Byzantine manuscript of the Oath The Hippocratic Oath is an oath historically taken by physicians and other healthcare professionals swearing to practice medicine honestly. It is widely believed to have been written by Hippocrates, often regarded as the father of western medicine, or by one of his students.[1] The oath is written in Ionic Greek (late 5th century BC),[2] and is usually included in the Hippocratic Corpus. Classical scholar Ludwig Edelstein proposed that the oath was written by Pythagoreans, a theory that has been questioned because of the lack of evidence for a school of Pythagorean medicine.[3] Of historic and traditional value, the oath is considered a rite of passage for practitioners of medicine in many countries, although nowadays the modernized version of the text varies among them. The Hippocratic Oath (horkos) is one of the most widely known of Greek medical texts.
Mithra the Pagan Christ | Mithraism and Christianity | Mithras the Sun God
At the core of Aryanism is a precise foundational ideology from which its religious, political and cultural aspects all follow.
Philosophy
Page 2: Martin Luther King's Speech: 'I Have a Dream' - The Full Text
learning to move like a cat « Aspiring Taoist
Syntactic Structures
The Woman With 7 Personalities Part 2