Earth
NOAA - National Oceanic and Atmospheric Administration. Interactive Weather and Wave Forecast Maps. Jet Stream Position. Geology.com - Earth Science News, Maps, Dictionary, Articles, Jobs. Welcome to the USGS - U.S. Geological Survey. U.S. Geological Survey Earthquake Hazards Program. Earthquakes - 7 days, M2.5+ Latest Earthquakesv0.4.4, 2014-01-07 ListClicking the list icon in the top right corner will load the earthquake list.MapClicking the map icon in the top right corner will load the map.SettingsClicking the options icon in the top right corner lets you change which earthquakes are displayed, and many other map and list options.HelpClicking the help icon in the top right corner loads this page.Bookmark to save your settings.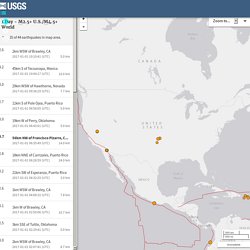 Links. Earthquake Map | Pacific Northwest Seismic Network. Map of earthquakes in the last two weeks in Washington, Oregon, and neighboring regions.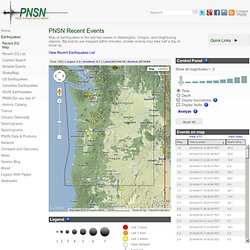 Big events are mapped within minutes, smaller events may take half a day to show up. View Recent Earthquakes List Map Data Map data ©2014 Google, INEGI. ANRCatalog. Free Publications. National Oceanographic Data Center. Tree of Life Web Project. The Tree of Life Web Project (ToL) is a collaborative effort of biologists and nature enthusiasts from around the world.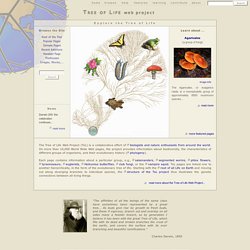 On more than 10,000 World Wide Web pages, the project provides information about biodiversity, the characteristics of different groups of organisms, and their evolutionary history (phylogeny). Each page contains information about a particular group, e.g., salamanders, segmented worms, phlox flowers, tyrannosaurs, euglenids, Heliconius butterflies, club fungi, or the vampire squid. ToL pages are linked one to another hierarchically, in the form of the evolutionary tree of life. Starting with the root of all Life on Earth and moving out along diverging branches to individual species, the structure of the ToL project thus illustrates the genetic connections between all living things.
The Art and Science of Colored Sand Grains.
---