Generators
CSS3 Rounded Corner Generator. This generator will help you create the code necassary to use rounded corners (border-radius) on your webpages.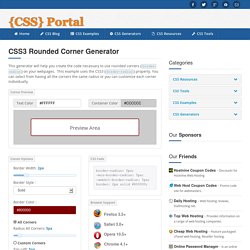 This example uses the CSS3 (border-radius) property. You can select from having all the corners the same radius or you can customize each corner individually. Corner Options. Fresh Generator - Web 2.0 boxes made easy Pages. CSS3.0 Maker | CSS3.0 Generator | CSS 3.0 Generator | css3 generator. CSS Button Generator - Imageless css buttons simplified. Text Shadow Generator | CSS3 Generator | CSS3Gen. Use this CSS3 text shadow generator to easily add text shadow styles into your web project.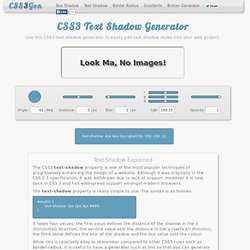 Your browser does not support the CSS3 text-shadow property. You can still use this tool to generate the CSS3 rule, but you won' be able to see the results. <div class="error_msg">Please enable Javascript to use this page. Online Ribbon Generator Tool. 3D Ribbon Generator - CSS3d.net. BgPatterns — Background Patterns Maker. Texture Maker - The Seamless Texture Generator. Texture Maker is a seamless texture generator and designer.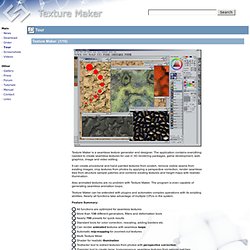 The application contains everything needed to create seamless textures for use in 3D rendering packages, game development, web graphics, image and video editing. It can create procedural and hand painted textures from scratch, remove visible seams from existing images, crop textures from photos by applying a perspective correction, render seamless tiles from structure sample patches and combine existing textures and height maps with realistic illumination.
Generate HTML Tables Clean and Fast. TEXT-IMAGE.com. Navigation Tab Menu Generator CSS - Tabs Generator.
---