Text generators
Web Button Maker, Free Web Button Generator - GRSites
ButtonBoost
Banner maker - create web banners including Facebook banners and profile banners in seconds
Custom Crazy Text Generator
Free Flash Banner Creator, creating amazing flashbanner online
123-banner.com is a free flash banner generator. Within only 60 seconds you can create your own free Flash banner directly here on the website using one of the 123-banner.com templates. You can use any color you like for your promotion text and for the background. Even the transparency of your text and the background can be adjusted. Why using flash banners?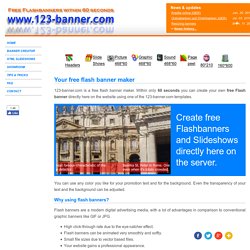 Banner Generator
<h2 style="width: 500px; font: 18pt Helvetica; color: #000; margin: 200px auto;">You must be using a JavaScript-capable browser in order for this website to work.</p><p>Please enable JavaScript or switch to a more modern browser. We recommend <a href="http://firefox.com/" style="font-size: 18pt;">Firefox</a>.</h2> MyBannerMaker.com is a simple, yet awesome, way to create banners for your website, social networking profiles (including FB banners) online advertising or simply for promoting of your business or event.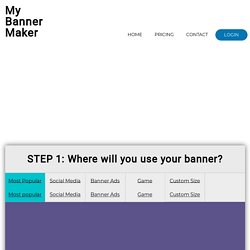 Facebook Banners - Text Generator - YourGen.com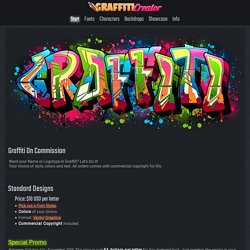 Welcome to The Graffiti Creator The Graffiti Creator© allow you to design your own name or logotype in graffiti-style. You have several different font styles to choose from and the program has an array of cool tools to further enhance your logotype to look like the real thing. Go ahead and explore the possibilities! Please remember and respect the artist behind this work. You're free to use The Graffiti Creator© and publish your designs for personal use only.
Myspace text generator