Random Generators
Deck of Many Things Generator
Click " DRAW " to get a card from the deck. Each time a card is drawn from the deck, it is replaced (making it possible to draw the same card twice) unless the draw is The Victim (Red Joker) or The Gambler (Black Joker), in which case the card is discarded from the deck. The Jokers can be returned to the deck by clicking on the "Shuffle" button to the right. When a Joker is drawn it it will be indicated to the right. A running tally of what cards have been drawn will appear below.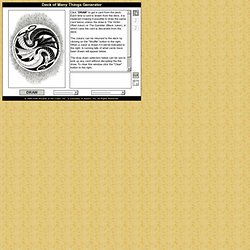 Staff & Patrons: Random Inn/Tavern Generator
Monster Builder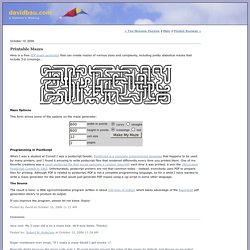 Printable Mazes
Printable Mazes Here is a free PDF maze generator that can create mazes of various sizes and complexity, including pretty diabolical mazes that include 3-d crossings... Maze Options This form drives some of the options on the maze generator: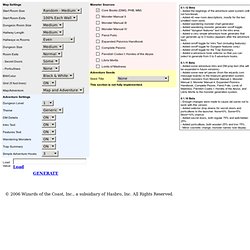 0.1.12 Beta - Added the beginings of the adventure seed system (still not functional). - Added 40 new room descriptions, mostly for the two smallest room sizes. - Added wandering monster chart generator. - Added wandering monster generator on/off toggle. - Added "dungeon features" text to the intro area. - Added a very simple adventure hook generator that can generate up to 5 hooks (appears after the adventure text). - Added on/off toggle for Intro Text (including features) - Added on/off toggle for Dungeon features (only) - Added on/off toggle for the Trap Summary. - Added a adventure hook selector so that you can select to generate from 0 to 5 adventure hooks.
return to Age of Fable . return to library . view the sourcecode character pictures by Jason Braun If you want a world to put your dungeon in, you could use my Random Map Generator . For more individual characters, see my D&D/Labyrinth Lord random class generator . You can generate characters of any level quickly using this Labyrinth Lord character generator .