#B2B
Get flash to fully experience Pearltrees
Influencers have long been part of marketing, but they are a key element of social media marketing for B2B companies and need to be part of your outreach process. An influencer is not just someone with a large Twitter following, but someone who can influence someone to take an action. In social media, those actions can be to click on a link, share a post or sign-up for a product demo.
This is a guest post by Tommy Walker , host of Inside The Mind . The "How To" article is suffocating the blogosphere. One look at Google explains why: "How To" returns nearly 13 BILLION results. In the past hour Google reports 55,100 results & Twitter shows "How to" updating at nearly 200 results/minute. "How to" has saturated the internet.
I don't consider myself a very good content marketer. The number of people I know of that can consistently and frequently produce amazing content on a calendar is pretty small, and I'm not going to risk offense by naming anyone here, so I'll leave it at this--if you don't think this applies to you, then it doesn't. Fair enough? Content marketing is an enormously powerful tool, and it can be used for good and for evil.
B2B marketers are often challenged by social media. Although large consumer brands appear to have an easier time using social media to connect with their customers, enjoying widespread coverage for their sexy campaigns, social media is actually a better fit for B2B companies. Social media helps you find and nurture those relationships that are a key part of B2B selling.
This week at the PRSA Digital Impact Conference Vanessa DiMauro, CEO of Leader Networks talked to attendees about the benefits of online communities as part of a B2B social media strategy. According to DiMauro, nearly 2/3 of organizations surveyed are engaged in private, online communities hosted by companies that sell them computer hardware, software or services. The average visit in an online B2B community is 10 minutes, with 1 visit every 5-7 days. What B2B organization wouldn't want roughly 40 minutes of time per month with members to help solve problems, learn how they are using tools and what topics they are most interested in?
Social media is now a proven and important element of most digital marketing campaigns and the majority of marketing practitioners will be comfortable with how it integrates into their existing communication programmes. However, there is still a dearth of information on how social media integrates with and supports selling and engagement activities. During 2010 I worked closely with Peter Abraham of Econsultancy to research the subject, and we focused on one of the most complex high value service markets, that of professional services (lawyers, accountants/consultants and surveyors). Whereas in many companies it is common for marketing to be separated from sales, the problem is exacerbated within the professions as often the marketing and business development professionals are often not allowed to get involved in direct selling as this is undertaken by the lawyers, accountants and surveyors themselves.
There are many misconceptions regarding social media among B2B marketers. Among the most common is from people who feel that social, while interesting, is best suited for B2C brands. Fact is, there are many B2B companies using social media to great effect today- not only for relationship building, but to drive bottom-line sales. The simple question to answer is, how? After deconstructing dozens of best practices, we identified three recurring strategies that can lead to success for B2B marketers: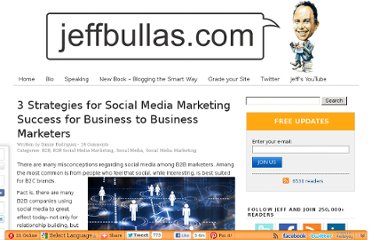 Confession time: As a B2B inbound marketer, I sometimes get jealous of our B2C inbound marketing brethren. It feels like they have it so easy, particularly when it comes to visual content. For them, creating visual content can sometimes be as simple and effective as snapping a photo of their product and adding an Instagram filter. For us B2B folks, on the other hand, visual content can pose much more of a challenge.