Astrophysik
TELESCOPES. Astronomy for kids. Adrn | galaxy. Search. Astronomy. Outer planets. LROC Image Browser - wac_nearside. Visualizing The Size And Scale Of Our World. NRAO Very Large Array. Scale-of-universe-v1. Wallpaper. 2011.
General physics
General physics. Meteors, Comets & Asteroids. Astronomy. Lawrence Krauss: Life, the Universe and Nothing Video. Log in Get Smart Cynthia Yildirim Lawrence Krauss: Life, the Universe and Nothing Lawrence Krauss is a professor in the Department of Physics at Arizona State University.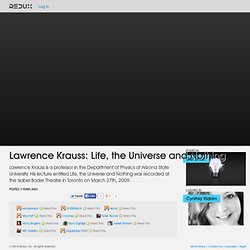 Space News : Black Holes, Eclipse, Nasa, Space. 12 Must-See Skywatching Events in 2012 | 2012 Skywatching Events Guide & 2012 Venus Transit | Amateur Astronomy. This story was updated on Jan. 2.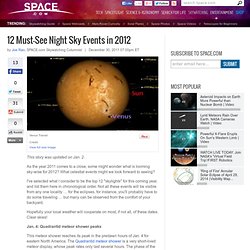 As the year 2011 comes to a close, some might wonder what is looming sky-wise for 2012? What celestial events might we look forward to seeing? Astronomy. The Nine Planets Solar System Tour. The Hubble Heritage Project Website. Largest Star Ever Discovered. RedOrbit - Science, Space, Technology, Health News and Information. COSMOS magazine | The science of everything. Space. Chromoscope - View the Universe in different wavelengths. TAM Panel - Our Future in Space. How Far Away is the Sun? Another Visualization. - Brad BlogSpeed.
Alright, this one's a doozy.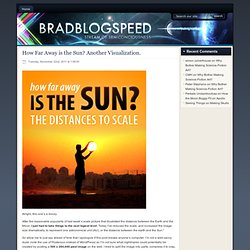 After the reasonable popularity of last week's scale picture that illustrated the distance between the Earth and the Moon, I just had to take things to the next logical level. Today I've reduced the scale, and increased the image size dramatically, to represent one astronomical unit (AU), or the distance between the earth and the Sun.
---