Astrophysik
Search
astronomy on Tumblr
The Very Large Array, one of the world's premier astronomical radio observatories, consists of 27 radio antennas in a Y-shaped configuration on the Plains of San Agustin fifty miles west of Socorro, New Mexico. Each antenna is 25 meters (82 feet) in diameter. The data from the antennas is combined electronically to give the resolution of an antenna 36km (22 miles) across, with the sensitivity of a dish 130 meters (422 feet) in diameter. For more information, see our overview of the VLA, and the configuration schedule. We will be offering our regular guided tours of the VLA every first Saturday of the month, from 11AM to 3PM.
NRAO Very Large Array
Meteors, Comets & Asteroids
Lawrence Krauss: Life, the Universe and Nothing Video
Log in Get Smart Cynthia Yildirim Lawrence Krauss: Life, the Universe and Nothing Lawrence Krauss is a professor in the Department of Physics at Arizona State University.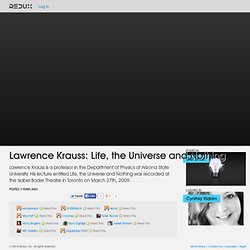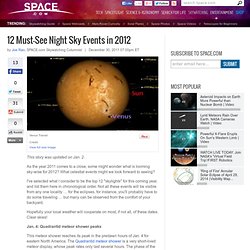 This story was updated on Jan. 2. As the year 2011 comes to a close, some might wonder what is looming sky-wise for 2012? What celestial events might we look forward to seeing?
Alright, this one's a doozy. After the reasonable popularity of last week's scale picture that illustrated the distance between the Earth and the Moon, I just had to take things to the next logical level. Today I've reduced the scale, and increased the image size dramatically, to represent one astronomical unit (AU), or the distance between the earth and the Sun