Sandwiches, Pizza, Pasta, Rice
Sandwiches, Hamburgers. Pasta. Arancini di Riso Recipe : Giada De Laurentiis. Directions Pour enough oil in a heavy large saucepan to reach the depth of 3 inches.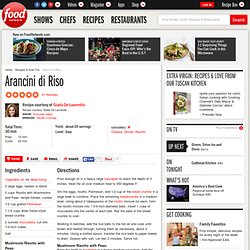 Heat the oil over medium heat to 350 degrees F. Stir the eggs, risotto, Parmesan, and 1/2 cup of the bread crumbs in a large bowl to combine. Place the remaining breadcrumbs in a medium bowl. Using about 2 tablespoons of the risotto mixture for each, form the risotto mixture into 1 3/4-inch-diameter balls.
---