Recipes
Saturday, October 3, 2009 My mom is a Chinese dumpling wrapping queen. She can mix up a batch of filling ingredients and fold them into perfect, little half-moon dumplings faster than the time it takes me to set the table. Mom will usually sit at the breakfast table facing the television and while watching her favorite Chinese soap opera, she'll be pleating those suckers without once looking down. The problem is that during emotional moments of the dramatic soap, her dumplings would look, well, sad. So, the lesson is, watch happy shows, get happy, fat dumplings!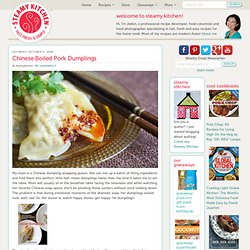 Chinese Boiled Pork Dumplings | Steamy Kitchen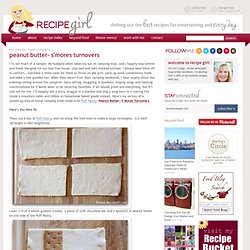 Peanut Butter- S'Mores Turnovers
How to Make Peanut Butter SMores Turnovers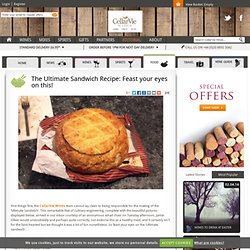 The Ultimate Sandwich Recipe: Feast your eyes on this!
First things first, the CellarVie Wines team cannot lay claim to being responsible for the making of the 'Ultimate Sandwich'. This remarkable feat of culinary engineering, complete with the beautiful pictures displayed below, arrived in our inbox courtesy of an anonymous email chain on Tuesday afternoon. Jamie Oliver would undoubtedly and perhaps quite correctly, not endorse this as a healthy meal, and it certainly isn't for the faint-hearted but we thought it was a bit of fun nonetheless.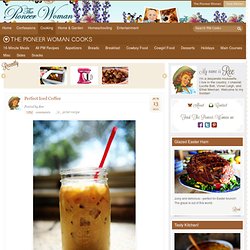 Iced coffee is my life. When I wake up, often around the time party animals on the west coast are just heading home, I start each day not with a cup of freshly brewed hot java, but with a tall, blessed glass of creamy iced coffee in a glass. I've been an iced coffee freakazoid for years and years. To say I couldn't live without it is an understatement. It gives me the tools I need to cope.
Perfect Iced Coffee | The Pioneer Woman Cooks | Ree Drummond
prep time: 10 minutes
Tortellini With Garlic Butter Sauce Recipe from Sheli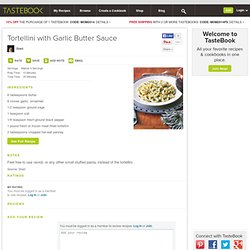 Cinnamon Roll Waffles | recipegirl.com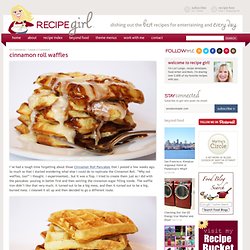 Cinnamon Roll Waffles I've had a tough time forgetting about those Cinnamon Roll Pancakes that I posted a few weeks ago. So much so that I started wondering what else I could do to replicate the Cinnamon Roll.
15 Basic Stir Fry Sauce Recipes (Food and Whine)
Cookies and Cream Peanut Butter...Midnight Snack | Picky Palate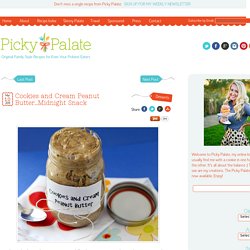 Need a midnight snack? Or anytime snack for that matter, my cookies and cream peanut butter might just knock your socks off I was so lucky to have my sister and her family visit earlier this week and I got to have some kitchen time with her beautiful girls.
Baked Tomato, Garlic, and Basil Bruschetta Bites | PETA.org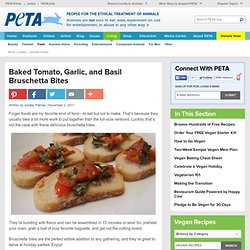 Finger foods are my favorite kind of food—to eat but not to make. That's because they usually take a bit more work to put together than the full-size versions. Luckily, that's not the case with these delicious bruschetta bites. They're bursting with flavor and can be assembled in 15 minutes or less! So, preheat your oven, grab a loaf of your favorite baguette, and get out the cutting board.
- StumbleUpon
I have a comment on this comment, then I have a comment for the OP. To Amy: Removing to foil is simply a way to keep the steaks warm whilst resting (FOR 5 MINUTES AT LEAST… ALWAYYYS!).
Steak au Poivre - The Showstopper | Food for My Family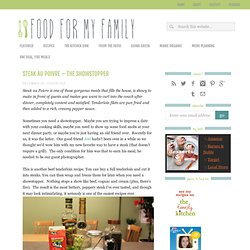 This time I decided to make it with those mini fruit flavored marshmallows. I had to sort them by colour first. I figured they would add a little bit of flavor to the fondant so I wouldn't have to add much flavoring oil.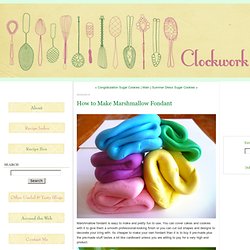 How to Make Marshmallow Fondant - Clockwork Lemon
June 30, 2011 | Sweet Recipes | Comments
italian sodas - StumbleUpon
Jun29 Not to sound full of myself, but I'm pretty sure this is the be all, end all of popsicle roundups. There's a little something for everyone: the foodies, the purists, the ones who prefer frozen yogurt, the ones who prefer a little alcohol, everyone.
Design Crush & Popsicles! - StumbleUpon
If I ask my kids what they want for dinner, there's a ninety percent chance they will say pizza. They love it, as most kids do. I guess I have an affection for it too, but we don't indulge too often.
Pepperoni Pizza Puffs - StumbleUpon
The Pastry Affair - Home - Vanilla Bean&Pudding
Chocolate Chip Cookie Dough Brownies
Chocolate Chip Cookie Dough Brownies | RecipeGirl.com - StumbleUpon
Yesterday as I stood in the kitchen trying to figure out what to make for dinner I wondered to myself, how do those people do it on those shows where they are given random ingredients and are suppose come up with something genius. I think I stood there for a solid 20 minutes looking in the cupboards and staring into the freezer hoping that I would be struck by some ingenious idea. Then I saw the oranges, and it hit me "O-raang Shh-ikun"….that is orange chicken if you can't understand the accent.
Better Than Takeout Orange Chicken - StumbleUpon
Grilled Strawberries Over Vanilla Ice Cream : TreeHugger
No-Churn homemade icecream | The Wanna be Country Girl - StumbleUpon
Balsamic BBQ Glazed Chicken - StumbleUpon
Dr. Pepper Barbecue Sauce Recipe at Epicurious.com - StumbleUpon
Chai Spice Glazed Doughnut Muffins
Get your cook on. - StumbleUpon
makes & recipe: ice cream cake (but not like you think) - StumbleUpon
places to get recipes, not just one recipe
Portuguese Apple Fritters -DK
Cinnamon Sugar Pull-Apart Bread — Joy the Baker - StumbleUpon