Pictures
AT-110805-colorful-ants-03.photoblog600.jpg from msn.com - StumbleUpon. Puppy98037639b.jpg from foreignpolicy.com - StumbleUpon. P-animal.jpg from smashingmagazine.com - StumbleUpon. Launch_vernacotola.jpg from nasa.gov - StumbleUpon. Photo &My God, its full of stars& by Thomas Zimmer - StumbleUpon. WISE2011-003-lg.jpg from berkeley.edu - StumbleUpon. 20110615TLEKotsiopoulos.jpg from nasa.gov - StumbleUpon.
Free_spirit_by_sepraven-d3hmex1.jpg from deviantart.net - StumbleUpon. Your beautiful eyes on the Behance Network. Funny lol pictures. 267.jpg from earthshots.org. 20-Striking-Natural-Disasters.jpg from upi.com. Beautiful/Decay Cult of the Creative Arts. Lori Nix. 12995u.jpg from loc.gov. Lake-anna-quarter.jpg from greengirl.org. 10 Examples of Incredible Starry Night Sky Photography, and a How-To Video |...
Mwcliffs_vetter_2000.jpg from nasa.gov. Pacman_wild.jpg from emulate.su. Dream Worlds Revealed On Canvas. Along with some magnificent dreams, Jacek Yerka finds inspiration for his masterful paintings from his childhood memories: the places, remembered feelings and smells of 1950′s Poland.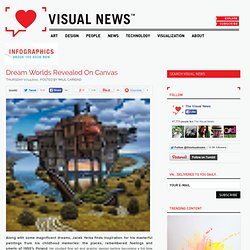 He studied fine art and graphic design before becoming a full time artist in 1980… and we're glad he did. His paintings will take you through incredible worlds of imagination, bending reality in captivating and clever ways fit to inspire a novel or film. See many more examples of his find paintings at yerkaland.com. 9251675-md.jpg from photo.net. Anka Zhuravleva | Designcollector™