Philosophie / Psychologie
Elsewhere we examined several great tensions shaping the human condition: the role of nature versus nurture in shaping humans' social fates and the tensions between the needs of individuals' and the needs of their social systems. The relative importance of these tensions--and relative potency of one force versus the other--has produced great divides in social psychological theories. Another issue generating a major schism involves the workings of the human psyche, whether individuals' decision-makings are more-or-less rational (or, perhaps are determined by some universally uniform neural brain design) or whether they are shaped by uncontrollable sociocultural (external) or emotional (internal) forces.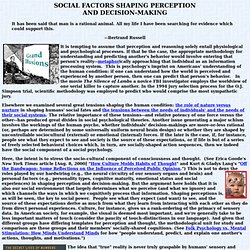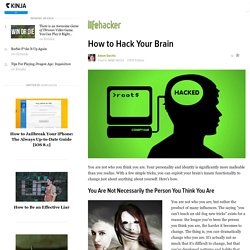 I've been doing this sort of thing since I was a freshman in highschool; I used to be a super shy person that didn't talk to anyone, currently I'm a shy person that doesn't really care about anything, thinks he has the capacity to do absolutely anything with limitless potential yet still amounts to nothing as there's always someone better (psychological trick to improve capabilities faster) and is far more social than ever. ;D I just find it easier to teach myself that I truly don't exist, I'm simply what I want to be whilst influenced by the knowledge I have. Deciding what you want to be and what factors decide how that can happen is the hardest part, but once you figure it out you can literally do or be anything you'd like. Hacking yourself is extremely fun, just be careful so you don't run into an identity crisis or depression. It's a fine line if you go too fast, and it can freak out your friends if you change _too_ quickly. 1/31/11 3:43pm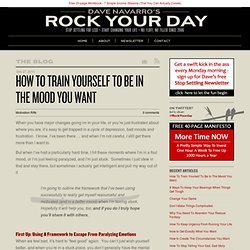 Dec 27, 2010 When you have major changes going on in your life, or you're just frustrated about where you are, it's easy to get trapped in a cycle of depression, bad moods and frustration. I know, I've been there … and when I'm not careful, I still get there more than I want to. But when I've had a particularly hard time, I hit these moments where I'm in a foul mood, or I'm just feeling paralyzed, and I'm just stuck. Sometimes I just stew in that and stay there, but sometimes I actually get intelligent and pull my way out of it.
Psychological ("personality") Types According to Jung's theory of Psychological Types we are all different in fundamental ways. One's ability to process different information is limited by their particular type. These types are sixteen. People can be either Extroverts or Introverts, depending on the direction of their activity ; Thinking, Feeling, Sensing, Intuitive, according to their own information pathways; Judging or Perceiving, depending on the method in which they process received information.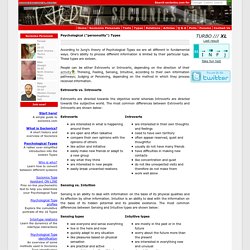 From Los Angeles Times: It's not all about you Chances are, others aren't judging you as harshly as you think, if at all. By Benedict Carey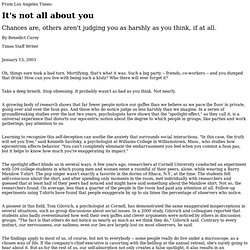 STEPHEN FRY: WHAT I WISH ID KNOWN WHEN I WAS 18 on Vimeo
In an Abilene paradox a group of people collectively decide on a course of action that is counter to the preferences of many of the individuals in the group.[1][2] It involves a common breakdown of group communication in which each member mistakenly believes that their own preferences are counter to the group's and, therefore, does not raise objections. A common phrase relating to the Abilene paradox is a desire to not "rock the boat". Explanation[edit] The term was introduced by management expert Jerry B.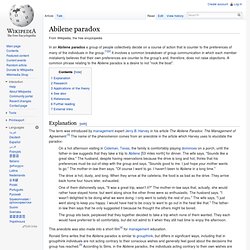 Abilene paradox
Too Ugly for Love | Documentary Heaven | Watch Free Documentaries Online
BDD, or Body Dysmorphic Disorder, is a largely undiagnosed medical condition that is said to affect 1% of the British population. Sufferers are obsessed with how they look and can spend hours obsessively grooming themselves. Often misunderstood as a vanity driven obsession, people with BDD are the opposite; they believe they are horrendously ugly. In fact they are so disgusted by their looks, one in four attempt suicide.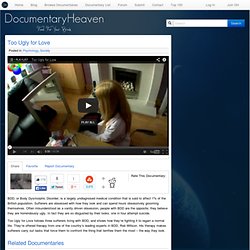 The Scientific Method in Psychology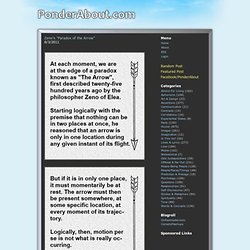 Zeno's "Paradox of the Arrow" passage from Biocentrismby Robert Lanza M.D.Related Posts:The Paradox Of The Infinite CircleThe Liar ParadoxThe Barber Paradox Tags: paradoxes Posted in Time Comments It's just an exercise in logic by an ancient philosopher.
This is a list of some of the major unsolved problems in philosophy. Clearly, unsolved philosophical problems exist in the lay sense (e.g. "What is the meaning of life?"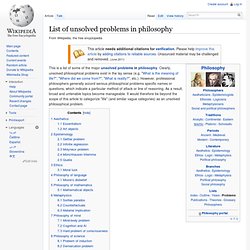 MEANINGLESSNESS and EXISTENTIAL DEPRESSION "It is here that we encounter the central theme of existentialism: to live is to suffer, to survive is to find meaning in the suffering." - Victor Frankl Talk about it: info@livereal.com What's the point?
Arthur Schopenhauer (1788-1860), was a brilliant German philosopher. These 38 Stratagems are excerpts from "The Art of Controversy", first translated into English and published in 1896. Carry your opponent's proposition beyond its natural limits; exaggerate it. The more general your opponent's statement becomes, the more objections you can find against it. The more restricted and narrow his or her propositions remain, the easier they are to defend by him or her. Use different meanings of your opponent's words to refute his or her argument.
The hedgehog's dilemma, or sometimes the porcupine dilemma, is an analogy about the challenges of human intimacy. It describes a situation in which a group of hedgehogs all seek to become close to one another in order to share heat during cold weather. They must remain apart, however, as they cannot avoid hurting one another with their sharp spines. Though they all share the intention of a close reciprocal relationship, this may not occur, for reasons they cannot avoid.