BIBLIOTECAS
Iberoamérica Digital
Open Library is an open, editable library catalog, building towards a web page for every book ever published. More Just like Wikipedia, you can contribute new information or corrections to the catalog.
Welcome to Open Library
More information than you require. Vital Statistics Members 1,803,345 Books cataloged 89,283,168 Tags added 107,285,132 Unique works 8,168,263
Zeitgeist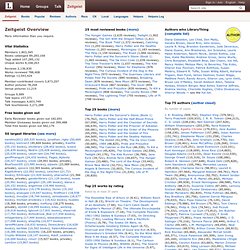 Welcome to Open Library
Libraries Reference. Compare reviews & ratings.
Academic Libraries Reference. Compare reviews & ratings.
EMVI: Biblioteca Virtual y Enciclopedia de las Ciencias Sociales, Económicas y Jurídicas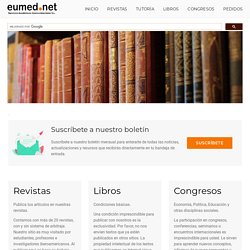 En este sitio web puede encontrar gratis y accesible libremente, el texto completo de diccionarios, libros gratis, revistas, tesis doctorales, cursos gratis, vídeos y presentaciones multimedia sobre Economía, Derecho y otras Ciencias Sociales. Para publicar libros y artículos en eumed.net vea esta página. Vea aquí las novedades incluidas en los últimos días. También podrá inscribirse en los Congresos Internacionales que organizamos cada mes o comprar nuestra Enciclopedia EMVI en CD-ROM. Ver mapa del sitio Enciclopedia
La Bibliothèque russe et slave - Littérature russe et littératures slaves
World Public Library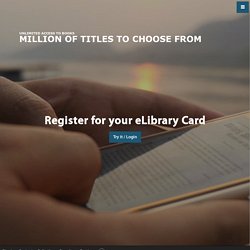 The World Public Library Collection shelves more than 2,000,000+ PDF eBooks in 100+ languages, containing 125 of the finest eBook and eDocument collections published on the Internet today. All of the eBooks are in PDF file format, and all Audio eBooks are in MP3 file format. These formats have been specially designed to be cross-platform compatible with all PCs, Laptops, PDAs, Kindle DX, Kindle 3 iPad/iPods, eReaders, and Smartphones.
Free Ebooks Pearltree Search
Tufts Digital Library
World Public Library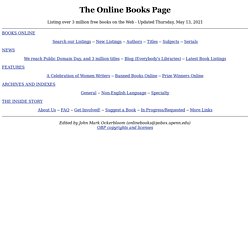 Listing over 1 million free books on the Web - Updated Thursday, April 3, 2014 Search our Listings -- New Listings -- Authors -- Titles -- Subjects -- Serials A public domain metadata gift for our 20th birthday -- Blog (Everybody's Libraries) -- Latest Book Listings A Celebration of Women Writers -- Banned Books Online -- Prize Winners Online
The Online Books Page
PA's Past: Digital Bookshelf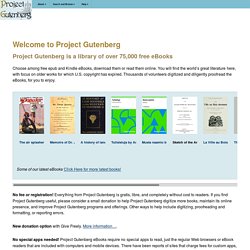 New Kindle Fire Review Before you buy: Read our Webmaster's review of the new Kindle Fire. Some of Our Latest Books Welcome
Project Gutenberg - free ebooks
ScholarWorks: Browsing KU ScholarWorks
ScholarWorks: Browsing KU ScholarWorks
ScholarWorks: Communities and Collections
Current Book List General Index Search Charles Darwin's Library Charles Darwin's Library is a digital edition and virtual reconstruction of the surviving books owned by Charles Darwin. This BHL special collection draws on original copies and surrogates from other libraries. It also provides full transcriptions of his annotations and marks.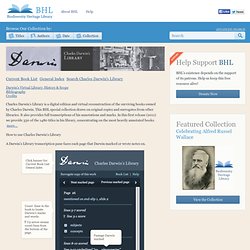 Charles Darwin's Library - Biodiversity Heritage Library
Wiley Online Library
Enlace de bibliotecas digitales
World Public Library
Bowker is the official source for ISBNs in the United States. An ISBN uniquely identifies your book, and facilitates the sale of your book to bookstores (physical and digital) and libraries. Using ISBNs allows you to better manage your book's metadata, and ensure maximum discoverability of your book. Your book is listed in Bowker Books in Print®, which is used by all the major search engines and most bookstores and libraries. You can go to My Identifiers to get your ISBNs instantly.
U.S ISBN Agency - Welcome to the U.S. ISBN Agency, the official source for ISBNs in the United States.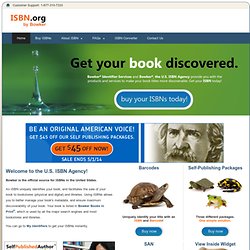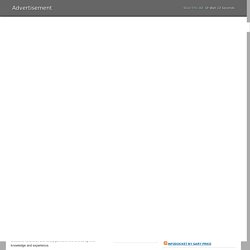 Library People News from Princeton U. to Fullerton, CA By LJ on April 11, 2014 Leave a Comment Stephen Abram joins the board of Librarians Without Borders; Robert Wolven wins 2014 Melvil Dewey Medal; Mindy Hackner is named Director, North Adams Public Library, MA; and more new hires, promotions, retirements, and obituaries from the April 1, 2014, issue of Library Journal. Total Boox to Offer Free Ebook Access During National Library Week
Library Journal: Library News, Reviews and Views
Dostoevski' s manuscripts were thoroughly doodled - more here: http://tinyurl.com/k7kw5ox (Open Culture) - (mdh) Dostoevski's works are available at PG in a choice of languages: English, German, French, Czech, Russian, Finnish,...) - http...://www.gutenberg.org/ebooks/author/314 A lot of his works in original Russian are available at one of the oldest Russian internet collections: the Online library Alexei Komarov - together with a lot of other Russian classics - http://ilibrary.ru/index.html Also in Russia, the complete Dostoevski is (was being?)
Project Gutenberg - Mur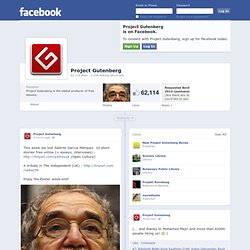 PROJECT GUTENBERG OFFICIAL HOME SITE - INDEX -- Free Books On-Line -
Bibliotecas Virtuales - Comunidad Literaria y Textos en Línea