Project Management solution
Freedcamp - Free Project Management. Free Project Management Software & Online Timesheet Tracking Tool. Online time tracking, task management and project management :: Intervals. YouProjects - One Button Project Management. Miniscrum: online scrum tool. Simple and free. Web-based CRM system, accounting system, billing, groupware and project management - 24SevenOffice. Online Project Planning, Collaboration and Task Management Software | PlanDone. Project & Team Management Software - Team Effect.
Online Project Management Software Tool : Web Based IT Project Management System : Enterprise Project Tracking Solution. Online time tracking, task management and project management :: Intervals. Www.attask.com/?src=pm-sherpa. Es 2.0 Free web based Project Management software.
Online Project Management Software, Project Collaboration Software, Task & Issue Tracking Software. DeskAway is a smart web-based project collaboration software that provides teams a central place to organize, manage & track work.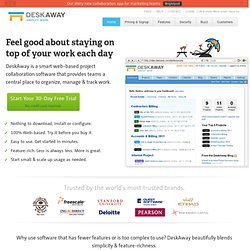 Nothing to download, install or configure. 100% Web-based. Try it before you buy it. 5pm - Project management, task organizer, team collaboration and time tracking software. Free Project Management Software & Online Timesheet Tracking Tool. Online Project Management Software with Time Tracking for Small Business Teams | ClientSpot. Workflow Management System, Workflow Process & Visualization Software - smartQ. Project Management Software, Vertabase, Web Based Project Management Software. Project Management Software, Project Planning Software, Time Tracking Software: Wrike.
Extranet, online project workspace: ProjectSpaces. Online Project Management Software, simple task manager. Collaborate with Your Team & Clients Eliminates email hell and puts everything in one place Using Teamwork.com, your team will know what they have to do, when it must be done and who needs to do it.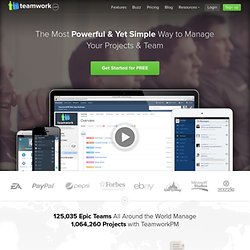 They'll know exactly where to look to find and store everything they need. And so will your clients. Whether it's the head office or your latest lead, your clients can keep up to date with what's going on without having to bug you; something you'll both feel better about. Bug & Issue Tracking, GIT & SVN / Subversion Hosting.
Project Management Software,Online Project Management System :Zoho. Work Better Together Unlock your team's potential by giving them the freedom to collaborate when and how they want—using Wiki, Forums and Chat.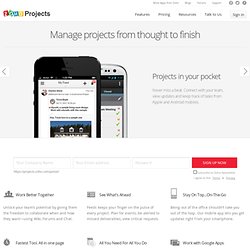 See What's Ahead. Workamajig®: The Solution for Angry Ad People. Scrum project management tool | Agile adoption, consulting, trainings | ScrumDesk. Online Project Management and Collaboration Software | Copper Project | Copper Project. Documentum eRoom - Team Collaboration, Collaboration Software. EMC Documentum CenterStage is an innovative client for EMC Documentum that powers team collaboration across the extended enterprise.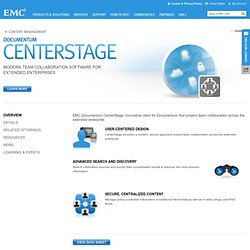 CenterStage enables teams to avoid the inefficiencies of information silos and instead gain visibility and access to important information across the extended enterprise. With CenterStage, organizations enjoy a modern approach toward exchanging ideas while addressing the need to policy-manage information throughout its lifecycle, regardless whether the information resides in traditional file formats, wikis, blogs, or an RSS feed. CenterStage delivers: Business Edition Overview. Connect your team and collaborate with customersand partners.
PBworks is a collaboration platform that allows businesses to interact with their teams, customers, and partners more effectively. Whether with extranets, intranets, projects, or knowledgebases, you can share information and assets, collect feedback, set schedules, manage meetings, and coordinate activity. We deliver results for companies ranging in size from the Fortune 500 to solo startups, and varying in industry from manufacturing to media to medicine. Online Project Management, Task Management and Crowdsourcing Software | Smartsheet. Project management software, online collaboration: Basecamp.
Take a Tour — Apollo. Look at how Apollo works and why it will be a tremendous help for you, your business, clients, coworkers, partners, etc...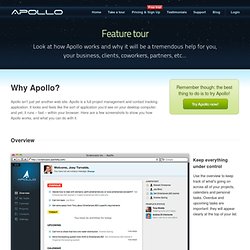 Apollo isn't just yet another web site. Apollo is a full project management and contact tracking application. It looks and feels like the sort of application you'd see on your desktop computer; and yet, it runs – fast – within your browser. Here are a few screenshots to show you how Apollo works, and what you can do with it. Keep everything under control. ActiveCollab - Project Management and Collaboration Tool.
Project Management, Productivity, and Task Application: Action Method. Outils Collaboratifs - Travail Collaboratif - Plateforme Collaborative - Gestion des connaissances - KM - Logiciel Collaboratif - Wiki, Blog, GED. 5pm - project management on time. Tour.
Time Tracking
Online Collaboration. Task Management. Scheduling.
---