Project Management solution
close FREEDCAMP, INC. TERMS OF SALES FREEDCAMP, INC. TERMS AND CONDITIONS PRIVACY POLICY FREEDCAMP, INC. accepts these forms of payment: Credit/debit cards issued by U.S. banks and/or payments through a PayPal account. If a credit card or PayPal account is being used for a transaction, Freedcamp may obtain preapproval for an amount up to the amount of your order.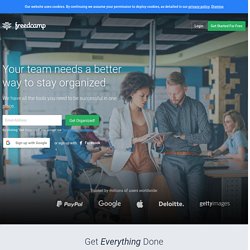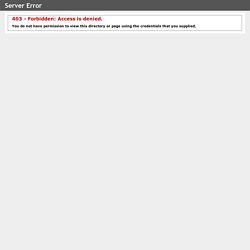 Our customer support staff provides a high level of responsive support. Contact us through email, chat online, or by phone. It is always a pleasure to interact with our users and hear what you have to say, explain a new feature, and better understand your usage of AceProject. With thousands of users everyday, AceProject is dedicated to continually improve and enhance functionality and user experience. This is done through constant communication with our users and feedback via email, online chat, and social media channels.
YouProjects - One Button Project Management.
Miniscrum: online scrum tool. Simple and free
Web-based CRM system, accounting system, billing, groupware and project management - 24SevenOffice
Online Project Planning, Collaboration and Task Management Software | PlanDone
Project & Team Management Software - Team Effect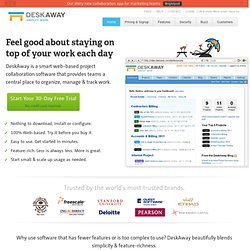 DeskAway is a smart web-based project collaboration software that provides teams a central place to organize, manage & track work. Nothing to download, install or configure. 100% Web-based. Try it before you buy it.
Online Project Management Software, Project Collaboration Software, Task & Issue Tracking Software
5pm - Project management, task organizer, team collaboration and time tracking software
Online Project Management Software with Time Tracking for Small Business Teams | ClientSpot
Workflow Management System, Workflow Process & Visualization Software - smartQ
Project Management Software, Vertabase, Web Based Project Management Software
Project Management Software, Project Planning Software, Time Tracking Software: Wrike
Extranet, online project workspace: ProjectSpaces
Online Project Management Software, simple task manager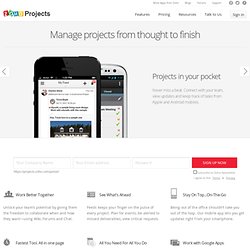 Work Better Together Unlock your team's potential by giving them the freedom to collaborate when and how they want—using Wiki, Forums and Chat. See What's Ahead
Workamajig®: The Solution for Angry Ad People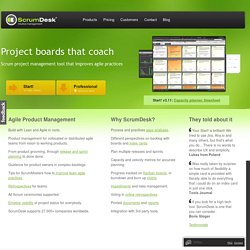 For collocated or distributed agile teams. An interactive task board. Visibility of backlog. Plan multiple releases and sprints. Check velocity and capacity for more accurate planning.
Online Project Management and Collaboration Software | Copper Project | Copper Project
EMC Documentum CenterStage is an innovative client for EMC Documentum that powers team collaboration across the extended enterprise. CenterStage enables teams to avoid the inefficiencies of information silos and instead gain visibility and access to important information across the extended enterprise. With CenterStage, organizations enjoy a modern approach toward exchanging ideas while addressing the need to policy-manage information throughout its lifecycle, regardless whether the information resides in traditional file formats, wikis, blogs, or an RSS feed. CenterStage delivers:
Documentum eRoom - Team Collaboration, Collaboration Software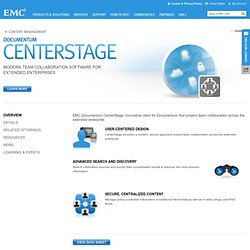 Connect your team and collaborate with customersand partners. PBworks is a collaboration platform that allows businesses to interact with their teams, customers, and partners more effectively. Whether with extranets, intranets, projects, or knowledgebases, you can share information and assets, collect feedback, set schedules, manage meetings, and coordinate activity. We deliver results for companies ranging in size from the Fortune 500 to solo startups, and varying in industry from manufacturing to media to medicine. Key Features & Benefits Nothing gets lost — Search across your entire company, including full-text search of uploaded files Easy to use — A simple and intuitive user interface guides you to whatever you need Use it anywhere — Teams on the go can access it from computer, phone, or tablet Customizable to your workflow — Get customers, partners, and vendors on the same page as your team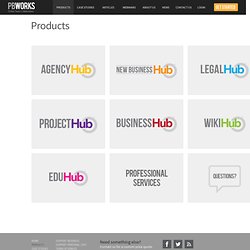 Business Edition Overview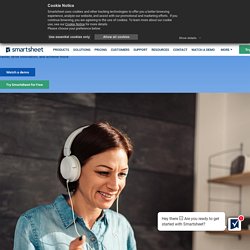 Simple Smartsheet harnesses the power of a platform within the simplicity of a spreadsheet. No training required – get up and running in minutes. Smart Assign tasks, attach files, share sheets, view timelines, set alerts, create rollups, go mobile, and much more – all with one intuitive tool. Trusted More than a million folks use Smartsheet in their organizations. Secure, safe and scalable. IT approves, while you get work done.
Highly recommended. Primarily through word-of-mouth alone, Basecamp has become the world's #1 project management tool. For the last 10 years, companies have been switching to Basecamp because it's famously easy-to-use, reliable, and It Just Works™. Combine that with our best-in-the-biz customer service, and you've got a unique and delightful package. Just last week, another 6,119 companies started using Basecamp. A track record you can trust.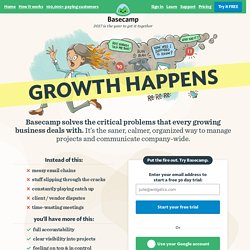 Look at how Apollo works and why it will be a tremendous help for you, your business, clients, coworkers, partners, etc... Apollo isn't just yet another web site. Apollo is a full project management and contact tracking application. It looks and feels like the sort of application you'd see on your desktop computer; and yet, it runs – fast – within your browser. Here are a few screenshots to show you how Apollo works, and what you can do with it. Keep everything under control
Take a Tour — Apollo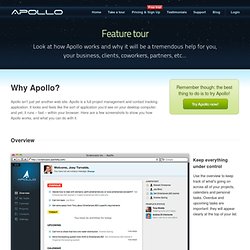 Did you know? Since 2007, activeCollab is used by 10,000+ businesses and organizations just like yours, including design studios, marketing agencies, software companies, art workshops, educational institutions and many more. What do people say about activeCollab? activeCollab helps us provide an uncommon level of professionalism and service to our clients; as a partial result of the organization this tool provides, we wind up looking like rock stars.
Outils Collaboratifs - Travail Collaboratif - Plateforme Collaborative - Gestion des connaissances - KM - Logiciel Collaboratif - Wiki, Blog, GED
5pm - project management on time. Tour.