Project Management solution
Online time tracking, task management and project management :: Intervals
YouProjects - One Button Project Management.
Miniscrum: online scrum tool. Simple and free
Web-based CRM system, accounting system, billing, groupware and project management - 24SevenOffice
Online Project Planning, Collaboration and Task Management Software | PlanDone
Project & Team Management Software - Team Effect
Online Project Management Software Tool : Web Based IT Project Management System : Enterprise Project Tracking Solution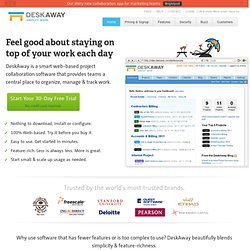 DeskAway is a smart web-based project collaboration software that provides teams a central place to organize, manage & track work. Nothing to download, install or configure. 100% Web-based. Try it before you buy it.
Online Project Management Software, Project Collaboration Software, Task & Issue Tracking Software
5pm - Project management, task organizer, team collaboration and time tracking software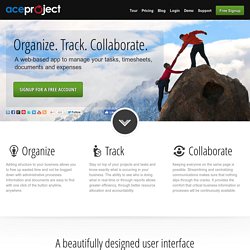 Free Project Management Software & Online Timesheet Tracking Tool
Web browsers, PDF readers and most open source applications are free, but very few project management software products are. Furthermore, we do not believe in half-locked trial software, as key features are not always available for test driving. This is why AceProject offers a free fully-enabled basic package, with fewer privileges than paid packages with regards to the number of users, projects, tasks and amount of storage space. We are proud to offer an entry-level, free web-based project management software package with Gantt charts, time tracking, calendars, document management, project tracking, expense and project cost tracking, and lots more, for free.
Online Project Management Software with Time Tracking for Small Business Teams | ClientSpot
Workflow Management System, Workflow Process & Visualization Software - smartQ
Project Management Software, Vertabase, Web Based Project Management Software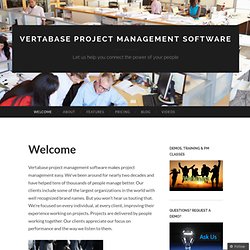 ComputerUser Magazine "Streamlining Project Management Software " We believe in delivering powerful project management tools that are easy-to-use and that actually will be used.
Project Management Software, Project Planning Software, Time Tracking Software: Wrike
Extranet, online project workspace: ProjectSpaces
Online Project Management Software, simple task manager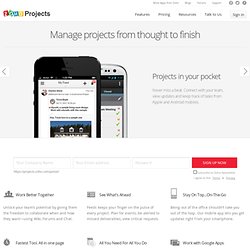 Work Better Together Unlock your team's potential by giving them the freedom to collaborate when and how they want—using Wiki, Forums and Chat. See What's Ahead
Workamajig®: The Solution for Angry Ad People
Online Project Management and Collaboration Software | Copper Project | Copper Project
EMC Documentum CenterStage is an innovative client for EMC Documentum that powers team collaboration across the extended enterprise.
Documentum eRoom - Team Collaboration, Collaboration Software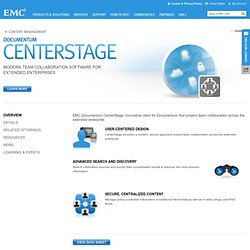 Connect your team and collaborate with customers and partners. PBworks is a collaboration platform that allows businesses to interact with their teams, customers, and partners more effectively. Whether with extranets, intranets, projects, or knowledgebases, you can share information and assets, collect feedback, set schedules, manage meetings, and coordinate activity. We deliver results for companies ranging in size from the Fortune 500 to solo startups, and varying in industry from manufacturing to media to medicine. Key Features & Benefits Nothing gets lost — Search across your entire company, including full-text search of uploaded files Easy to use — A simple and intuitive user interface guides you to whatever you need Use it anywhere — Teams on the go can access it from computer, phone, or tablet Customizable to your workflow — Get customers, partners, and vendors on the same page as your team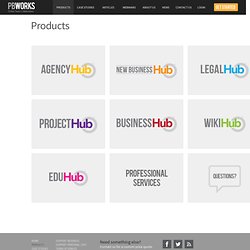 Business Edition Overview
Look at how Apollo works and why it will be a tremendous help for you, your business, clients, coworkers, partners, etc... Apollo isn't just yet another web site. Apollo is a full project management and contact tracking application. It looks and feels like the sort of application you'd see on your desktop computer; and yet, it runs – fast – within your browser. Here are a few screenshots to show you how Apollo works, and what you can do with it. Keep everything under control
Take a Tour — Apollo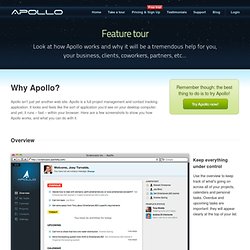 Outils Collaboratifs - Travail Collaboratif - Plateforme Collaborative - Gestion des connaissances - KM - Logiciel Collaboratif - Wiki, Blog, GED
5pm - project management on time. Tour.