Mythology
Apollo Roman name: Apollo Ancient Greek Gods for Kids Apollo was the son of Zeus, king of all the gods. His mother was the gentle Leto. Apollo had a twin sister, Artemis. Apollo had lots of jobs in the ancient Greek god world. One of them was to bring up the sun.
Apollo - Ancient Greek & Roman Gods for Kids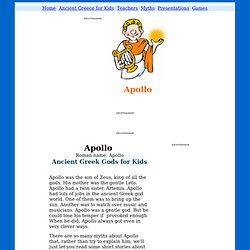 Greek Family Tree
Zeus & Jupiter - Ancient Greek & Roman Gods for Kids
Zeus Roman name: Jupiter Ancient Greek Gods for Kids Zeus was the king of all the gods. He had many magical powers. He could shape shift and make himself look like anybody. He could throw his lightning bolts and do all kinds of damage. He could throw his voice and make himself sound like anybody.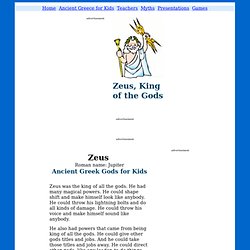 Free Video Clips - Ancient Greek Gods & Goddesses & Mythical Beings
List of Greek mythological figures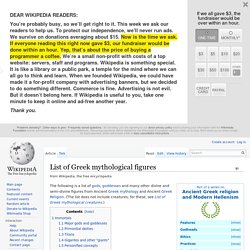 The following is a list of gods and other divine and semi-divine figures from Greek mythology. The list does not include creatures; for these, see List of Greek mythological creatures. Immortals[edit] The Greeks created images of their deities for many purposes. A temple would house the statue of a god or goddess, or multiple deities, and might be decorated with relief scenes depicting myths. Divine images were common on coins.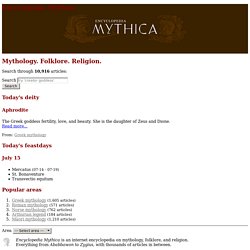 Please enter the award-winning internet encyclopedia of mythology, folklore, and religion. Here you will find everything from A-gskw to Zveda Vechanyaya, with plenty in between. The mythology section is divided to six geographical regions: Africa, Americas, Asia, Europe, Middle East, and Oceania. Each region has many clearly defined subdivisions that will ease your search.
Doing homework? Your teacher has already seen this. See Theoi; it has properly-sourced information. Known errors: Generally inconsistent sourcing. This chart was made in 2004, and Wikipedia was treated as a primary source. Hyperion is also a Titan.