Mythology
Apollo Roman name: Apollo Ancient Greek Gods for Kids Apollo and Artemis were twins. They were the magical children of Zeus and Leto. The twins - Apollo and his sister, Artemis - adored their mother. Apollo, especially, was very protective of his mother. There are many myths about Apollo.
Apollo - Ancient Greek & Roman Gods for Kids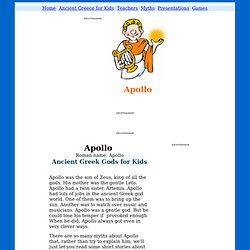 Greek Family Tree
Zeus & Jupiter - Ancient Greek & Roman Gods for Kids
Zeus Roman name: Jupiter Ancient Greek Gods for Kids The Greeks loved to tell stories about the magical family who ruled the heavens.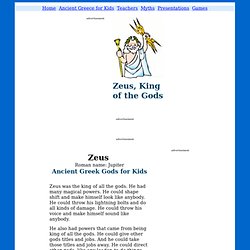 Free Video Clips - Ancient Greek Gods & Goddesses & Mythical Beings
List of Greek mythological figures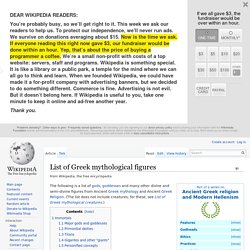 The following is a list of gods and other divine and semi-divine figures from Greek mythology. The list does not include creatures; for these, see List of Greek mythological creatures.
From Wikipedia, the free encyclopedia Buraq from a 17th-century Mughal miniature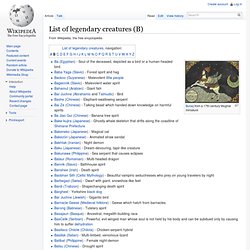 Doing homework? Your teacher has already seen this.