Mythology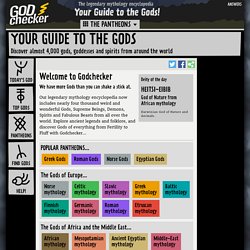 We have more Gods and Goddesses than you can shake a stick at. Our Mythology Encyclopedia features over 3,700 weird and wonderful Supreme Beings, Demons, Spirits and Fabulous Beasts from all over the world. Explore ancient legends and folklore, and discover Gods of everything from Fertility to Fluff with Godchecker... Mythology Encyclopedia. Browse the pantheons of mythology and meet weird and wonderful Gods from around the world. We're adding new information all the time as our mythology database expands to infinite size.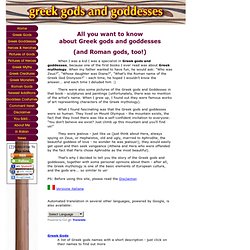 greek gods and goddesses
All you want to knowabout Greek gods and goddesses (and Roman gods, too!) When I was a kid I was a specialist in Greek gods and goddesses, because one of the first books I ever read was about Greek mythology. When my father wanted to have fun, he would ask: "Who was Zeus?", "Whose daughter was Diana?", "What's the Roman name of the Greek God Dionysos?"