iPad Apps for Education
100 Apps for Tech-Savvy Teachers. Are you a teacher now or studying to become one in the future?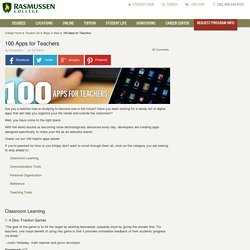 Have you been looking for a handy list of digital apps that will help you organize your life inside and outside the classroom? Well, you have come to the right place. With the world around us becoming more technologically advanced every day, developers are creating apps designed specifically to make your life as an educator easier. Check out our 100 helpful apps below! If you're pressed for time or you simply don't want to scroll through them all, click on the category you are looking to skip ahead to: Recommended iPad Apps. Educational Technology and Mobile Learning: A list of All The Best iPad Apps Teachers Need. 201inShare We have been doing a lot of reviews of educational mobile apps.
We particularly focused on the ones that work on iPad and we tried to cover almost all the fields from digital story telling to apps to teach creativity. Our purpose is to provide teachers with a repository of apps to choose from when trying them with their students in the classroom. Great Educational Music Apps for your iPad. Good news for music teachers.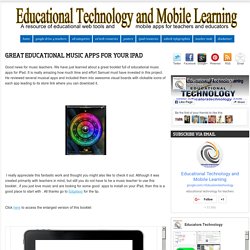 We have just learned about a great booklet full of educational music apps for iPad. It is really amazing how much time and effort Samuel must have invested in this project. He reviewed several musical apps and included them into awesome visual boards with clickable icons of each app leading to its store link where you can download it. Multiple Intelligences Apps for The iPad. Howard Gardner is an internationally recognized leader in the field of developmental psychology.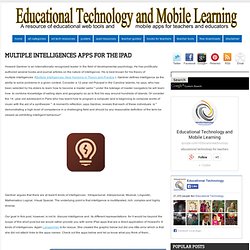 He has prolifically authored several books and journal articles on the nature of intelligence. He is best known for his theory of multiple intelligences (Multiple Intelligences: New Horizons in Theory and Practice ). Gardner defines intelligence as the ability to solve problems in a given context. Great iPad Apps to Organize, Grade, and Assess Students Learning. Gone are the days when teachers used to entirely depend on the use of traditional grading books to keep their students grades and manage rating systems.Now technology has made it way easier for any teacher to have an electronic gradebook with more features than the traditional one and above all accessible anywhere with internet connection.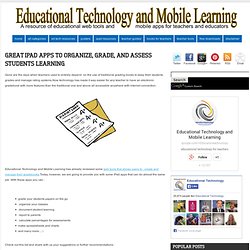 Educational Technology and Mobile Learning has already reviewed some web tools that allows users to create and manage their gradebooks.Today, however, we are going to provide you with some iPad apps that can do almost the same job. With these apps you can : grade your students papers on the go organize your classes document student learning report to parents calculate percentages for assessmentsmake spreadsheets and charts and many more. Excellent Slides on The Use of iPad in Education. Langwitches is one of my trusted resources that I visit frequently for tips about the use of iPad in education.
Today I found out that Silvia has posted some great slides about iPad in Education and upon checking them I found them extremely useful . I am adding these slides to the section we have created here in Educational Technology and Mobile Learning and which is devoted entirely to the educational uses of iPad. 7 Great iPad Writing apps. Writing is the backbone skill in literacy learning0 There are actually several free web tools that teachers can use to easily develop and boost their students writing capabilities.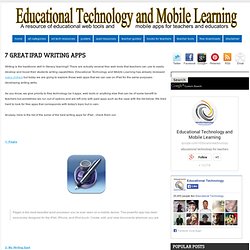 Educational Technology and Mobile Learning has already reviewed many of them but today we are going to explore those web apps that we can use on iPad for the same purposes : developing writing skills. As you know, we give priority to free technology be it apps, web tools or anything else that can be of some benefit to teachers but sometimes we run out of options and are left only with paid apps such as the case with the list below. We tried hard to look for free apps that corresponds with today's topic but in vain. Anyway, here is the list of the some of the best writing apps for iPad , check them out . 10+ Activities to Get Students Moving with the iPad. iPads. Blackboard Mobile™ Learn. Description Blackboard Mobile Learn™ makes it easier for you to keep up with your courses by letting you access them whenever and wherever you want.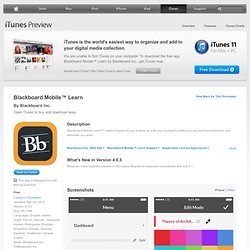 If your school licenses Blackboard Mobile Learn, you'll be able to use the app for free. If not, you will need to purchase lifetime access for just $1.99. The Top Educational iPad Apps Every Teacher and Student should Know about ( 100+) When it comes to searching for educational apps to install on your iPad it feels like you get drowned in an avalanche of apps and resources from which you emerge empty-handed.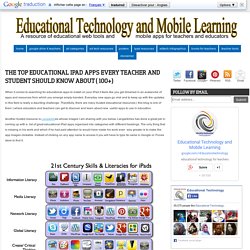 Everyday new apps go viral and to keep up with the updates in this field is really a daunting challenge. Thankfully, there are many trusted educational resources ( this blog is one of them ) where educators and teachers can get to discover and learn about new useful apps to use in education. Another trusted resource is Langwitches whose images I am sharing with you below. Langwitches has done a great job in coming up with a list of great educational iPad apps organized into categories with different headings.
13 Free iPad Spelling Apps to Easily Teach Kids to Spell Correctly. I don't know if you share the same view or not but many people say that using technology, word editors and other online writing platforms that provide automatic spelling correction weakens our spelling skills and increases the chances of making spelling mistakes once using a paper and pen more than ever before.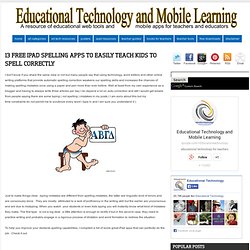 Well at least from my own experience as a blogger and having to always write three articles per day I do depend a lot on auto-correction and still I would get emails from people saying there are some typing ( not spelling ) mistakes in my posts ( I am sorry about this but my time constraints do not permit me to scrutinize every word I type in and I am sure you understand it ). Just to make things clear , typing mistakes are different from spelling mistakes, the latter are linguistic kind of errors and are consciously done . They are mostly attributed to a lack of proficiency in the writing skill but the earlier are unconscious and are due to mistyping. Ipads. iPads in Primary Education. 14 Smart Tips for Using iPads in Class.
Digital Tools Flickr:Flickingerbrad By Matt Levinson For schools that are about to deploy the iPad as their main mobile learning device, there's wisdom to be learned from others who've gone down that road. At Marin Country Day School in Corte Madera, Calif., the first year of a pilot iPad program for sixth-graders has just ended, and some clear lessons have emerged. Here are some tips to help smooth the transition. 25 Ways Teachers Can Use iPads in Their Classroom. Within Just a year and a half iPad has successed in establishing itself as a strong learning and teaching tool.This is mainly due to Apple's ingenuity in staffing their tablet with some of the best specs and apps that are of great relevance to educators. As you might have noticed here in Educational Technology and Mobile Learning, we , often times , provide you with posts containing reviews of iPad educational apps , resources and guides on how teachers can use this tablet in their classroom and we will definitely continue to do so .
For today's post I am sharing with you a great work realized out of a partnership between TeachThought and Edudemic. iPads. Best Apps for Teachers. Interesting Ways to Use iPads in the Classroom. Best Apps for Teachers. 50 resources for iPad use in the classroom. The transition to the more extensive use of technology in classrooms across the West has resulted in the integration of bring your own device (BYOD) schemes, equipping students with netbooks and tablet computers, and lessons that use social media & online services. Gesture-based technology is on the rise; according to the latest NMC Horizon Report, gesture-based technological models will become more readily integrated as a method of learning within the next few years.
The iPhone, iPad, Nintendo Wii and Microsoft Xbox 360 Kinect technology are examples of these kinds of developments, and in particular, resources for Apple products in education are becoming widely available online. For teachers, some of which are just beginning to use tablets and mobile devices in class, these resources can be invaluable in promoting more interactive classrooms and understanding how best to use and control such products. A Quick Guide to Apps in Education. There is More to iPads in the Classroom Than Apps 
In a previous post, Evaluating Apps with Transformative Use of the iPad in Mind, I describe my ambivalence about teacher asking my for the "perfect" app to teach this or that. I have teachers ask me frequently about app recommendations for different subject areas. "What app could I use to teach subtraction?" "What app would you recommend for my students to practice writing?" "I want to use iPads in my Science class. Apps for Special Ed. iPads in Education - Exploring the use of iPads and mobile devices in education.
iPad Resources. How to Design a Beautiful iPad Lesson: 7 Billion People – Free App Alert. 39 Sites For Using iPads in the Classroom. Interactive Magazine - Classroom Ideas for iPads. iPad As.... Ipads in Education. iPads in education. 10 Free iPad Creativity Apps for Young Learners. 21st century classroom. Practice Piano With JoyTunes for iPad.
11 Free iPad Apps to Teach and Learn about Science. More (and Free) Cool Classroom Apps. 48 iPad Apps That Teachers Love. 25 Ways To Use iPads In The Classroom by Degree of Difficulty. 10 Steps to a Successful School iPad Program. iPads in Education- Examples from the Classroom. 7 Great iPad Apps to Improve your Kids Critical Thinking. A Quick Guide on Blooms Taxonomy Apps for iPad. 15 Great Free iPad Apps for Professional Development. Teachers Guide on The Use of iPad in education. Arguments for the iPad in Education. Finally You Can Use Microsoft Office on Your iPad. iPads in Education - Exploring the use of iPads and mobile devices in education.
iPad apps dedicated to Education – Technology in Education. 15 Favorite iPad Apps As Selected By Teachers. 250 best iPad apps: education. 50 really useful iPad 2 tips and tricks. What to put on a teachers iPad. 15 Favorite iPad Apps As Selected By Teachers.
iPads in Education. 8 Free Resources on The Use of iPad in Education. Tbuganski. Edshelf: An Educational App Directory for Teachers. A List of 20 Free Tools for Teachers to Create Awesome Presentations and Slideshows. Bloomin' Apps.
---