Drawings/Paintings
Sketchbook on the Behance Network. With Maidens of Mystery - The artwork of Audrey Kawasaki | culturazzi. Audrey Kawasaki is a Los Angeles-based painter, known for her characteristic works that are painted directly onto wood panels.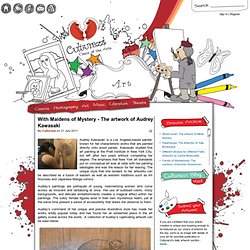 Kawasaki studied fine art painting at the Pratt Institute in New York City, but left after two years without completing her degree. The emphasis that New York art standards put on conceptual art was at odds with her painting ideologies and was the reason for her leaving. Panda1a.jpg (JPEG Image, 700x650 pixels) - Scaled (99%) See . Saw on the Behance Network. Divas by ~nasimo on deviantART. Let's not be anemones... by ~erikamoen on deviantART. 92_yerka. Raewyn Haughton. Realistic_south_park.jpg (JPEG Image, 1100x507 pixels) - Scaled (91%) 3D Paintings on Panes of Glass. Using multiple layers of clear glass, Canada based David Spriggs and Chinese born Xia Xiaowan, transform flat artwork into 3D sculptures.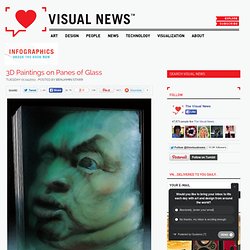 Viewers are treated to different shifting perspectives of the works based on where they stand in the art space. Spriggs work revolves around powerful explosive imagery, often resembling storms, cosmic blasts or firework like explosions. Xiawan's "spatial paintings," which often feature distorted figures, are drawn individually using colored pencil on tinted glass. Irotoridori.jpg (JPEG Image, 764x543 pixels)
Artwork by lawrence yang. Prices for original work ranges from $200 to $1000.
Please email me for more details. Limited edition prints are also available here. "Encounter" - ink and watercolor on paper - 20" x 16" - SOLD. 75 Exceptional Moleskine Notebook Artworks. Moleskine notebooks are a favorite among many artists, designers and writers.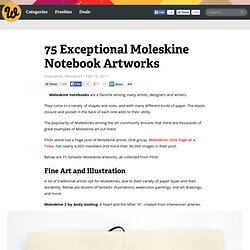 They come in a variety of shapes and sizes, and with many different kinds of paper. The elastic closure and pocket in the back of each one adds to their utility. The popularity of Moleskines among the art community ensures that there are thousands of great examples of Moleskine art out there. Flickr alone has a huge pool of Moleskine artists. One group, Moleskine: One Page at a Time, has nearly 4,000 members and more than 36,000 images in their pool. Img1570183484587416alph.jpg (JPEG Image, 503x561 pixels) 845_large.jpg (JPEG Image, 704x535 pixels) Disney Wallpapers by alicexz on deviantART. Spongebob over water by *limey404 on deviantART. Stuntkid.
The Sheep Market. :: raquelissima :: 1000 journals - Splash. Illustrations. BOOK. Sketchbook 2010 (vol. 2) on the Behance Network. Thanks to everyone who left me comments to my previous project "Skechbook.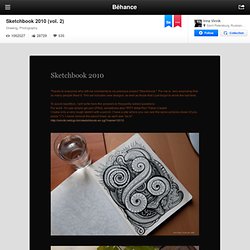 " For me is very surprising that so many people liked it. This set includes new designs, as well as those that I just forgot to show the last time. Solitude - 2010/2011 - A work in progress on the Behance Network. Big Doodle. Amazing Paintings from Leonid Afremov. 1305044388_like_an_artist_by_jellyvampire-d39dk8e.png (PNG Image, 900x14754 pixels) - Scaled (4. Rites of Passage. Moleskine Sketchbook #01 on the Behance Network.
Jjean29.
---