Our Environment
Risk, Uncertainty, Climate Change, and 'March Madness' Americans' fascination with college basketball's 'March Madness' may shed light on the analytical skills they can apply to addressing challenges posed by a warming climate. MIT Scientist: An Obligation to Take on 'Tail Risk' vs. Alarmism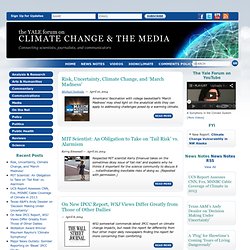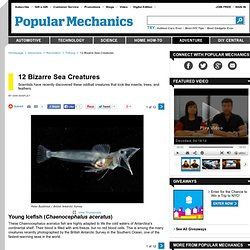 Also called a sea cucumber or Holothuroid, this truly deserves the name sea pig. This was one of the most common and abundant animals caught off the coast of Antarctica by the international research team aboard the BAS Royal Research Ship James Clark Ross. Sea cucumbers are important in processing the sediment (like earthworms on land) but their numbers worldwide have been threatened by recent fisheries. "Few people realize just how rich in biodiversity the Southern Ocean is – even a single trawl can reveal a fascinating array of weird and wonderful creatures as would be seen on a coral reef.
Antarctica Sea Creatures - Bizarre Sea Creatures of Antarctica
Pictures: Miniature Chameleons Discovered—Fit on Match Tip
Photograph courtesy Frank Glaw On Madagascar a member of the newly discovered chameleon species Brookesia desperata peers at a photographer through widely spaced eyes. The small sizes of the four new chameleon species make them especially vulnerable to habitat destruction, and some of their names were chosen to reflect this. The latter part of B. desperata's name, for example, means "desperate" in Latin. "Its habitat is in truth barely protected and subject to numerous human-induced environmental problems resulting in severe habitat destruction, thus threatening the survival of the species," the scientists write. Another species was named B. tristis, or "sorrowful"—a reference to "the fact that the entire known range of this species suffers from severe deforestation and habitat destruction."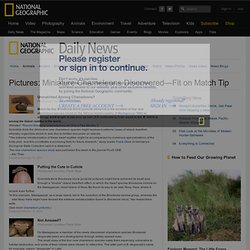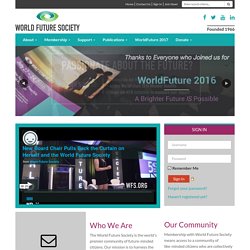 Yul Anderson is founder and president of Yul Anderson Consulting, he is also working with African leaders, historians, and the U.S. Census Department to develop economic indicators for African American and African Future economic and social development. Miami, Florida, USA.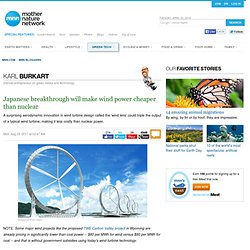 NOTE: Some major wind projects like the proposed TWE Carbon Valley project in Wyoming are already pricing in significantly lower than coal power -- $80 per MWh for wind versus $90 per MWh for coal -- and that is without government subsidies using today's wind turbine technology. The International Clean Energy Analysis (ICEA) gateway estimates that the U.S. possesses 2.2 million km2 of high wind potential (Class 3-7 winds) — about 850,000 square miles of land that could yield high levels of wind energy. This makes the U.S. something of a Saudi Arabia for wind energy, ranked third in the world for total wind energy potential.