Our Environment
Futuristic dwellings
Worldchanging: Bright Green. Climate Reality. The Yale Forum on Climate Change & The Media | Connecting scientists, journalists, and communicators. 350.org. Antarctica Sea Creatures - Bizarre Sea Creatures of Antarctica. Also called a sea cucumber or Holothuroid, this truly deserves the name sea pig.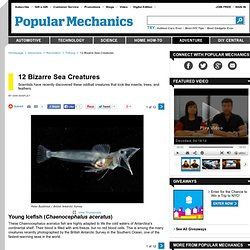 This was one of the most common and abundant animals caught off the coast of Antarctica by the international research team aboard the BAS Royal Research Ship James Clark Ross. Sea cucumbers are important in processing the sediment (like earthworms on land) but their numbers worldwide have been threatened by recent fisheries.
"Few people realize just how rich in biodiversity the Southern Ocean is – even a single trawl can reveal a fascinating array of weird and wonderful creatures as would be seen on a coral reef. Miniature Chameleons Discovered—Fit on Match Tip. Fight For Your World, Not Your Country. Profit Motive Has No Conscience. Growth For The Sake Of Growth. The Beginning Is Near.
Mapping The Future. World Future Society | Tomorrow is built today. Japanese breakthrough will make wind power cheaper than nuclear. NOTE: Some major wind projects like the proposed TWE Carbon Valley project in Wyoming are already pricing in significantly lower than coal power -- $80 per MWh for wind versus $90 per MWh for coal -- and that is without government subsidies using today's wind turbine technology.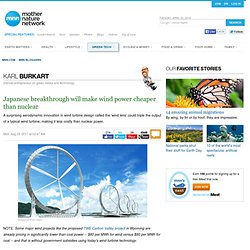 The International Clean Energy Analysis (ICEA) gateway estimates that the U.S. possesses 2.2 million km2 of high wind potential (Class 3-7 winds) — about 850,000 square miles of land that could yield high levels of wind energy. This makes the U.S. something of a Saudi Arabia for wind energy, ranked third in the world for total wind energy potential.
---