Food
Homemade Pork Buns! & I made that! Dear Pork, We meet again.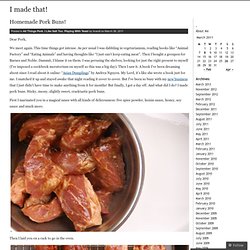 This time things got intense. Parmesan cups make for simple canapes. Parmesan cups make for simple canapes Posted on 01 July 2010 by Mădălina Parmesan bowls can be used as a vessel for a variety of dips or small salads, and served as appetizers for your guests.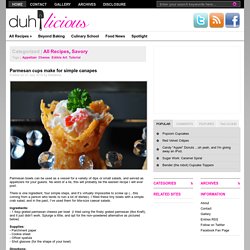 No word of a lie, this will probably be the easiest recipe I will ever post. There is one ingredient, four simple steps, and it's virtually impossible to screw up (…this coming from a person who tends to ruin a lot of dishes). I filled these tiny bowls with a simple crab salad, and in the past, I've used them for bite-size caesar salads. Pain perdu "grand luxe" en sandwich. L'identification des animaux de compagnie ou celle de livres empruntés à la bibliothèque, par des techniques de puces électroniques, servent à présent d'une toute nouvelle façon.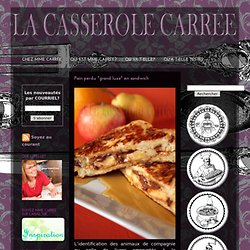 De plus en plus d'hôpitaux américains et européens font actuellement usage de traqueurs électroniques appelés «Hugs». Dès les premières minutes de sa vie, un nouveau-né devient le centre d'attention. Durant ses premiers jours à la pouponnière, un défilé de médecins, d'infirmières et de visiteurs viendront toucher, câliner et bercer le poupon; la dernière chose qu'on souhaite serait qu'il se fasse enlever. Et pourtant, chaque année dans les hôpitaux des États-Unis, près d'une dizaine de nouveaux-nés sont enlevés par des étrangers, malgré l'œil vigilant des infirmières et des gardiens de sécurité; 200 enfants y ont été kidnappé depuis 22 ans. Shamrock Shooters. I simply couldn't help myself!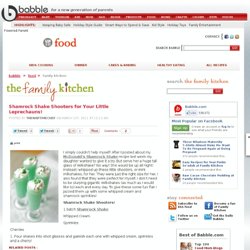 After I posted about my McDonald's Shamrock Shake recipe last week my daughter wanted to give it a try. But serve her a huge tall glass of milkshake? No way! She would be up all night! Christmas Cookie. Cookbook of the Month Recipe – Baked Eggs with Creamed Spinach | Creamed spinach is topped with a baked egg, then served with toast. 49 If this is what French food is like – I'm moving to France!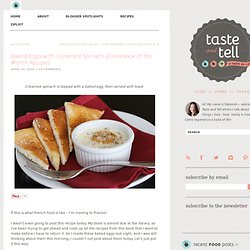 I wasn't even going to post this recipe today. Peanut Butter Reindeer Cookies. These might very well be the cutest Christmas cookies I've ever seen.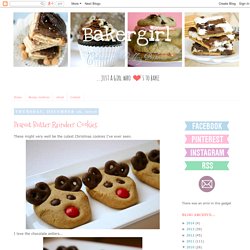 I love the chocolate antlers... ... and the adorable fat little faces. It doesn't get any more festive or Christmasy than this. They're perfect for taking to a Christmas party if you need something fun, fast, and easy to make (unless, like me, you run out of both red M&Ms and chocolate-covered pretzels, but that's beside the point.). I made these using just regular peanut butter cookies because I was having a craving only peanut butter could fix, but they would work just as well with sugar cookies... or even gingerbread! Apple Cupcakes. Baked Shrimp Scampi.
Have you got the fevah?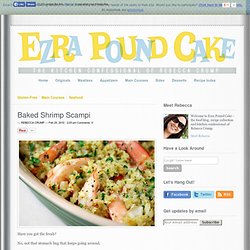 No, not that stomach bug that keeps going around. I'm talking about Spuh-ring! Cabernet Braised Short Ribs and Mushroom Risotto. There are some people that tie their memories to the weather, different smells, specific dates, or the time of year.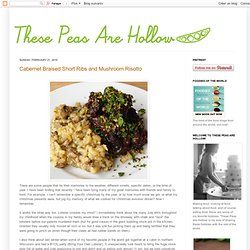 I have been finding that recently I have been tying many of my great memories with friends and family to food. For example, I can't remember a specific christmas by the year, or by how much snow we got, or what my christmas presents were, but jog my memory of what we cooked for 'christmas eve-eve' dinner? Now I remember. It works the other way too. Lobster crosses my mind? Caramelized Onion, Mushroom & Gruyere Tartlets. Continuing down the road of appetizers, dips and snack food leading up to the Super Bowl, I give you this somewhat "upscale" game day food.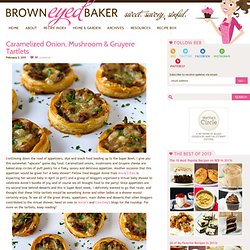 Caramelized onions, mushrooms and Gruyere cheese are baked atop circles of puff pastry for a flaky, savory and delicious appetizer. Another occasion that this appetizer would be great for? A baby shower! Fellow food blogger Annie from Annie's Eats is expecting her second baby in April (a girl!) And a group of bloggers organized a virtual baby shower to celebrate Annie's bundle of joy, and of course we all brought food to the party! Dan Dan Noodles (Dan Dan Mein) - Citrus and Candy » Citrus and Candy. Hands up if you love instant noodles like I do?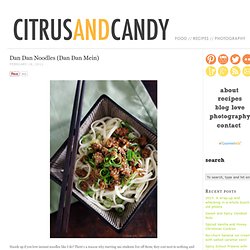 There's a reason why starving uni students live off them; they cost next to nothing and can be ready in a couple of minutes. Personally I just think that they're so darn satisfying. Pizza Party. It's almost weekend, guys! For us that means pizza time! Or in this case: pizza snack time. Swedish meatballs. Whenever i make marinara & meatballs, i almost always make turkey meatballs. not only because it's a healthier option, but really, it's more delicious! If you don't believe me, please try it for yourself. your friends and family might not even notice that it's turkey. it's that good. so when i decided to make swedish meatballs, i of course used turkey. you can sub the turkey for meat or pork or a combo of both in this recipe but i highly suggest you use turkey! Mise en place - meatballs. Grilled Goat Cheese and Roasted Red Pepper Pesto Sandwich.
I had a bit of goats cheese to use and I was thinking about just crumbling it over a salad but then I thought, no I can do something more creative with this. While I was looking through my fridge for ideas I noticed some of the red peppers that I had roasted and frozen in the fall and I knew that the sweet and smoky roasted red peppers would go perfectly with the tangy goat cheese. Right beside the red peppers was some bread and I recalled my experiments with pestos in grilled cheese sandwiches and I knew that I would have to try making a grilled goat cheese and roasted red pepper pesto sandwich. Murdoch Books - 365 Challenge - 12 February: Frosted Oranges.
Tomato pesto bites. I love popping a scrumptious biteful of something into my mouth. Finger foods are so much fun! Sometimes I daydream about what it must be like to have a butler wandering around my home, offering me a tray filled with delicious finger foods. He then retreats to my over-sized kitchen so my personal chef can replenish the assortment of goodies. And then I wake up from my dream, with only a messy kitchen and a living room that resembles tornado carnage in my sight.
Jalapeno Popper Grilled Cheese Sandwich. Sweet Potato Gnocchi with Gouda Cheese Sauce. Japanese Beef Rolls. Asparagus and Gruyere Tart | Party-Perfect Mini Quiches | Recipes | NESTLÉ® Meals. Chicken Potpie. Penne with Creamy Vodka Tomato Sauce. Fresh orange smoothie ("orange julius") Potato Pierogi. « Bake List. A Cozy Kitchen » French Onion Soup and Pretty Nails! Kicked Up Tuna Melts. Avocado Dream Sandwich.
Creamy Chicken Marsala Pasta. It's all about the side dishes. Molecular Cooking – my new true passion « my life as a foodie. One-Bite Wonders. Potato and Cheese Pierogi | MyGourmetConnection Recipes. Vegetable Tian. Hot Spinach and Artichoke Dip. Linguine with Garlicky Bread Crumbs. Chicken Enchiladas. Stuffed Zucchini. Fast Food: Creamy Shrimp and Mushroom Pasta. Kaytucky Chicken. Baked Seasoned Fries with Skinny Garlic Aioli | Ginas Skinny Recipes. Butter Chicken Recipe | Expat Recipe. Crabby Cook: Beef Stroganoff; Toga! Toga! Toga! Hasselback Potatoes.
How to Make Homemade Candy Bars (Resolution Breaker) (Oh Nuts Blog) 10 Jello Shots Worth the Hangover. Mingmakescupcakes.yolasite.com from yolasite.com. Chocolate banana crepes. Bacon, Egg, and Toast Cups. Grilling Inspired Cupcakes - Perfect for Father's Day or a Cookout — A... One Pretty Thing - DIY craft tutorials.
---