Psychology
Easily embarrassed? Study finds people will trust you more. If tripping in public or mistaking an overweight woman for a mother-to-be leaves you red-faced, don't feel bad.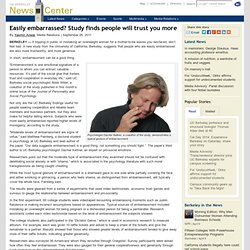 A new study from the University of California, Berkeley, suggests that people who are easily embarrassed are also more trustworthy, and more generous. In short, embarrassment can be a good thing. 9 Stages of an Acid Trip. Hedgehog's dilemma. Both Arthur Schopenhauer and Sigmund Freud have used this situation to describe what they feel is the state of individual in relation to others in society.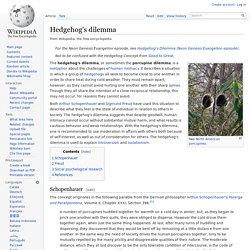 The hedgehog's dilemma suggests that despite goodwill, human intimacy cannot occur without substantial mutual harm, and what results is cautious behavior and weak relationships. With the hedgehog's dilemma, one is recommended to use moderation in affairs with others both because of self-interest, as well as out of consideration for others. The hedgehog's dilemma is used to justify or explain introversion and isolationism. Schopenhauer[edit] The concept originates in the following parable from the German philosopher Arthur Schopenhauer's Parerga und Paralipomena, Volume II, Chapter XXXI, Section 396:[1] Face Research » Psychology experiments about preferences for faces and voices.
Superhuman: the Incredible Savant Brain. Personality test based on Jung and Briggs Myers typology. This free test is based on Carl Jung's and Isabel Briggs Myers' typological approach to personality *.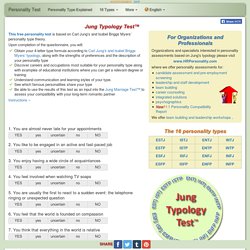 Upon completion of the questionnaire, you will: Obtain your 4-letter type formula according to Carl Jung's and Isabel Briggs Myers' typology, along with the strengths of preferences and the description of your personality type Discover careers and occupations most suitable for your personality type along with examples of educational institutions where you can get a relevant degree or training See which famous personalities share your type Access free career development resources and learn about premium ones Be able to use the results of this test as an input into the Jung Marriage Test™ and the Demo of the Marriage Test™, to assess your compatibility with your long-term romantic partner Instructions: When responding to the statements, of the two responses please choose the one you agree with most. Plutchik-wheel.svg - Wikipedia, the free encyclopedia. Cancel Edit Delete Preview revert Text of the note (may include Wiki markup) Could not save your note (edit conflict or other problem).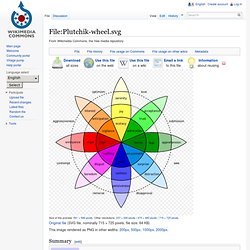 The Phobia List. Body Language Basics - Syncrat Publishing. Throughout history it has been an advantage if an individual can read body language.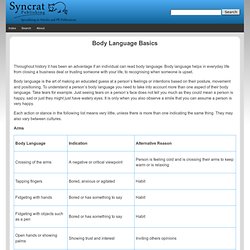 Body language helps in everyday life from closing a business deal or trusting someone with your life, to recognising when someone is upset. Body language is the art of making an educated guess at a person's feelings or intentions based on their posture, movement and positioning. To understand a person's body language you need to take into account more than one aspect of their body language. Take tears for example. Slow Down « Demotivators Blog. 5 Psychological Experiments That Prove Humanity is Doomed. Cracked.com's new book is now on sale.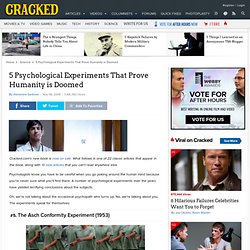 What follows is one of 22 classic articles that appear in the book, along with 18 new articles that you can't read anywhere else. Psychologists know you have to be careful when you go poking around the human mind because you're never sure what you'll find there. Famous People's MBTI Types. BBC Science | Human Body and Mind | Pyschology Tests & Surveys.
---