Dinner/Main Courses
Teriyaki Chicken Rice Bowl & Sauce — Birdie Shoots. Chicken Parmesan – Low Carb, Gluten Free, Sugar Free – Preheat to 350˚ July 11, 2014 Who says you can't have crispy, delicious, Chicken Parmesan on a low carb and gluten free diet?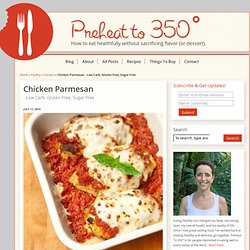 Not I. Skip the breadcrumbs and substitute almond meal. It makes a wonderful crusty topping. 4 Quick Gluten Free Pasta Recipes | Work It, Mom! Substitute noodles with zucchinis for this healthy family dinner.
Ingredients 4 large zucchinis1 ground beef, turkey, or vegetarian alternative2 small onions, diced1 C. tomato paste2 C. tomato sauce2 lb. chopped spinach2 medium garlic cloves, minced1 tsp. dried basil1 tsp. dried oregano1 tsp. thyme1 lb. shredded mozzarella cheese Directions Cut zucchini in length-wise pieces and cook on oiled pan over medium heat until tender.
Cook meat and onion in oiled pan then combine ingredients but the zucchini and cheese. Yakiniku Sauce 焼肉のタレ | BBQ Recipe. It's summer and that means time to BBQ!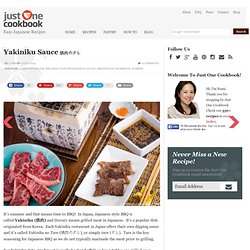 In Japan, Japanese style BBQ is called Yakiniku (焼肉) and literary means grilled meat in Japanese. It's a popular dish originated from Korea. Each Yakiniku restaurant in Japan offers their own dipping sauce and it's called Yakiniku no Tare (焼肉のタレ), or simply tare (タレ). Grilled Zucchini Lasagna | Flavor the Moments. Chipotle Orange Chicken — NerdyBites. Main Nerdy Bites · Not the orange chicken you're thinking of.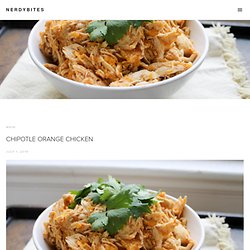 Not the deep fried sugar filled "Chinese" chicken that is amazingly addicting. Stuffed Eggplant. Stuffed Eggplant Cooking is how I show my love for my family and friends.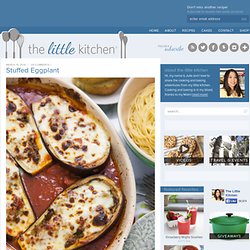 Is it that way for you? Ginger And Scallion Noodles. This is an easy vegetarian noodle's recipe, tossed with ginger and scallion sauce.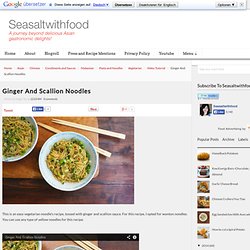 For this recipe, I opted for wonton noodles. You can use any type of yellow noodles for this recipe. Creamy Avocado Pasta with Garlic Scape Pesto. Have you ever tried cooking with garlic scapes?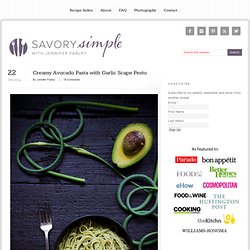 They're the beautiful, tentacle-shaped flower stems of the garlic plant and they pack a strong flavor punch. I was a bit thrown off by them at first because they can be tough and fibrous. But a little experimentation was all I needed to become a fan. Garlic scapes are wonderful when sliced thin and sautéed with vegetables. They also make an excellent base for pesto.
Butter Chicken Recipe - ChichiLicious.com. June 21, 2014 We all love to order butter chicken when we go to an Indian restaurant, then when we finish devouring that velvety savoury butter chicken you think, okay just how much butter did I just eat?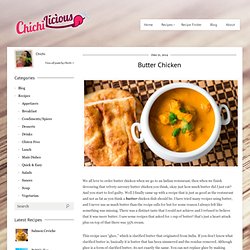 And you start to feel guilty. Well I finally came up with a recipe that is just as good as the restaurant and not as fat as you think a butter chicken dish should be. » PAD THAI MED KYLLING. Da Laura var et semester i San Diego sidste efterår, fik hun øjenene op for hvor godt Pad Thai smagte.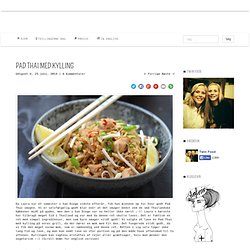 Vi er selvfølgelig godt klar over at det smager bedst ved de små Thailandske køkkener midt på gaden, men den i San Diego var nu heller ikke værst ;-)! Laura's kæreste har tilbragt meget tid i Thailand og var med da denne ret skulle laves. Det er faktisk en ret med simpel ingredienser, men som bare smager vildt godt! Vi valgte at lave en Pad Thai med kylling på vores grill, da der hører en wok med til den. Crescent Wrapped Meatballs. What an easy recipe!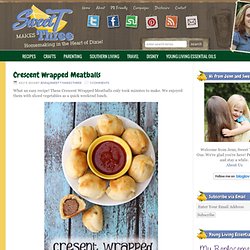 These Crescent Wrapped Meatballs only took minutes to make. We enjoyed them with sliced vegetables as a quick weekend lunch. Crescent Wrapped Meatballs. Ground Turkey and Veggie Meatballs - Munchkin Time. Turkey Zucchini Meatballs (+Video) » The Table. These turkey zucchini meatballs are absolutely packed with flavor. They will make both your tastebuds and waistline happy. The zucchini keeps the meatballs moist, while the cayenne pepper gives them a little kick. And by little, I mean a pretty big punch. No taste-less and dry turkey meatballs here! Mom's Sloppy Joe Stuffed Peppers - Host The Toast Blog. Today is a great day. Partially because it's Friday (wooo!) , but MOSTLY because today is the day that I finally get to share with you one of my favorite recipes ever.
It's simple, it's low-carb and low-calorie (only 250 calories per serving), and I got the recipe from my mama so you know it's gotta be good. Gooey Ginger Chicken. Whole wheat macaroni and cheese. Two things that are currently growing: my appetite, and my waistline. I know what you're thinking, errrrr… maybe you should cut back on the macaroni and cheese, perhaps lay off the hearty desserts for a while?. True, this would probably be a good plan, but it turns out I have a pretty good excuse… Thats right friends, Emma's Little Kitchen has a bun in the oven! Our little nugget is due at the end of November, and we are very excited for our new adventure.
This little nugget has been wreaking total havoc on this blog. The Foodie Corner. Beautiful, slow cooked beef meatballs in a rich tomato sauce. No browning involved, yet your meatballs will stay in one gorgeous piece; until you devour them that is. I made many many meatballs before I got to the perfect one. Asian Style Broccoli » Lisa G CooksLisa G Cooks - A Lifestyle Guide that Teaches Healthy Cooking; for the Experienced and Novice Cook.
Asian Style Broccoli I'm always looking for new ways to make broccoli, this dish is inspired by a recipe I saw in a cookbook Mike's mom gave me. Garlic and soy sauce are a great combination that is calorie free. Honestly though, this dish is so tasty and comes together in under 10 minutes, low fat and healthy are just bonus! Yummy Ugly Chicken - A Super Easy Chicken Recipe - The Kitchen Snob. Chicken Parmesan Meatballs | Kim's Healthy Eats. Garlic Cheddar Chicken from Six Sisters' Stuff. Creamy wild mushroom parpadelle – ready in under 10 minutes. Turkey Cocktail Meatballs with Apple Mustard Glaze. Spaghetti Balls with Meat Sauce. Spinach Artichoke Dip Pasta - Recipe Runner. Chicken Teriyaki Bowls - Yummy Healthy Easy. The Best Steaks Ever! Healthy Parmesan Garlic Crumbed Fish - RecipeTin Eats.
Chicken baked with white wine, garlic and herbs. Candida diet, sugar-free, grain-free, anti-inflammatory latte recipe. Avocado Stuffed Meatballs (Low Carb and Gluten-Free) One Pot Creamy Chicken, Vegetable & Parmesan Orzo (Risoni) - RecipeTin Eats. Apple Turkey Picadillo. Pomegranate Duck. Quail with Ginger-Cranberry Pilaf. Five-Spice Roasted Duck Breasts. Chicken and Broccoli Stir-fry Recipe. Delicious Zucchini Lasagna. Chicken Milano Recipe. Creamy Garlic Penne Pasta Recipe. Leek and Asparagus Pasta - The Grant Life. Creamy Avocado Pasta. Creamy (vegan!) Butternut Squash Linguine with Fried Sage. Grilled Chicken with Lemon Basil Pasta. Unstuffed Cabbage Dinner Recipe. Tequila Chicken with Avocado Black Bean Salad. The Pioneer Woman Cooks. Cheap | Succulent Swedish Meatballs Recipe. Turkey Meatball Recipe. Turkey Quinoa Meatballs | Appetizers Recipe | SavvyFork.
Mozzarella-Stuffed Chicken Parm Meatballs - Host The Toast Blog. Broccoli and Cheese Stuffed Chicken | Ginas Skinny Recipes. Baked Garlic Parmesan Chicken Recipe. Orecchiette Pasta with Chicken in a Creamy Rosemary Lemon Sauce. Grilled Chicken Ratatouille. Crock Pot Honey Sesame Chicken | chef in training. Lighter Orange Beef and Broccoli. Better Than Takeout Orange Chicken. Chipotle--Orange Grilled Chicken. Lime-Honey Glazed Chicken. Healthy Baked Chicken Nuggets. Easy Garlic Chicken Recipe - Food.com - 5478. Copycat | Copycat Famous Dave's Baby Back Ribs Recipe | Recipe4Living.
---