Arduino
1050-1017-ND (Manufacturer - A000046) A000046 Arduino Development Boards & Kits - AVR. Playground - ManualsAndCurriculum. Manuals and curriculum provide cohesive coverage of Arduino in general, or of specific applications of Arduino in particular.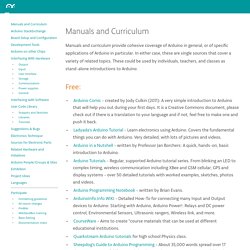 In either case, these are single sources that cover a variety of related topics. These could be used by individuals, teachers, and classes as stand-alone introductions to Arduino. Introductory Arduino Booklet - written by Massimo Banzi: Has become the O'Reilly book "Getting Started With Arduino" (2011, must be purchased) here Arduino Comic - created by Jody Culkin (2011): A very simple introduction to Arduino that will help you out during your first days. Arduino Cheat Sheet. Arduino is a tool for the design and development of embedded computer systems, consisting of a simple open hardware design for a single-board microcontroller, with embedded I/O support and a standard programming language.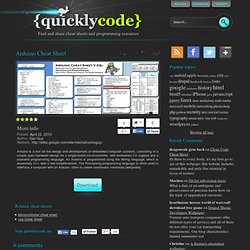 An Arduino is programmed using the Wiring language, which is essentially C++ with a few simplifications. The Processing programming language is often used to interface a computer with an Arduino, often to create unorthodox interfaces. [wikipedia] Arduino. Arduino is a single-board microcontroller, intended to make the application of interactive objects or environments more accessible.[1] The hardware consists of an open-source hardware board designed around an 8-bit Atmel AVR microcontroller, or a 32-bit Atmel ARM.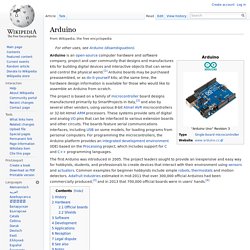 Current models feature a USB interface, 6 analog input pins, as well as 14 digital I/O pins which allows the user to attach various extension boards. Introduced in 2005, it was designed to give students an inexpensive and easy way to program interactive objects. Wiring (development platform) Wiring is an open source electronics prototyping platform composed of a programming language, an integrated development environment (IDE), and a single-board microcontroller.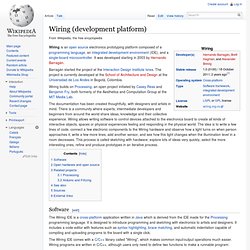 It was developed starting in 2003 by Hernando Barragán. Barragán started the project at the Interaction Design Institute Ivrea. The project is currently developed at the School of Architecture and Design at the Universidad de Los Andes in Bogotá, Colombia. The documentation has been created thoughtfully, with designers and artists in mind. There is a community where experts, intermediate developers and beginners from around the world share ideas, knowledge and their collective experience. Processing (programming language) Processing includes a sketchbook, a minimal alternative to an integrated development environment (IDE) for organizing projects.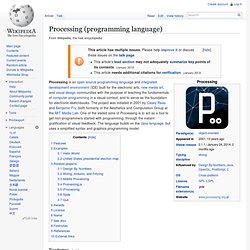 Every Processing sketch is actually a subclass of the PApplet Java class which implements most of the Processing language's features. When programming in Processing, all additional classes defined will be treated as inner classes when the code is translated into pure Java before compiling. This means that the use of static variables and methods in classes is prohibited unless you explicitly tell Processing that you want to code in pure Java mode. Processing also allows for users to create their own classes within the PApplet sketch. This allows for complex data types that can include any number of arguments and avoids the limitations of solely using standard data types such as: int (integer), char (character), float (real number), and color (RGB, ARGB, hex).
Bionic Arduino – Introduction to Microcontrollers with Arduino. Bionic Arduino is a set of four 3-hour classes in November 2007 hosted by Machine Project and taught by Tod E.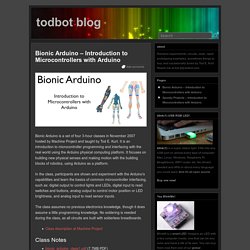 Kurt. It is an introduction to microcontroller programming and interfacing with the real world using the Arduino physical computing platform. It focuses on building new physical senses and making motion with the building blocks of robotics, using Arduino as a platform. Practical Arduino: News. Welcome | Modern Device. Make: Arduino. Arduino is a simple microcontroller board and open source development environment that allows you to make computers that drive both functional and creative projects alike.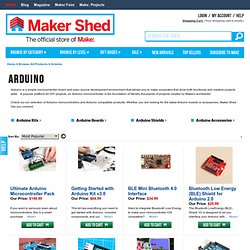 A popular platform for DIY projects, an Arduino microcontroller is the foundation of literally thousands of projects created by Makers worldwide! Check out our selection of Arduino microcontrollers and Arduino compatible products. Adafruit Industries, Unique & fun DIY electronics and kits. Welcome. Projects.
News. Seeed Studio Bazaar, Boost ideas, extend the reach. Arduino Shield List. Liquidware : Open Source Electronics. Amarino - "Android meets Arduino" - Home. Arduino. The Video Game Shield is an Arduino add-on shield to make your own video games, including graphics, text, sound effects, and music!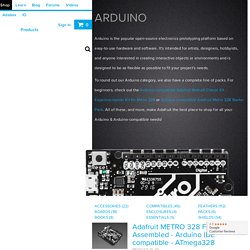 Using the power... The Video Game Shield is an Arduino add-on shield to make your own video games, including graphics, text, sound effects, and music! Using the power of open source, this Shield includes everything you need to make awesome black-and-white video games on your TV. It supports up to two Nintendo Wii Nunchuck controllers for an easy and familiar interface. Arduino meets processing - PUSHBUTTON. The Arduino meets Processing project intends to make it as easy as possible for anyone to explore the world of physical computing.
All you need is an Arduino board as well as the Arduino and Processing software, which you can download on their project websites. On this website we explain how to: Temperature Sensor + Arduino « DanielAndrade.net. DIY Drones. Welcome to NKC Electronics. Boarduino - Breadboard-compatible Arduino Clone. Wiring. Processing.org. This is Wiring (and Arduino) The Wiring i/o board is a small, cheap standalone computer with many connection capabilities.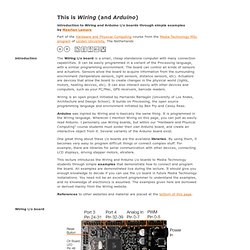 It can be easily programmed in a variant of the Processing language, with a similar programming environment. The board can control all kinds of sensors and actuators. Arduino Main Board. Description: This is the new Arduino Uno R3. In addition to all the features of the previous board, the Uno now uses an ATmega16U2 instead of the 8U2 found on the Uno (or the FTDI found on previous generations).
This allows for faster transfer rates and more memory. No drivers needed for Linux or Mac (inf file for Windows is needed and included in the Arduino IDE), and the ability to have the Uno show up as a keyboard, mouse, joystick, etc.
---