Financial Literacy
Life Values Examined with Financial Decisions | SAM: Smart About Money. Terms of Use Welcome to Smart About Money website (the "Site").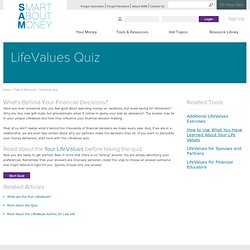 The Site is operated by the National Endowment for Financial Education®, a Colorado nonprofit corporation ("NEFE", "We" or "Us"). Please carefully read these Terms of Use. By using the Site, you acknowledge and agree that you have read and agree to be bound by these Terms of Use (the "Agreement"). This Agreement is made between NEFE and You or, in the case that you represent and are using the Site on behalf of a company or other entity, that company or other entity ("You").
True Cost to Own® (TCO®) Calculator on Edmunds.com. By Phillip Reed You've narrowed your choices to two new cars, but you can't seem to decide which one is really the better deal.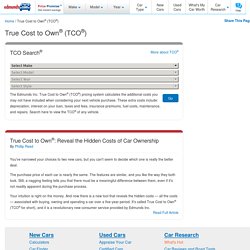 The purchase price of each car is nearly the same. The features are similar, and you like the way they both look. Still, a nagging feeling tells you that there must be a meaningful difference between them, even if it's not readily apparent during the purchase process. Home. Economic lesson plans, Personal Finance lesson plans and resources for educators, students and afterschool providers | EconEdLink. A Mobile App Lesson on Financial Capability. Image credit: iStockphoto The goal of this lesson is teaching students how to use their mobile phones for financial management and financial decision-making.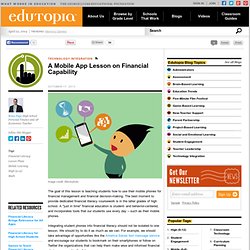 The best moment to provide dedicated financial literacy coursework is in the latter grades of high school. A "just in time" financial education is student- and behavior-centered, and incorporates tools that our students use every day -- such as their mobile phones. Hands on Banking 4.0 for Kids. Common Online Scams. Investing Online. Investment opportunities that claim to be low risk and high reward almost always are frauds.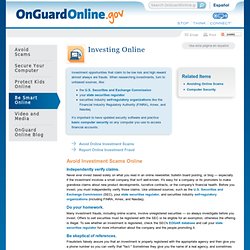 When researching investments, turn to unbiased sources, like: It's important to have updated security software and practice basic computer security on any computer you use to access financial accounts. Avoid Investment Scams Online. Shopping Online. Follow these tips for hassle-free online shopping: get the details, pay by credit card, keep records, and protect your personal and financial information.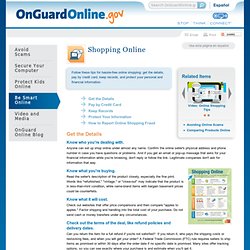 Get the Details Know who you're dealing with. Anyone can set up shop online under almost any name. Confirm the online seller's physical address and phone number in case you have questions or problems. Comparing Products Online. Shopping online?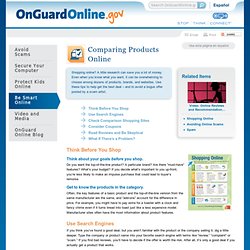 A little research can save you a lot of money. Even when you know what you want, it can be overwhelming to choose among dozens of products, brands, and websites. Use these tips to help get the best deal – and to avoid a bogus offer posted by a scam artist. Think Before You Shop. Avoid Scams. LifeDojo. Paying for College. Trading Around the World. International trade touches us all.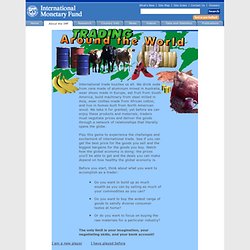 We drink soda from cans made of aluminum mined in Australia, wear shoes made in Europe, eat fruit from South America, build machinery from steel milled in Asia, wear clothes made from African cotton, and live in homes built from North American wood. We take it for granted, yet before we can enjoy these products and materials, traders must negotiate prices and deliver the goods through a network of relationships that literally spans the globe. Play this game to experience the challenges and excitement of international trade. See if you can get the best price for the goods you sell and the biggest bargains for the goods you buy. Paying for College - Consumer Financial Protection Bureau. Understanding Taxes. Where did my tax dollars go? WhatWePayFor.com. Visual Economics at CreditLoan.com. How Wealthy Countries TAX Their Citizens - Share this infographic on your website, simply copy and paste the source code in the box below to your website.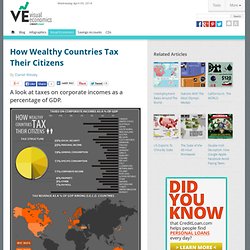 The tax structure is made up of 25 percent social security, 25 percent personal income, 19 percent general consumption, 11 percent specific consumption, 11 percent corporate income, 6 percent property, 3 percent other and 1 percent payroll. Taxes on Corporate Incomes as a Percentage of GDP The tax income from corporations represents almost 4 percent of the GDP of Canada. The tax income from corporations represents more than 3 percent of the GDP of the United States. In Australia, the tax income from corporations represents almost 7 percent of Australia's GDP. Explain it to me: The 'Buffett Rule' Why are Egypt's sexual crimes unreported?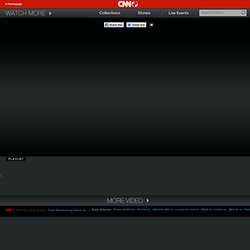 WWE 'The Ultimate Warrior' dies at 54 She was married at 6 years old Brawl erupts in Ukrainian parliament IMAX brings in Chinese investors Jean Paul Gaultier: 38 years of garments Pistorius has hostile cross-examination Pistorius: 'She wasn't breathing' Oscar Pistorius in his own words Pistorius case 'fits the profile' Oscar Pistorius: 'I cried over Reeva' Pistorius: The moment everything changed Pistorius reads texts from lover 'I was more into Reeva than she was me' Oscar Pistorius takes the stand Oscar Pistorius trial: Murder or mistake? Pistorius to Steenkamp's mom: I'm sorry Pistorius testimony key to defense case. Your 2011 Federal Taxpayer Receipt. In his 2011 State of the Union Address, President Obama promised that, for the first time ever, American taxpayers would be able to go online and see exactly how their federal tax dollars are spent.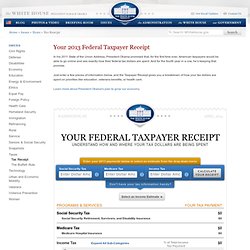 And for the fourth year in a row, he's keeping that promise. Just enter a few pieces of information below, and the Taxpayer Receipt gives you a breakdown of how your tax dollars are spent on priorities like education, veterans benefits, or health care. Learn more about President Obama's plan to grow our economy.
---