Psychology
Get flash to fully experience Pearltrees
Your Progress: For each item, simply indicate how much you agree or disagree whether each statement describes you. Think of yourself as you generally are right now (not how you were or how you would like to be). Answer honestly for the most accurate result. The Psych Central Personality Test is based upon the IPIP 10-item scale. International Personality Item Pool (IPIP): A Scientific Collaboratory for the Development of Advanced Measures of Personality Traits and Other Individual Differences (http://ipip.ori.org/).
I remember being fascinated by personality tests as a kid. I think it all started when I took a test in elementary school about what career I should be in, and from then I was hooked. I discovered other tests that told me about myself based ozsn my favorite color, tests which described my personality based on my food choices, etc. It didn't matter that I didn't know anything about mental bias and the Forer effect , it all sounded true to me at the time. Since then I've learned much more about psychology, my personality and various validated psychological tests to determine facets of my personality type . I always felt like there was something missing from the standard ones I took though, even though they were largely accurate.
The Misconception: You procrastinate because you are lazy and can't manage your time well. The Truth: Procrastination is fueled by weakness in the face of impulse and a failure to think about thinking. Netflix reveals something about your own behavior you should have noticed by now, something which keeps getting between you and the things you want to accomplish. If you have Netflix, especially if you stream it to your TV, you tend to gradually accumulate a cache of hundreds of films you think you'll watch one day. This is a bigger deal than you think.
Psychology as we know it is a relatively young science, but since its inception it has helped us to gain a greater understanding of ourselves and our interactions with the world. Many psychological experiments have been valid and ethical, allowing researchers to make new treatments and therapies available, and giving other insights into our motivations and actions. Sadly, others have ended up backfiring horribly — ruining lives and shaming the profession. Here are ten psychological experiments that spiraled out of control.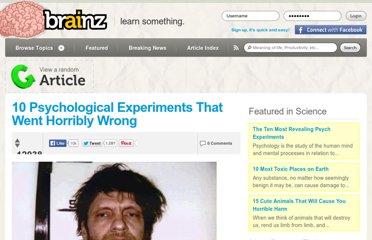 Ten of the most influential social psychology studies. "I have been primarily interested in how and why ordinary people do unusual things, things that seem alien to their natures. Why do good people sometimes act evil? Why do smart people sometimes do dumb or irrational things?"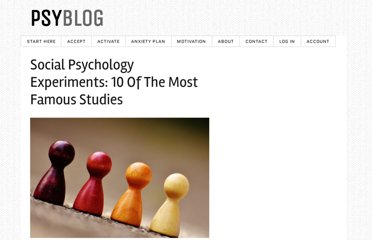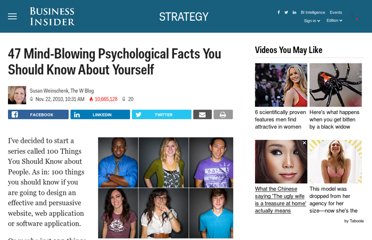 WHAT YOU ARE ABOUT TO READ IN THE NEXT PARAGRAPH IS COMMONLY BELIEVED, BUT NOT TRUE – You read by recognizing the shapes of words and groups of words. Words that are in all capital letters all have the same shape: a rectangle of a certain size. This makes words displayed in all uppercase harder to read than upper and lower case (known as "mixed case"). Mixed case words are easier to read because they make unique shapes, as demonstrated by the picture below.