Crafting/ sewing
Ficker. WWW.VABSS.COM. Frugal by Choice, Cheap by Necessity: Homemade "Vicks Vapor shower disks". Have you seen the commercials for the Vicks Vapor shower disk thingies?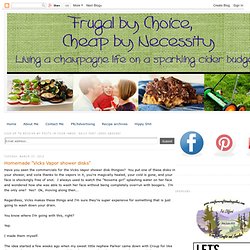 You put one of these disks in your shower, and voila thanks to the vapors in it, you're magically healed, your cold is gone, and your face is shockingly free of snot. I always used to watch the "Noxema girl" splashing water on her face and wondered how she was able to wash her face without being completely overrun with boogers. I'm the only one? Yes?
Homemade gift ideas
Wheatear stitch. Crafterhours: Tee to Tank: A Tutorial by Jen from Upcycled Education. This is one of my favorite t-shirt refashions of all time.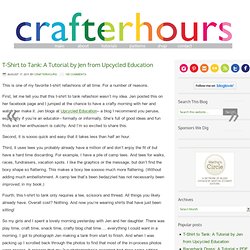 For a number of reasons. First, let me tell you that this t-shirt to tank refashion wasn't my idea. Jen posted this on her facebook page and I jumped at the chance to have a crafty morning with her and watch her make it. Tutorial: Blowing Dandelion T-shirt. No need to wear plain old t-shirts this Spring.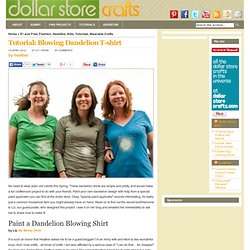 These dandelion shirts are simple and pretty, and would make a fun crafternoon project to do with your friends. Paint your own dandelion design with help from a special paint applicator you can find at the dollar store. Okay, "special paint applicator" sounds intimidating, it's really just a common household item you might already have on hand. Read on to find out the secret tool! Welcome to Liz, our guest-poster, who designed this project. Most gawked all-time | craftgawker - StumbleUpon. (Page 4) | Craft Projects | Fashion | Clothing | Upperwear | Cut Out. Berwick stitch. Make Crisp, Even Hems.
It's a dog's life -- and a cushy one at that.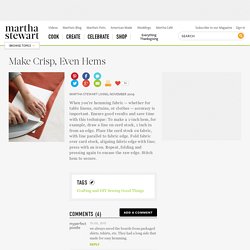 This soft bed, suitable for small pooches, can be refreshed with a quick switch of covers. You'll need 2 same-size dish towels, 2-inch-thick foam (cut 4 inches shorter and narrower than the towels), and iron-on Velcro fasteners. T Shirt Shrug. How romantic.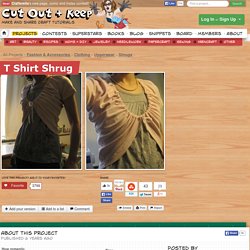 My friend and I went to the arthall in Rotterdam and saw an exhibition called ICON DRESSED designed by Annette Meyer, each garment was made of paper and represented a decade of women clothing from the 1800's till now. I was amazed by a garment which looked exactly like the dress Keira Knightley wore in Pride & Prejudice, I went home got into a romantic state of mind, converted that into creativity and made this. Trash To Couture. Mary Corbet's Needle 'N Thread.
How to Update a Hand Me Down Dresser - StumbleUpon. I love gift-wrap and I also love anything and everything having to do with typefaces.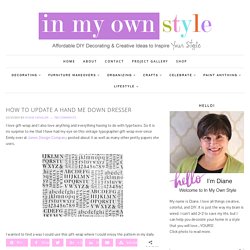 So it is no surprise to me that I have had my eye on this vintage typographer gift-wrap ever since Emily over at Jones Design Company posted about it as well as many other pretty papers she uses. I wanted to find a way I could use this gift-wrap where I could enjoy the pattern in my daily life instead of only wrapping gifts with it and giving it away. When I started to update my guest room I got an idea on how I could incorporate it into the room. The gift-wrap comes in 20" x 28" sheets that cost $4.00 each. I needed 3 to cover the top of my dresser and the drawer pulls. Holder for Charging Cell Phone (made from lotion bottle) | Make It and Love It - StumbleUpon.
My husband and I both have cell phones.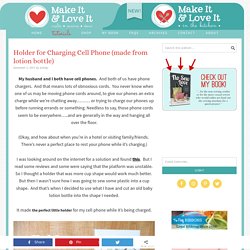 And both of us have phone chargers. And that means lots of obnoxious cords. You never know when one of us may be moving phone cords around, to give our phones an extra charge while we're chatting away……… or trying to charge our phones up before running errands or something. Needless to say, those phone cords seem to be everywhere…..and are generally in the way and hanging all over the floor.
(Okay, and how about when you're in a hotel or visiting family/friends. Ruffled Romper Nightie. T-shirt to sexy top. Measure the circumference of your chest.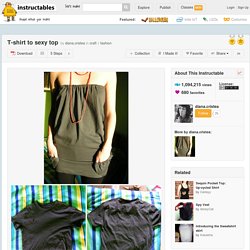 Cut a piece of elastic that matches your measurements. Turn the shirt inside out and cut a small opening on the bottom hem. Vintage Wanna Bee: HOW TO MAKE A FB TIMELINE COVER... - StumbleUpon. So, you know how facebook is always super annoying and changes their layout constantly?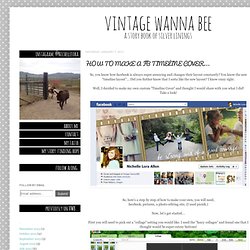 You know the new "timeline layout"... Did you further know that I sorta like the new layout?
---