Henemak83
Hene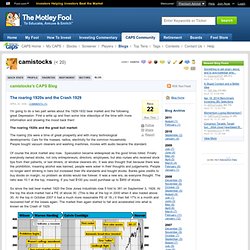 The roaring 1920s and the Crash 1929 April 20, 2008 – Comments (11) I'm going to do a two part series about the 1929-1932 bear market and the following great Depression.
The roaring 1920s and the Crash 1929
The Great Depression, the gold standard and FDR
The Great Depression, the gold standard and FDR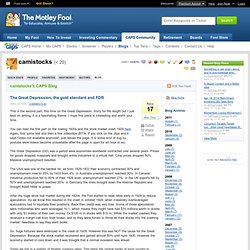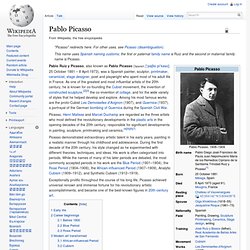 Pablo Ruiz y Picasso, known as Pablo Picasso (Spanish: [ˈpaβlo piˈkaso]; 25 October 1881 – 8 April 1973) was a Spanish painter, sculptor, printmaker, ceramicist, and stage designer who spent most of his adult life in France. As one of the greatest and most influential artists of the 20th century, he is known for co-founding the Cubist movement, the invention of constructed sculpture,[2][3] the co-invention of collage, and for the wide variety of styles that he helped develop and explore.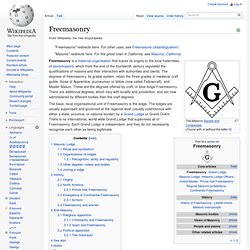 Freemasonry is a fraternal organisation that traces its origins to the local fraternities of stonemasons, which from the end of the fourteenth century regulated the qualifications of masons and their interaction with authorities and clients. The degrees of freemasonry, its gradal system, retain the three grades of medieval craft guilds, those of Apprentice, journeyman or fellow (now called Fellowcraft), and Master Mason. These are the degrees offered by craft, or blue lodge Freemasonry.
The Lost Symbol - Trailer
Secret societies: Band of brothers
Rockefeller family
The Rockefeller family /ˈrɒkɨfɛlər/ is an American industrial, political, and banking family that made one of the world's largest fortunes in the oil business during the late 19th and early 20th centuries, with John D.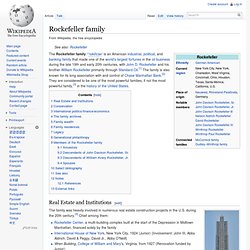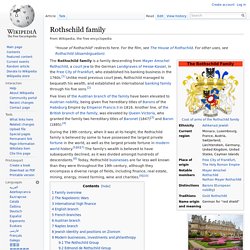 A house formerly belonging to the Viennese family (Schillersdorf Palace). Schloss Hinterleiten, one of the many palaces built by the Austrian Rothschild dynasty. Donated to charity by the family in 1905.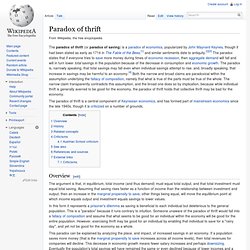 The paradox of thrift is a central component of Keynesian economics, and has formed part of mainstream economics since the late 1940s, though it is criticized on a number of grounds.
Keynesian - paradox of thrift
According to Keynes, demand for liquidity is determined by three motives:[1]
Keynesian - Liquidity preference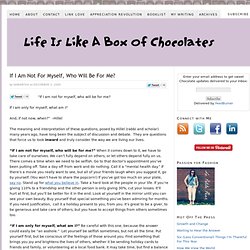 If I Am Not For Myself, Who Will Be For Me?
"If I am not for myself, who will be for me?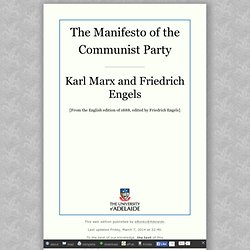 The Manifesto of the Communist Party
[From the English edition of 1888, edited by Friedrich Engels] This web edition published by eBooks@Adelaide.
In Marxist theory, socialism, lower-stage communism or the socialist mode of production refers to a specific historical phase of economic development and its corresponding set of social relations that eventually supersede capitalism in the schema of historical materialism.
Socialism (Marxism)
Production for use
Production for use refers to an arrangement whereby the production of goods and services is carried out ex ante (directly) for their utility (also called Use-value). The implication is that the value of economic output would be based on use-value or a direct measure of utility as opposed to exchange-value; because economic activity would be undertaken to directly satisfy economic demands and human needs, the productive apparatus would directly serve individual and social needs. This is contrasted with production for exchange of the produced good or service in order to profit, where production is subjected to the perpetual accumulation of capital, a condition where production is only undertaken if it generates profit, implying an ex post or indirect means of satisfying economic demand.
Plato realizes that the general run of humankind can think, and speak, etc., without (so far as they acknowledge) any awareness of his realm of Forms. The allegory of the cave is supposed to explain this. In the allegory, Plato likens people untutored in the Theory of Forms to prisoners chained in a cave, unable to turn their heads.
POINT UDALL on St Croix, one of the US Virgin Islands, is a far-flung, wind-whipped spot. You cannot travel farther east without leaving the United States. Visitors can pose next to a stone sundial commemorating America's first dawn of the third millennium.
The Austrian School is a school of economic thought that is based on the analysis of the purposeful actions of individuals (see methodological individualism).[1][2][3][4] It originated in late-19th and early-20th century Vienna with the work of Carl Menger, Eugen von Böhm-Bawerk, Friedrich von Wieser, and others.[5] Current day economists working in this tradition are located in many different countries, but their work is referred to as Austrian economics.
Austrian School
Luca Pacioli - Father of Accounting
Leonardo da Vinci
Law of averages
Libertarianism: a nice idea, but doomed
Russ Roberts: Why Friedrich Hayek is Making a Comeback
What's Wrong with Keynes
Pattern of Specification and Trade by henemak83 Nov 27
The Critical Flaw in Keynes's System
John Forbes Nash, Jr.
Why I agree with (some of) Friedrich Hayek
What is Game Theory?
Arabic numerals