Mac OS X Hints
Mastering The Option Key On Your OS X Mac [Feature] | Cult of Mac Mobile
The Option key is a powerful ally in the transition from new, beginner user of OS X to the power user that you want to be. There are a ton of hidden features in the Finder alone that are hidden behind the underrated and unassuming Option key. There are Option key tricks for the OS X Menu Bar, for apps in the iWork suite, in Safari, and a few more random ones to boot. So, sit back, relax, and get ready to hit that Option key a whole bunch of times in a row.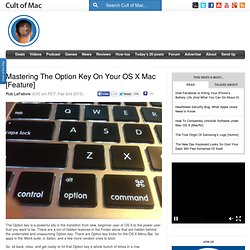 Ten Safari shortcuts you should know
I'm a keyboard guy.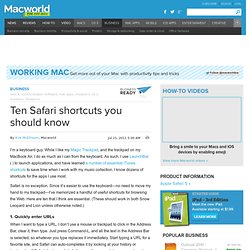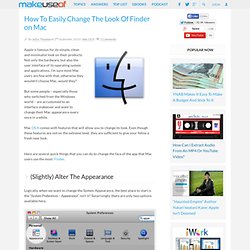 Finder Look
But some people – especially those who switched from the Windows world – are accustomed to an interface makeover and want to change their Mac appearance every once in a while. Mac OS X comes with features that will allow you to change its look. Even though these features are not on the extreme level, they are sufficient to give your feline a fresh new look.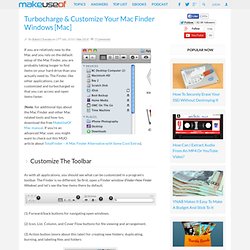 (Note: for additional tips about the Mac Finder and other Mac related tools and how-tos, download the free MakeUseOf Mac manual.
Turbocharge & Customize Your Mac Finder Windows [Mac]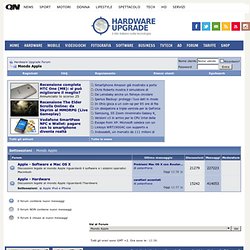 Mondo Apple
Tutti gli orari sono GMT +1. Ora sono le: 11:14.
Pubblicato il 22/09/2010 alle 13:48
Tips: modificare un file protetto con TextEdit | SaggiaMente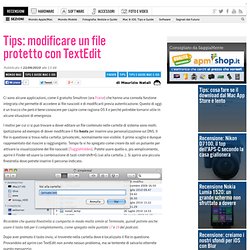 Map a network drive on a Mac - OS X Daily
If you frequently access a file server from a Mac it's pretty helpful to map the network drive to your desktop.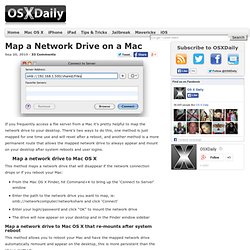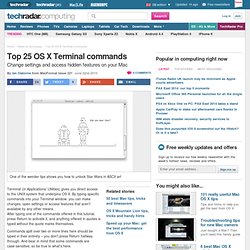 Terminal (in Applications/ Utilities) gives you direct access to the UNIX system that underpins OS X.
Top 25 OS X Terminal commands | News | TechRadar UK - Mozilla De
Abbreviazioni da tastiera Mac OS X
Per utilizzare un'abbreviazione da tastiera o una combinazione di tasti, premi il tasto modificatore insieme a uno dei tasti normali. Ad esempio, premendo contemporaneamente il tasto Comando (simbolo ) e il tasto "c", qualsiasi elemento selezionato (testo, immagini e così via) verrà copiato negli Appunti.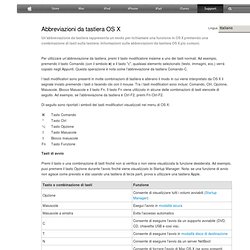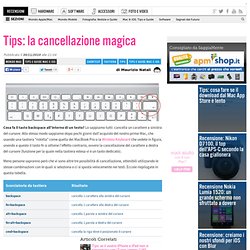 Pubblicato il 30/11/2010 alle 21:04
cancellazione magica
IP Address on a Mac
Knowing your Mac's IP address is important for setting up a network or sharing files, here's two different ways to find your IP address in Mac OS X; an easy way through the GUI and a more technical approach with the command line. These methods will be the same whether you are connected via ethernet or wireless. Find your IP Address on a Mac
Hosts File
Mac OS X 10.2 or later Edit the /private/etc/hosts file. For more information on how to use the hosts file, open Terminal and type: man hosts
Mac OS X Automation
This post aims to give you a quick look into the potential of Automator by creating some very simple and actually quite handy workflow applications of your own. Many of these applications will take a matter of seconds for you to create, but could save you much more time in the long run. Automator is certainly worth spending some time getting know. I hope creating these basic automations will give you a view at the potential for some much more complicated and incredible time saving automations that can be created. 1.
10 Awesome Uses for Automator Explained
Magic TrackPad
Quando è stato presentato (esattamente una settimana fa), ancora prima di scrivere l'articolo sul Blog lo avevo già acquistato.
Customize Multi-Touch trackpad gestures (beta). Free BetterTouchTool adds many new, fully customizable gestures to the Magic Mouse, Multi-Touch MacBook trackpad, and Magic Trackpad. These gestures are customizable: Magic Mouse:
BetterTouchTool for Mac - Customize gestures on your MacBook
Add More Gestures To Your Magic Mouse With BetterTouchTool « SUB
Magic Trackpad: la recensione - TheAppleLounge
Services Menu Options
System Preferences Items A New Mac User Should Know About
USB via AirPort Extreme