Mac OS X Hints
Mastering The Option Key On Your OS X Mac [Feature] | Cult of Mac Mobile. The Option key is a powerful ally in the transition from new, beginner user of OS X to the power user that you want to be.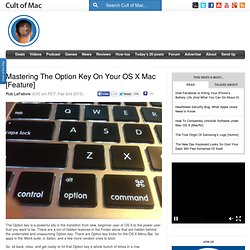 There are a ton of hidden features in the Finder alone that are hidden behind the underrated and unassuming Option key. There are Option key tricks for the OS X Menu Bar, for apps in the iWork suite, in Safari, and a few more random ones to boot. So, sit back, relax, and get ready to hit that Option key a whole bunch of times in a row. Linkin Park. Cookieninjaman. Ten Safari shortcuts you should know. I'm a keyboard guy.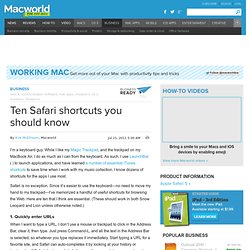 While I like my Magic Trackpad, and the trackpad on my MacBook Air, I do as much as I can from the keyboard. As such, I use LaunchBar ( ) to launch applications, and have learned a number of essential iTunes shortcuts to save time when I work with my music collection. I know dozens of shortcuts for the apps I use most.
Utilities. OS X Lion. Finder Look. But some people – especially those who switched from the Windows world – are accustomed to an interface makeover and want to change their Mac appearance every once in a while.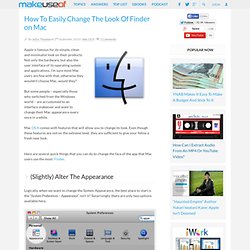 Mac OS X comes with features that will allow you to change its look. Even though these features are not on the extreme level, they are sufficient to give your feline a fresh new look. Turbocharge & Customize Your Mac Finder Windows [Mac] (Note: for additional tips about the Mac Finder and other Mac related tools and how-tos, download the free MakeUseOf Mac manual.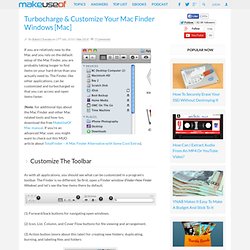 If you're an advanced Mac user, you might want to check out this MUO article about TotalFinder – A Mac Finder Alternative with Some Cool Extras). Customize The Toolbar As with all applications, you should see what can be customized in a program's toolbar. The Finder is no different. TotalFinder brings tabs to your native Finder and more!
Mac OS X Tips & Tricks. Mondo Apple. Tutti gli orari sono GMT +2.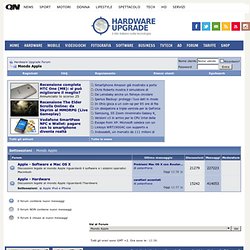 Ora sono le: 12:38. Powered by vBulletin® Version 3.6.4Copyright ©2000 - 2014, Jelsoft Enterprises Ltd. Served by www6v AMD Radeon R9 295X2: la regina degli FPS grazie all'acqua Due GPU della famiglia Hawaii montate su una scheda video da 2 slot d'ingombro? A questo risultato è giunta AMD con la scheda Radeon R9 295X2, la nuova top di gamma... Tips: modificare un file protetto con TextEdit | SaggiaMente. Pubblicato il 22/09/2010 alle 13:48 Ci sono alcune applicazioni, come il gratuito Smultron (ora Fraise) che hanno una comoda funzione integrata che permette di accedere ai file nascosti e di modificarli previa autenticazione.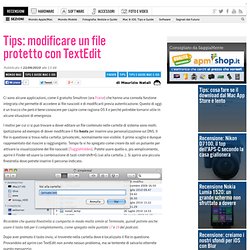 Questo di oggi è un trucco che però è bene conoscere per capire come ragiona OS X e perché potrebbe tornarvi utile in alcune situazioni di emergenza. I motivi per cui ci si può trovare a dover editare un file contenuto nelle cartelle di sistema sono molti. Map a network drive on a Mac - OS X Daily. If you frequently access a file server from a Mac it's pretty helpful to map the network drive to your desktop.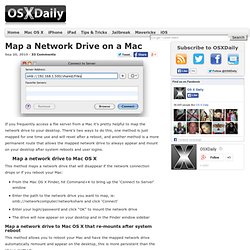 There's two ways to do this, one method is just mapped for one time use and will reset after a reboot, and another method is a more permanent route that allows the mapped network drive to always appear and mount on your desktop after system reboots and user logins. Map a network drive to Mac OS X This method maps a network drive that will disappear if the network connection drops or if you reboot your Mac: Top 25 OS X Terminal commands | News | TechRadar UK - Mozilla De. Terminal (in Applications/ Utilities) gives you direct access to the UNIX system that underpins OS X.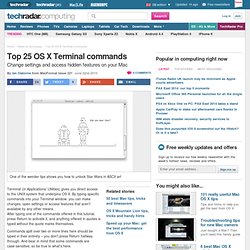 By typing specific commands into your Terminal window, you can make changes, open settings or access features that aren't available by any other means. After typing one of the commands offered in this tutorial, press Return to activate it, and anything offered in quotes is typed without the quote marks themselves. Commands split over two or more lines here should be typed in their entirety – you don't press Return halfway through.
Abbreviazioni da tastiera Mac OS X. Per utilizzare un'abbreviazione da tastiera, premi il tasto modificatore insieme a uno dei tasti normali.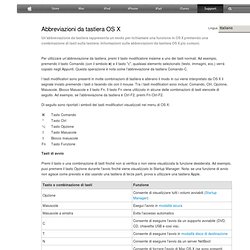 Ad esempio, premendo il tasto Comando (con il simbolo ) e il tasto "c", qualsiasi elemento selezionato (testo, immagini, ecc.) verrà copiato negli Appunti. Console Command. Cancellazione magica. Pubblicato il 30/11/2010 alle 21:04 Cosa fa il tasto backspace all'interno di un testo?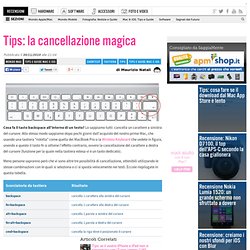 Lo sappiamo tutti: cancella un carattere a sinistra del cursore. Allo stesso modo sappiamo dopo pochi giorni dall'acquisto del nostro primo Mac, che usando una tastiera "ridotta" come quella dei MacBook Pro o la Wireless Keyboard che vedete in figura, unendo a questo il tasto fn si ottiene l'effetto contrario, ovvero la cancellazione del carattere a destra del cursore (funzione per la quale nella tastiera estesa vi è un tasto dedicato).
IP Address on a Mac. Knowing your Mac's IP address is important for setting up a network or sharing files, here's two different ways to find your IP address in Mac OS X; an easy way through the GUI and a more technical approach with the command line. These methods will be the same whether you are connected via ethernet or wireless. Find your IP Address on a Mac. Hosts File. Mac OS X 10.2 or later Edit the /private/etc/hosts file. For more information on how to use the hosts file, open Terminal and type: man hosts. Mac OS X Automation. 10 Awesome Uses for Automator Explained. This post aims to give you a quick look into the potential of Automator by creating some very simple and actually quite handy workflow applications of your own.
Many of these applications will take a matter of seconds for you to create, but could save you much more time in the long run. Automator is certainly worth spending some time getting know. I hope creating these basic automations will give you a view at the potential for some much more complicated and incredible time saving automations that can be created. 1. Magic TrackPad. Quando è stato presentato (esattamente una settimana fa), ancora prima di scrivere l'articolo sul Blog lo avevo già acquistato. Era da tempo che speravo che venisse realizzato un prodotto simile e quando finalmente l'ho visto era già deciso che sarebbe stato mio. Per la verità ai tempi in cui acquistai il mio primo Mac mini "da salotto", avevo immaginato e cercato qualcosa di simile.
Scrissi anche un post in un forum molto conosciuto in cui elencai tutte le tastiere senza fili dotate di un trackpad integrato, scartandole poi tutte per via della pessima realizzazione e per il fatto che essendo progettate per PC con Windows, avevano un layout non adatto al Mac. Great Tools For Your Mac By Andreas Hegenberg » BetterTouchTool & SecondBar. BetterTouchTool for Mac - Customize gestures on your MacBook. Customize Multi-Touch trackpad gestures (beta). Free BetterTouchTool adds many new, fully customizable gestures to the Magic Mouse, Multi-Touch MacBook trackpad, and Magic Trackpad.
These gestures are customizable: Magic Mouse: Add More Gestures To Your Magic Mouse With BetterTouchTool « SUB. MagicPrefs. Magic Trackpad: la recensione - TheAppleLounge. Services Menu Options. System Preferences Items A New Mac User Should Know About. USB via AirPort Extreme.
---