Vaccines
Hib Vaccine Linked to the Rapid Rise in Autism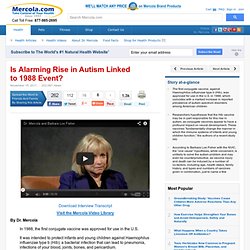 By Dr. Mercola In 1988, the first conjugate vaccine was approved for use in the U.S. It was intended to protect infants and young children against Haemophilus influenzae type b (Hib); a bacterial infection that can lead to pneumonia, infections of your blood, joints, bones, and pericardium.Historically, it has also been a leading cause of bacterial meningitis. Since that time, the vaccine has been approved in most developed countries, including Denmark and Israel where the vaccine was added to their national vaccine programs in 1993 and 1994, respectively.Starting in the late 1980's, there was a marked increase in the reported prevalence of autism spectrum disorders among children in the U.S.
Sibel Edmonds' Boiling Frogs Post | Home of the Irate Minority
By Dr. Mercola The U.S. Centers for Disease Control and Prevention (CDC) recommends a yearly flu vaccine as "the first and most important step in protecting against flu viruses."This advice applies to everyone 6 months of age and older, and the CDC stresses that you "should get a flu vaccine as soon as [they] are available."With a promotion this strong, you might assume that getting a flu shot is a "sure thing" to protect you from all flu-like illness this year, but actually it's not.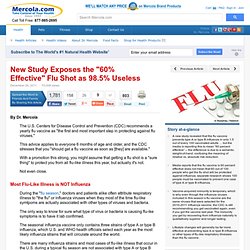 The Media Manipulates Flu Vaccine Facts
In the early 1950s, the United States administered four vaccines -- diphtheria, tetanus, pertussis and smallpox. Children received 13 doses of four vaccines by the time they were two years old and not more than three vaccines in a single visit. By the mid-1980s, there were seven vaccines -- diphtheria, tetanus, pertussis, measles, mumps, rubella and polio.Children received 15 doses of seven vaccines by the time they were two years old and not more than four vaccines in a single visit.Since the mid-1980s, many vaccines have been added to the schedule.
Big Profits Linked to Vaccine Mandates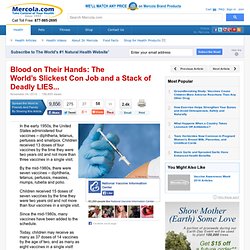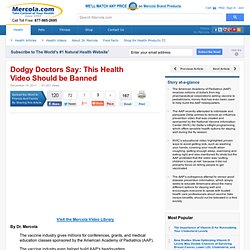 By Dr. Mercola The vaccine industry gives millions for conferences, grants, and medical education classes sponsored by the American Academy of Pediatrics (AAP). The vaccine industry even helped build AAP's headquarters. Recently, the AAP President wrote a letter to the CEO of Delta Air Lines attacking the National Vaccine Information Center (NVIC) for creating a flu prevention video for in-flight programming shown on Delta Air Lines during the month of November.
Pediatric Academy Censors Flu Shot Effects
A remarkable study published in the Cochrane Library found no evidence of benefit for influenza vaccinations and also noted that the vast majority of trials were inadequate. The authors stated that the only ones showing benefit were industry-funded. They also pointed out that the industry-funded studies were more likely to be published in the most prestigious journals…and one more thing: They found cases of severe harm caused by the vaccines, in spite of inadequate reporting of adverse effects. The study, "Vaccines for preventing influenza in healthy adults", is damning of the entire pharmaceutical industry and its minions, the drug testing industry and the medical system that relies on them.
No Value in Any Influenza Vaccine: Cochrane Collaboration Study | Health Freedom Alliance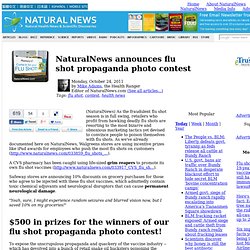 announces flu shot propaganda photo contest
(NaturalNews) As the fraudulent flu shot season is in full swing, retailers who profit from hawking deadly flu shots are resorting to the most bizarre and obnoxious marketing tactics yet devised to convince people to poison themselves with flu shots. As we've already documented here on NaturalNews, Walgreens stores are using incentive prizes like iPad awards for employees who push the most flu shots on customers (http://www.naturalnews.com/033859_flu_shots_...). A CVS pharmacy has been caught using life-sized grim reapers to promote its own flu shot vaccines (http://www.naturalnews.com/033917_CVS_flu_sh...). Safeway stores are announcing 10% discounts on grocery purchases for those who agree to be injected with these flu shot vaccines, which admittedly contain toxic chemical adjuvants and neurological disruptors that can cause permanent neurological damage. "Yeah, sure, I might experience random seizures and blurred vision now, but I saved 10% on my groceries!"
Current News FDA Approves Experimental H5N1 Bird Flu VaccineSqualene-based Q-Pan vaccine has been fast-tracked to be added to the U.S. pandemic emergency vaccine stockpile amid mounting evidence that AS03 adjuvants are associated with development of serious... Measles Reports in America: What Does It Mean?The CDC has reported that more than 90 percent of American toddlers have gotten a measles containing MMR shot by age three, but are worried about 159 cases of measles reported so far this year end put the blame on 92 unvaccinated Americans diagnosed with measles who had "philosophical objections" to vaccination...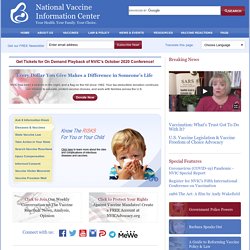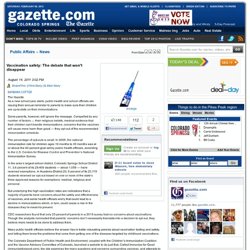 The debate that won't disappear | school, parents, immunizations - Vaccination safety
As a new school year starts, public health and school officials are issuing their annual reminder to parents to make sure their children are up-to-date on their immunizations. Some parents, however, will ignore the message. Compelled by any number of factors — their religious beliefs, medical evidence that their children can't handle immunizations, concerns that the vaccines will cause more harm than good — they opt out of the recommended immunization schedule. The percentage of opt-outs is small. In 2009, the national immunization rate for children ages 19 months to 35 months was at or above the 90 percent goal set by public health officials, according to the U.S. Centers for Disease Control and Prevention's National Immunization Survey.
By Sadie Whitelocks Updated: 12:55 GMT, 27 October 2011 Preflucel has been recalled amid fears it is making people ill A flu vaccine has been recalled from thousands of surgeries and pharmacies across Europe amid fears it is making people ill. The Medicines and Healthcare products Regulatory Agency (MHRA) has issued a warning over Preflucel, a popular influenza vaccine. Around 300,000 doses of the drug are to be immediately withdrawn following fears from health bosses that the most recent batch, issued last month, is causing side-effects. A high percentage of those vaccinated with Preflucel have reported fatigue, muscle pain and headaches.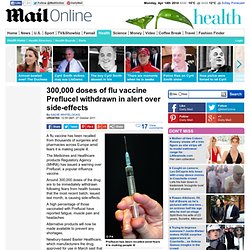 300,000 doses of flu vaccine Preflucel withdrawn in alert over side-effects¿