Self improvment
"He who depends on himself will attain the greatest happiness"
10 Ways To Be Happy, On Purpose | PickTheBrain | Motivation and Self Improvement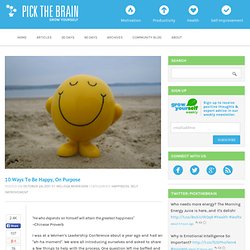 Start Your Day in 33 Different Ways
Mornings are underrated. I consider them fundamental for the whole diurnal experience. What you do in the very first moments of your morning will fundamentally and inexorably shape your entire day.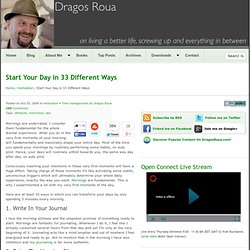 Contrary to popular belief, you don't have to make drastic changes in order to notice an improvement in the quality of your life. At the same time, you don't need to wait a long time in order to see the measurable results that come from taking positive action.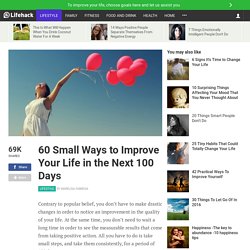 60 Small Ways to Improve Your Life in the Next 100 Days
Instructions for Life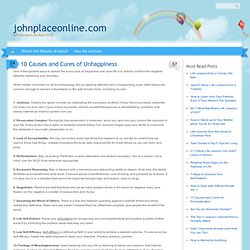 One of the quickest ways to spread the sunny rays of happiness over your life is to directly confront the negative attitudes darkening your doorstep. While neither universal nor all-encompassing, the joy-stealing attitudes and corresponding cures listed below are common enough to warrant a thumbtack on the wall of many lives, including my own. 1. Jealousy: Destroy the green monster by celebrating the successes of others. If your friend succeeds, celebrate his victory as your own; if your enemy succeeds, remind yourself that jealousy is self-defeating, pointless, and merely extends an enemy's power over you.
10 Causes and Cures of Unhappiness
The 7 Habits of Highly Happy People
post written by: Marc Chernoff Email Highly happy people all share happy habits . It's as simple as that.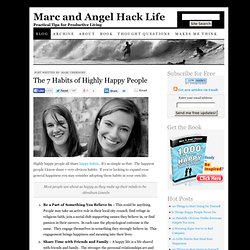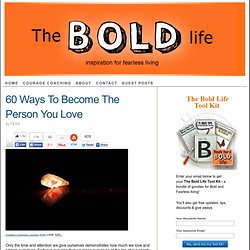 60 Ways to Become The Person You Love | The Bold Life - StumbleUpon
Email Share Sharebar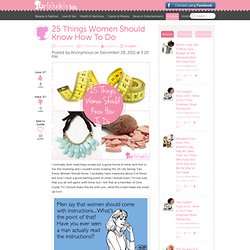 I normally don't read mass emails but a good friend of mine sent this to me this morning and I couldn't resist reading the 25 Life Saving Tips Every Woman Should Know.
25 Things Women Should Know How To Do | GirlsGuideTo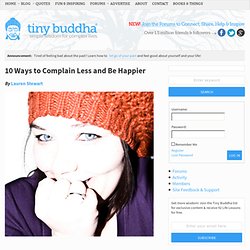 10 Ways to Complain Less and Be Happier | Tiny Buddha: Wisdom Quotes,... - StumbleUpon
"Instead of complaining that the rose bush is full of thorns, be happy the thorn bush has roses." ~Proverb We all complain. Even if you argue that you are the happiest person in the world, you still complain sometimes. Sometimes we complain without even realizing it, but rarely is it ever helpful. Sure, a common complaint can bond two people who may have nothing in common, but too much complaining would just break down the relationship.
20 things to do in 20 minutes. When you're so bored you can feel your eyeballs melting and you just need something, ANYTHING to do. 1. Read a newspaper: the local newspaper can be read in twenty minutes. Just spend five minutes reading headlines, five minutes on an interesting news story and five minutes reading the comics.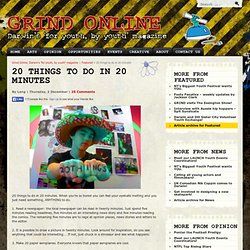 20 things to do in 20 minutes | Grind Online: Darwin's &for youth,...
Twelve Things All College Freshmen Should Know - StumbleUpon
5 Ways to Build Social Skills | PickTheBrain | Motivation and Self Improvement
There is a significant correlation between your social skills and your success in any area of life. With good social skills, it's easier to make friends, build strong relationships and get ahead in your career. If you lack social skills, it's important to learn how to build social skills. In this article, I'm going to reveal to you the 5 most effective ways I know for building social skills, based on my experience as a social confidence coach.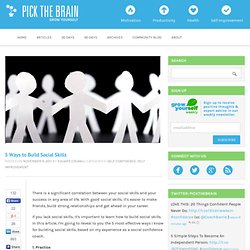 SayingImages.com - Part 3 picture on VisualizeUs - StumbleUpon
50 Life Secrets and Tips | High Existence - StumbleUpon
Book - 9 insights on&life - StumbleUpon
Skip navigation, go to page content 123-reg, the cheapest and easiest way to get a domain name Registered through 123-reg, login to manage Domain names Search and register domains with 123-reg and get your perfect domain name today. Search for a domain
post written by: Marc Chernoff Email Asking the right questions is the answer… It's not the answers you get from others that will help you, but the questions you ask of yourself. Here are 40 thought-provoking questions to help you refresh and refocus your thinking:
40 Photo-Illustrated Questions to Refocus Your Mind - StumbleUpon
25 Beautifully Illustrated Thought-Provoking Questions
40 Ways to Let Go and Feel Less Pain | Tiny Buddha: Wisdom Quotes, Letting... - StumbleUpon
"If you let go a little, you will have a little peace.
post written by: Marc Chernoff Email When you stop chasing the wrong things you give the right things a chance to catch you. As Maria Robinson once said, "Nobody can go back and start a new beginning, but anyone can start today and make a new ending." Nothing could be closer to the truth. But before you can begin this process of transformation you have to stop doing the things that have been holding you back.
30 Things to Stop Doing to Yourself - StumbleUpon
tumblr_lviaemh2ET1r2n011o1_500.jpg from elephantjournal.com
post written by: Marc Chernoff
50 Questions That Will Free Your Mind - StumbleUpon
Handbook for Life: 52 Tips for Happiness and Productivity | zen habits
Daily Schedule for Happiness - StumbleUpon
100 Tips About Life, People, and Happiness - StumbleUpon
Letting Go of Attachment, from A to Zen | zen habits - StumbleUpon
How To Be A Goddess | GirlsGuideTo - StumbleUpon