Kitchen
home decorateing ideas / Nice
home decorateing ideas / Center Island fridge, for fruits and veggies or drinks...I WANT THIS
Dream House... I'll build it one day / Shenandoah's base pot and pan organizer (drawer), $130; available at Lowes.com
For the Home / beautiful wood work
For the Home / this is my favorite kitchen I've seen so far. I want it. now.
For the Home / Kitchen
For the Home / oh so pretty
For the Home / Silicone Oven Shield $5.99
For the Home / Disappearing Trashcan.
Dreamhouse / Love the separate dining area.
Pretty Homes / Nice white kitchen
Future Home Ideas / Love the look of the island in the middle
Dream Home / kitchen
Barbie Dream House / kitchen
Dream Home / I love this!!! My dream kitchen
Get Crafty / How to Build Kitchen Sink Storage Trays
Dream Home / pantry - storage ideas for everything including baking sheets
For the Home / such a good idea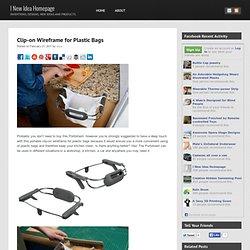 Clip-on Wireframe for Plastic Bags
Posted on February 21, 2011 by saya Probably you don't need to buy this Portotrash, however you're strongly suggested to have a deep touch with this portable clip-on wireframe for plastic bags because it would ensure you a more convenient using of plastic bags and therefore keep your kitchen clean. Is there anything better? Yes!
Internet-connected kitchen appliances – such as toasters that tweet when your bagel is done – have long been a joke of the tech industry, but designer Ashley Legg may have come up with the first such product you'd actually want to own: the Smart Fridge. The Smart Fridge, which can be seen in artists-impression-action over on Yanko Design, is built with one aim in mind: to track your provisions and advise you on suitable meals accordingly. To further this aim, the futuristic – and hopefully fairly well insulated – glass front is actually an electrochromic panel which can be turned opaque at the press of a button. Once in opaque mode, the entire front of the refrigerator section becomes a touch-sensitive display. It's in this mode that the 'smart' part of the device's title becomes apparent: simply tell the refrigerator what you're filling it with, and it will track your stock – alerting you if you start running low on any of the essentials.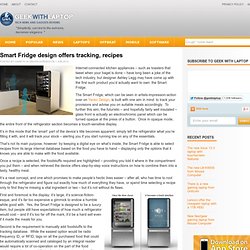 Smart Fridge design offers tracking, recipes
luxury6.jpg (JPEG Image, 452x344 pixels)
Magnificent Custom Home By Sedona Home Builders Magna Homes - Simply The Best
This magnificent home was built to take advantage of 360 degrees of some of the most stunning views available anywhere in Sedona. The wood and stone finish details help to draw the incredible views into the home and anchor them into the space. The flowing floor plan makes it easy to use space for a variety of purposes.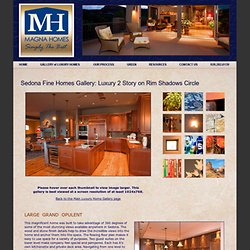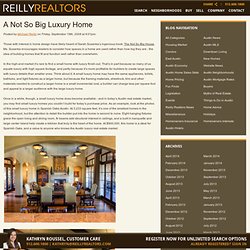 Those with interest in home design have likely heard of Sarah Susanka's ingenious book, The Not So Big House.
A Not So Big Luxury Home | Austin Real Estate News
11919-kitchen-2
Best Stove ever