In the kitchen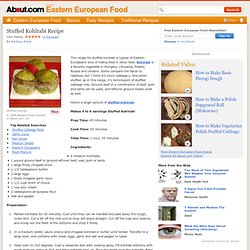 This recipe for stuffed kohlrabi is typical of Eastern Europeans' love of hiding food in other food. Kohlrabi is a favorite vegetable in Hungary, Lithuania, Poland, Russia and Ukraine. Some compare the flavor to radishes, but I think it's more cabbage-y. And when stuffed, as in this recipe, it's reminiscent of stuffed cabbage rolls.
Stuffed Kohlrabi Recipe - Recipe for Stuffed Kohlrabi
What The Fuck Should I Make For Dinner?
Fried Green Tomatoes Recipe
If you can find it, use fine white cornmeal, which is the primary cornmeal used in the South. Buttermilk adds flavor and tang, but is not strictly necessary. Method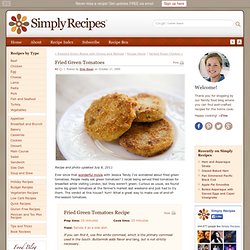 Super-Crunchy "Fried" Chicken
Directions Combine the water, yeast, and 3 tablespoons of the sugar in the bowl of an upright mixer fitted with a dough hook. Stir and let stand until foamy, about 5 minutes. Gradually add 4 cups of the flour and the salt, and mix until the mixture comes together.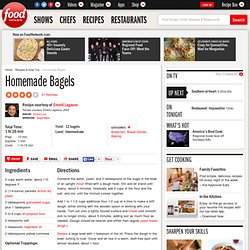 Homemade Bagels Recipe : Emeril Lagasse : Recipes
Two Healthy Snacks for Kids (Recipes: Apple Chips & Sun Butter Balls)
Directions Season the chicken with 1/2 teaspoon salt and 1/2 teaspoon pepper. In a heavy, large skillet, heat the olive oil over medium heat. When the oil is hot, cook the chicken until browned on both sides. Remove from the pan and set aside.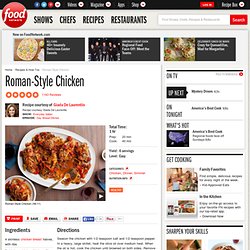 Roman-style Chicken Recipe : Giada De Laurentiis
Turtle Bread Recipe
Cream Cheese Penguins Recipe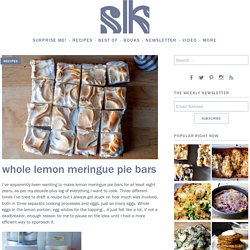 The best new recipes from Smitten Kitchen | punchfork.com
Thursday, January 16, 2014 pear and hazelnut muffins We all know that muffins teeter precariously on a razor-thin line that divides the food categories of "Acceptable for Breakfast" and "Nope, This Is Dessert" and one must maintain firm boundaries during the breakfast hours lest the day that follows devolve into a full-on bacchanal of Resolution decompensation that ends with one passed out amid scatters of Cheetos, ketchup packets and French fry grease with a side of cronut. Thus, when I come upon a new muffin recipe — or in this case, when my son is told to pick a recipe for us to make from a new book, and he predictably chooses the thing that most resembles cake — I immediately assess the list of ingredients and label them accordingly:
Tender grilled eggplant, zucchini, red peppers, and potatoes are tossed with Greek vinaigrette and topped with a bit of crumbled Feta cheese for a little extra zing. This is a great Summer side dish or light vegetarian main course. Prep Time: 20 minutes Cook Time: 15 minutes Total Time: 35 minutes
Mediterranean Grilled Vegetable Salad - Recipe for Grilled Vegetable Salad with Greek Vinaigrette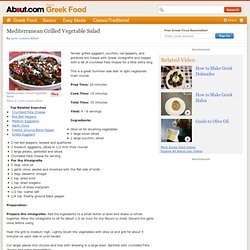 Couscous, Cranberry, and Feta Salad Recipe
Cheddar Cauliflower Soup
Streusel Apple Coffeecake Recipe
Twice Baked Potatoes Recipe
Vegetarian Recipes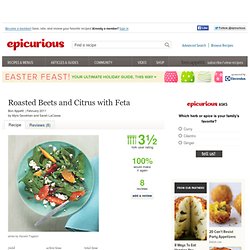 photo by Kiyoshi Togashi yield 4 servings active time 20 minutes total time 1 hour 50 minutes (includes roasting and cooling time) Vinaigrette: 3 tablespoons balsamic vinegar 2 teaspoons Dijon mustard 2 teaspoons finely grated orange peel 2 teaspoons finely grated grapefruit peel 1 teaspoon honey 1/3 cup extra-virgin olive oil Salad: 4 2 1/2-inch-diameter unpeeled beets, tops trimmed 1 tablespoon olive oil 1 6-ounce bag baby spinach 2 small pink or ruby grapefruits, all peel and pith cut away, segments cut from between membranes 2 oranges, all peel and pith cut away, segments cut from between membranes 3/4 cup crumbled feta cheese (4 ounces) 1/4 cup chopped fresh chives
Roasted Beets and Citrus with Feta Recipe at Epicurious
"So it's a pie?" "Well, it's pie-like. I mean, it has a bottom crust and a top crust and it is filled with stuff.
mushroom and barley pie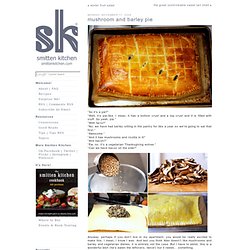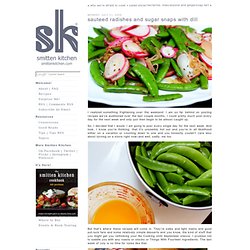 sauteed radishes and sugar snaps with dill
I realized something frightening over the weekend: I am so far behind on posting recipes we've auditioned over the last couple months, I could pretty much post every day for the next week and only just then begin to be almost caught up. So, I decided that I would. I am going to post every single day for the next week. And look, I know you're thinking: that it's unseemly hot out and you're in all likelihood either on a vacation or counting down to one and you honestly couldn't care less about turning on a stove right now–and well, sadly, me too.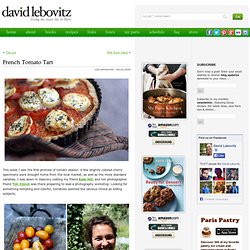 This week I saw the first promise of tomato season. A few brightly colored cherry specimens were brought home from the local market, as well as the more standard varieties. I was down in Gascony visiting my friend Kate Hill, and her photographer friend Tim Clinch was there preparing to lead a photography workshop. Looking for something tempting and colorful, tomatoes seemed the obvious choice as willing subjects.
French Tomato Tart
No Yeast Bread If you need, or want, to remove yeast from your diet, but can't stand the thought of giving up bread, this recipe gives you an alternative. The Irish gave us this one, out of necessity when yeast was unavailable to them, but I've made a couple of refinements. The vinegar is essential because baking soda requires an acidic component to do its work. You could also use buttermilk, or milk with 2 tsp of cider vinegar added.
No Yeast Bread Recipes
Popular in Food & Drink Every blogger who writes about saving money, eating healthy or just plain cooking tasty meals tells their readers to choose fruits and vegetables that are in season. I've had just one problem: I don't know what's 'in season.'
Fresh Fruits and Vegetables, By the Month
crisp black bean tacos with feta and slaw
Let me just get this out of the way before I begin: I'm a little embarrassed by this meal. Not because it took 10 minutes to make, but because it came entirely from things that were already packaged and it tasted… well, not bad, but certainly not like I made any great effort. I bet you can't wait to sign up, huh? So why I am telling you about it? Because we've all been there, haven't we?
Calorie Count's Spicy Black Bean Burgers
Calorie Count is not just a place to count calories, it's a fantastic resource for recipes and ideas and is where I found the nutrition facts for this recipe! Spicy Black Bean Burgers 5 large or 6 small burgers
Stuffed Zucchini
Romancing the Stove
Chicken Chimichangas Recipe
Recipe for Grilled Zucchini Pizza Slices
Zebra Cheesecake « Cheesecake
Taco Casserole
Jalapeno Popper Grilled Cheese:
Homemade Glazed Doughnuts
Salmon Chowder Recipe at Epicurious
Homemade Oreos | Flour Child
The Sriracha Cookbook Blog